Today we're participating in the blog tour for Royce Rolls by Margaret Stohl. Make sure you scroll down and enter the giveaway for your chance to win a copy!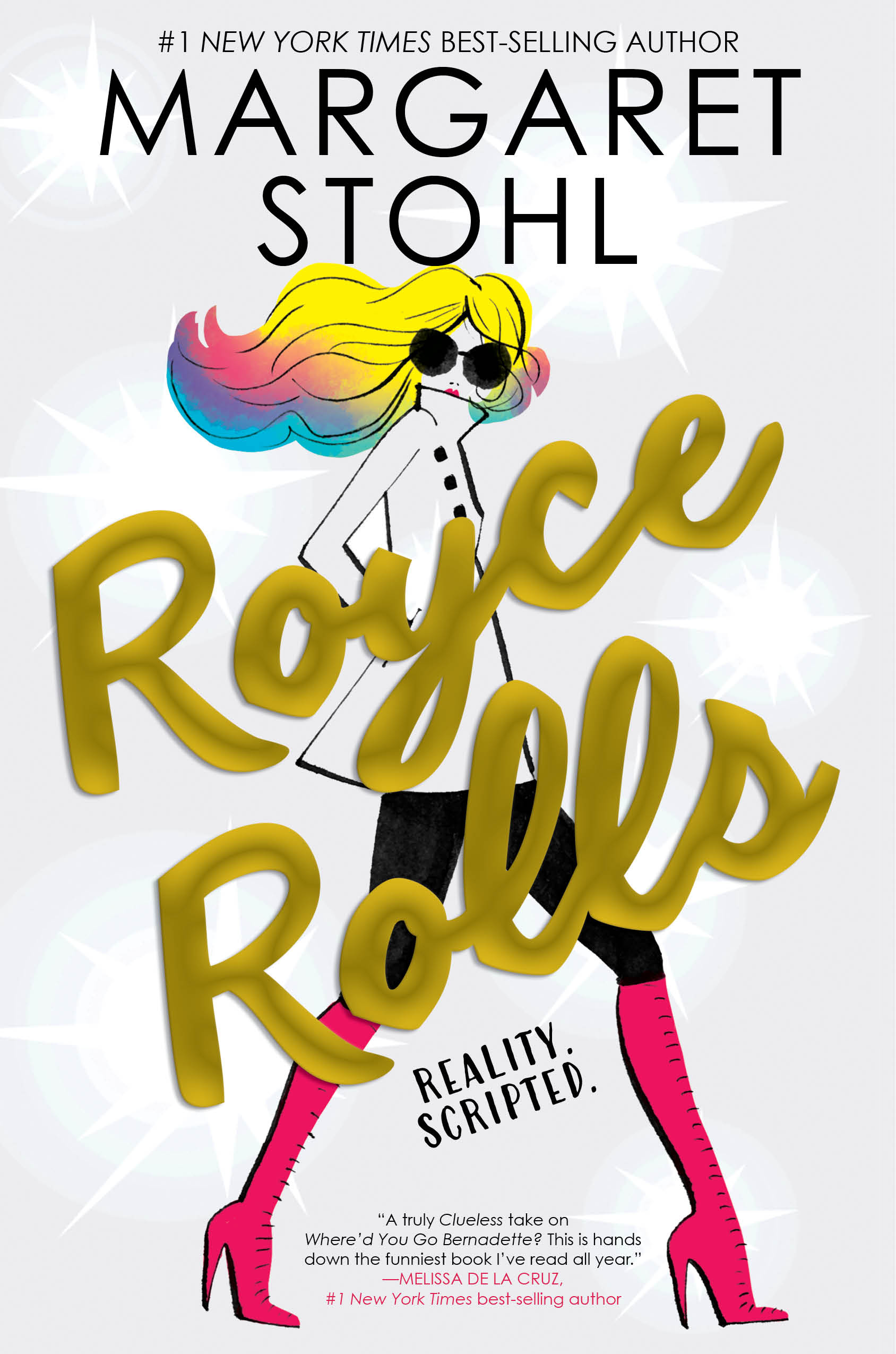 Title: ROYCE ROLLS
Author: Margaret Stohl
Pub. Date: April 4, 2017
Publisher: Freeform
Pages: 400
Formats: Hardcover, eBook, audiobook
Find it: Amazon, Barnes & Noble, iBooks, Goodreads
Sixteen-year-old Bentley Royce seems to have it all: an actual Bentley, tuition to a fancy private school, lavish vacations, and everything else that comes along with being an LA starlet. But after five seasons on her family's reality show, Rolling with the Royces, and a lifetime of dealing with her narcissistic sister, Porsche, media-obsessed mother, Mercedes, and somewhat clueless brother, Maybach, Bentley wants out. Luckily for her, without a hook for season six, cancellation is looming and freedom is nigh. With their lifestyle on the brink, however, Bentley's family starts to crumble, and one thing becomes startlingly clear–without the show, there is no family. And since Bentley loves her family, she has to do the unthinkable–save the show. But when her future brother-in-law's car goes over a cliff with both Bentley and her sister's fianc inside-on the day of the big made-for-TV wedding, no less-things get real.
Really real. Like, not reality show real.
Told in a tongue-in-cheek voice that takes a swipe at all things Hollywood, Royce Rolls is a laugh-out-loud funny romp with an LA noir twist about what it means to grow up with the cameras rolling and what really happens behind the scenes.
The #1 New York Times bestselling author Margaret Stohl got her start as thehead of the Dark is Rising fan club in third grade in a highly gifted magnet school in Los Angeles. Going on to study at a creative writing program at UEA Norwich, England, and to write and direct an autobiographical one-act play at Amherst College—where she founded the school's first women's literary magazine, Madness This—Margaret knew she was a writer.
After optioning two feature screenplays to Nickelodeon Pictures and Clasky-Csupo, Margaret began a sixteen-year career in videogames, co-founding 7 Studios game developer with her husband Lewis Peterson, and contributing to both Marvel's Spiderman (ActivisionBlizzard) and Fantastic Four (7 Studios / ActivisonBlizzard) among many other titles—Dune 2000; Command & Conquer Red Alert Retaliation; Pirates of the Caribbean The Curse of Jack Sparrow; to name a few.
When Margaret co-wrote the first of the internationally bestselling Beautiful Creatures novels (published in nearly fifty countries, named Amazon's top teen book of 2009, short-listed for the ALA's 2009 Morris award, and released as a feature film from Warner Brothers) on a dare from her three daughters, she fell even more in love with teen culture. Her first sci-fi series, Icons, is now in development as a feature film with Alcon Entertainment. Her Black Widow series from Disney Publishing (Black Widow: Forever Red and Black Widow: Red Vengeance) is a welcome chance to rock a strong female character and to return to her beloved Marvel roots. She is also writing the Mighty Captain Marvel comics.
If asked, Margaret will tell you that the Women of Marvel panel at New York Comicon was the greatest single hour of her life, and that she fangirls all girls who read comics. As a co-founder of YALLFEST, the biggest YA book festival in the country, and its offspring YALLWEST, Margaret believes her readers are her kindred spirits and her tribe.
Margaret lives in Santa Monica with her husband, who builds drones and robots, and her three daughters, who are competitive epee fencers—and who, like Natasha Romanov, have always known how to rescue themselves.
Website | Facebook | Twitter | Instagram | Goodreads
Giveaway Details:
3 winners will receive a finished copy of ROYCE ROLLS, US Only.
Tour Schedule:
Week One:
4/10/2017- YA and Wine– Blogger Post
4/11/2017- The Mind of a Book Dragon– Review
4/12/2017- Novel Novice– Review
4/13/2017- Page Turners Blog– Blogger Post
4/14/2017- The Best Books Ever– Review
Week Two:
4/17/2017- Book Briefs– Review
4/18/2017- Tales of the Ravenous Reader– Blogger Post
4/19/2017- Seeing Double In Neverland– Review
4/20/2017- Mundie Moms– Review
4/21/2017- The Young Folks– Review
Advertisement