Summer reads are arguably the best reads. The TYF book staff are overwhelmed by all the bookish options we have this summer. A few of us highlight six new and upcoming titles for the summer.
The Rest of the Story by Sarah Dessen
Official Description: Emma Saylor doesn't remember a lot about her mother, who died when she was ten. But she does remember the stories her mom told her about the big lake that went on forever, with cold, clear water and mossy trees at the edges.
Now it's just Emma and her dad, and life is good, if a little predictable…until Emma is unexpectedly sent to spend the summer with her mother's family—her grandmother and cousins she hasn't seen since she was a little girl.
When Emma arrives at North Lake, she realizes there are actually two very different communities there. Her mother grew up in working class North Lake, while her dad spent summers in the wealthier Lake North resort. The more time Emma spends there, the more it starts to feel like she is divided into two people as well. To her father, she is Emma. But to her new family, she is Saylor, the name her mother always called her.
Then there's Roo, the boy who was her very best friend when she was little. Roo holds the key to her family's history, and slowly, he helps her put the pieces together about her past. It's hard not to get caught up in the magic of North Lake—and Saylor finds herself falling under Roo's spell as well.
For Saylor, it's like a whole new world is opening up to her. But when it's time to go back home, which side of her will win out?
Now available. Chosen by Leigh-Ann Brodber.
---
This Time It Will Be Different by Misa Sugiura
Official Description: For fans of Jenny Han, Morgan Matson, and Sandhya Menon, critically acclaimed author Misa Sugiura delivers a richly crafted contemporary YA novel about family, community, and the importance of writing your own history.
The author of the Asian Pacific American Award-winning It's Not Like It's a Secret is back with another smartly drawn coming-of-age novel that weaves riveting family drama, surprising humor, and delightful romance into a story that will draw you in from the very first page.
Katsuyamas never quit—but seventeen-year-old CJ doesn't even know where to start. She's never lived up to her mom's type A ambition, and she's perfectly happy just helping her aunt, Hannah, at their family's flower shop.
She doesn't buy into Hannah's romantic ideas about flowers and their hidden meanings, but when it comes to arranging the perfect bouquet, CJ discovers a knack she never knew she had. A skill she might even be proud of.
Then her mom decides to sell the shop—to the family who swindled CJ's grandparents when thousands of Japanese Americans were sent to internment camps during WWII. Soon a rift threatens to splinter CJ's family, friends, and their entire Northern California community; and for the first time, CJ has found something she wants to fight for.
Now available. Chosen by Brianna Robinson.
---
Hungry Hearts: 13 Tales of Food & Love, edited by Elsie Chapman
Official Description: From some of your favorite bestselling and critically acclaimed authors—including Sandhya Menon, Anna-Marie McLemore, and Rin Chupeco—comes a collection of interconnected short stories that explore the intersection of family, culture, and food in the lives of thirteen teens.
A shy teenager attempts to express how she really feels through the confections she makes at her family's pasteleria. A tourist from Montenegro desperately seeks a magic soup dumpling that could cure his fear of death. An aspiring chef realizes that butter and soul are the key ingredients to win a cooking competition that could win him the money to save his mother's life.
Welcome to Hungry Hearts Row, where the answers to most of life's hard questions are kneaded, rolled, baked. Where a typical greeting is, "Have you had anything to eat?" Where magic and food and love are sometimes one and the same.
Told in interconnected short stories, Hungry Hearts explores the many meanings food can take on beyond mere nourishment. It can symbolize love and despair, family and culture, belonging and home.
Now available. Chosen by Brianna Robinson.
---
House of Salt and Sorrows by Erin A. Craig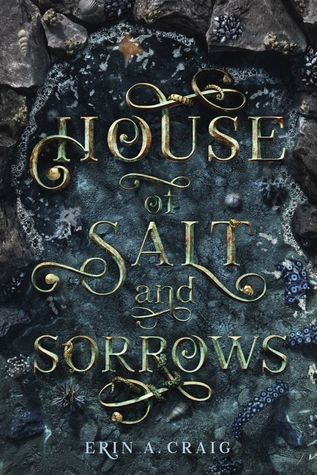 Official Description: Get swept away in Erin A. Craig's mesmerizing House of Salt and Sorrows. As one by one her beautiful sisters mysteriously die on their isolated island estate, Annaleigh must unravel the curse that haunts her family. Be careful who you dance with. . . .
In a manor by the sea, twelve sisters are cursed.
Annaleigh lives a sheltered life at Highmoor with her sisters and their father and stepmother. Once there were twelve, but loneliness fills the grand halls now that four of the girls' lives have been cut short. Each death was more tragic than the last–the plague, a plummeting fall, a drowning, a slippery plunge–and there are whispers throughout the surrounding villages that the family is cursed by the gods.
Disturbed by a series of ghostly visions, Annaleigh becomes increasingly suspicious that her sister's deaths were no accidents. The girls have been sneaking out every night to attend glittering balls, dancing until dawn in silk gowns and shimmering slippers, and Annaleigh isn't sure whether to try to stop them or to join their forbidden trysts. Because who–or what–are they really dancing with?
When Annaleigh's involvement with a mysterious stranger who has secrets of his own intensifies, it's a race to unravel the darkness that has fallen over her family–before it claims her next. House of Salt and Sorrows is a spellbinding novel filled with magic and the rustle of gossamer skirts down long, dark hallways. Get ready to be swept away.
Available August 6, 2019. Chosen by Brianna Robinson.
---
Start Here by Trish Doller
Two teens go on a life-changing sailing trip as they deal with the grief of losing their best friend in this heartwrenching, hopeful novel from the author of Something Like Normal and In a Perfect World.
Willa and Taylor were supposed to spend the summer after high school sailing from Ohio to Key West with their best friend, Finley. But Finley died before graduation, leaving them with a twenty-five-foot sailboat, a list of clues leading them to destinations along the way, and a friendship that's hanging by a thread.
Now, Willa and Taylor have two months and two thousand miles to discover how life works without Finley—and to decide if their own friendship is worth saving.
From acclaimed author Trish Doller comes a poignant tale of forgiveness, grief, and the brilliant discoveries we make within ourselves when we least expect it.
Available August 13, 2019. Chosen by Brianna Robinson.
---
Storm and Fury by Jennifer Armentrout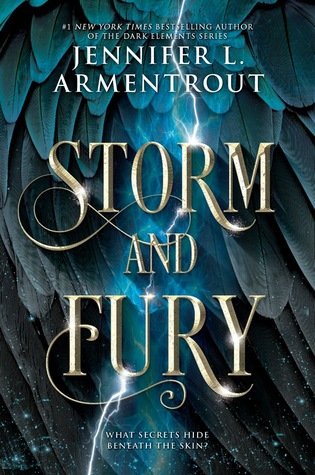 Eighteen-year-old Trinity Marrow may be going blind, but she can see and communicate with ghosts and spirits. Her unique gift is part of a secret so dangerous that she's been in hiding for years in an isolated compound fiercely guarded by Wardens—gargoyle shape-shifters who protect humankind from demons. If the demons discover the truth about Trinity, they'll devour her, flesh and bone, to enhance their own powers.
When Wardens from another clan arrive with disturbing reports that something out there is killing both demons and Wardens, Trinity's safe world implodes. Not the least because one of the outsiders is the most annoying and fascinating person she's ever met. Zayne has secrets of his own that will upend her world yet again—but working together becomes imperative once demons breach the compound and Trinity's secret comes to light. To save her family and maybe the world, she'll have to put her trust in Zayne. But all bets are off as a supernatural war is unleashed…
Now available. Chosen by Gina Webber.
Advertisement