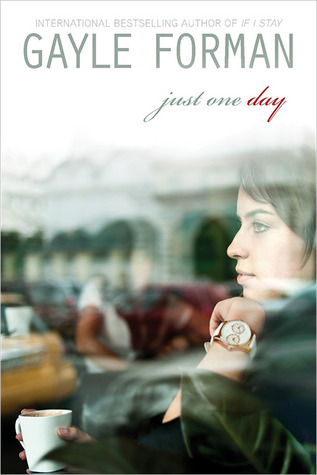 So, yesterday I got the chance to meet Gayle Forman at a book signing here in Miami, and lucky for me, during the Q&A session, there weren't many takers and I happened to inconspicuously sneak in an almost interview.
So, I have to ask this question first because I can't help myself: Is there any chance Adam and Mia(If I Stay) will make any sort of appearance in Just One Year, the sequel to Just One Day?
No. I hate to say it, but Mia and Allyson have two completely different stories, and getting their paths to cross wouldn't happen unless it was being forced. Though, I will say that there is a possibility that one of Shooting Stars—Adam's band—songs will be playing in the background at one point or another.
I'm aware that Just One Day was based off of your experiences in Europe and inspired most of the places Allyson travels to in the novel. Out of all the places you've traveled to, which has been the most memorable?
I'd have to say India. When I first got there it was chaos and I felt like I was going to hate it, but after a few days I'd learned to love the people and appreciate it so much more.
While you were traveling throughout Europe, were you familiar with multiple foreign languages, or did you sort of just get around?
Well, you can't know 'em all. You really just learn as you go, picking up small things here and there and working to string them together.
Are there any specific writers that you look to for inspiration?
Honestly, you take something from every book you read, good or bad. Recently, though, Cloud Atlas blew me away, and I can literally read anything Melina Marchetta will dish out.
What's your favorite part of the writing process?
That point in time where you've just started and you have no idea where you're heading; just when you think you've hit a wall, you find windows.
William Shakespeare plays a large role throughout the course of Just One Day. What's your favorite Shakespeare play? 
As You Like It.Duh. Well, okay, and The Taming of the Shrew.
Hey, so, Willem. He's great. I mean, um, is he based off of someone you've come across while traveling or have had a personal relationship with in any way? Yeah, please tell me he's real?
Willem is somewhat a mixture of the majority of the kinds of boys I saw in Amsterdam. Dutch boys. Crushes. And Jack, some Scottish guy we'd come across in Copenhagen that sort of just unlocked the city for us. We spent a few days together and he stole my heart, but after that I never saw him again.
I was able to pick up bits and pieces of notable fun facts, too, so here they are for you all:
Gayle's first book was a nonfiction travel book—and was the least honest piece she's ever written.
If I Stay had been lingering in her head for almost seven years before she ever got to writing it.
As of now, Chloe Moretz is in talks of playing Mia in the If I Stay Summit movie adaption.
Advertisement