Summer's right around the corner, and aside from all the catching up you'll have to be doing thanks to our list of YA Summer Reads, there'll be plenty of newbies out just in time, too! With genres all across the board on our list, you're sure to walk away with a new addition to your TBR pile. In no apparent order, here are ten new reads you won't want to miss!
1. Wild Awake by Hilary T. Smith (5/28/2013) – Things you earnestly believe will happen while your parents are away:
1. You will remember to water the azaleas.
2. You will take detailed, accurate messages.
3. You will call your older brother, Denny, if even the slightest thing goes wrong.
4. You and your best friend/bandmate Lukas will win Battle of the Bands.
5. Amid the thrill of victory, Lukas will finally realize you are the girl of his dreams.
Things that actually happen:
1. A stranger calls who says he knew your sister.
2. He says he has her stuff.
3. What stuff? Her stuff.
4. You tell him your parents won't be able to—
5. Sukey died five years ago; can't he—
6. You pick up a pen.
7. You scribble down the address.
8. You get on your bike and go.
9. Things . . . get a little crazy after that.*
*also, you fall in love, but not with Lukas.
2. The Oathbreaker's Shadow (The Knot Sequence #1) by Amy McCullough (6/6/2013) – Fifteen-year-old Raim lives in a world where you tie a knot for every promise that you make. Break that promise and you are scarred for life, and cast out into the desert.
Raim has worn a simple knot around his wrist for as long as he can remember. No one knows where it came from, and which promise of his it symbolises, but he barely thinks about it at all—not since becoming the most promising young fighter ever to train for the elite Yun guard. But on the most important day of his life, when he binds his life to his best friend (and future king) Khareh, the string bursts into flames and sears a dark mark into his skin.
Scarred now as an oath-breaker, Raim has two options: run, or be killed.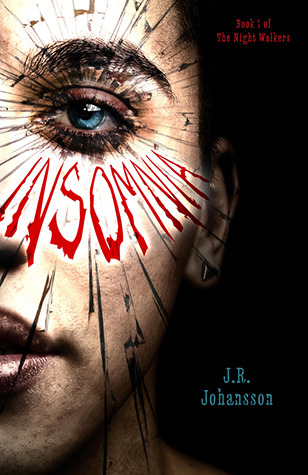 3. Insomnia (The Night Walkers #1) by J.R Johansson (6/8/2013) – Instead of sleeping, Parker Chipp enters the dream of the last person he's had eye contact with. He spends his nights crushed by other people's fear and pain, by their disturbing secrets—and Parker can never have dreams of his own. The severe exhaustion is crippling him. If nothing changes, Parker could soon be facing psychosis and even death.
Then he meets Mia. Her dreams, calm and beautifully uncomplicated, allow him blissful rest that is utterly addictive. Parker starts going to bizarre lengths to catch Mia's eye every day. Everyone at school thinks he's gone over the edge, even his best friend. And when Mia is threatened by a true stalker, everyone thinks it's Parker.
Suffering blackouts, Parker begins to wonder if he is turning into someone dangerous. What if the monster stalking Mia is him after all?
4. Belle Epoque by Elizabeth Ross (6/11/2013) – When Maude Pichon runs away from provincial Brittany to Paris, her romantic dreams vanish as quickly as her savings. Desperate for work, she answers an unusual ad. The Durandeau Agency provides its clients with a unique service—the beauty foil. Hire a plain friend and become instantly more attractive. 
Monsieur Durandeau has made a fortune from wealthy socialites, and when the Countess Dubern needs a companion for her headstrong daughter, Isabelle, Maude is deemed the perfect foil.
But Isabelle has no idea her new "friend" is the hired help, and Maude's very existence among the aristocracy hinges on her keeping the truth a secret. Yet the more she learns about Isabelle, the more her loyalty is tested. And the longer her deception continues, the more she has to lose.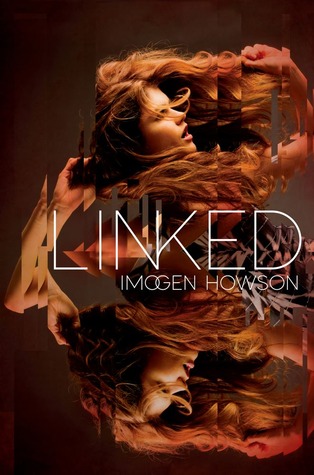 5. Linked (Linked #1) by Imogen Howson (6/11/2013) – Elissa used to have it all: looks, popularity, and a bright future. But for the last three years, she's been struggling with terrifying visions, phantom pains, and mysterious bruises that appear out of nowhere. 
Finally, she's promised a cure: minor surgery to burn out the overactive area of her brain. But on the eve of the procedure, she discovers the shocking truth behind her hallucinations: she's been seeing the world through another girl's eyes. 
Elissa follows her visions, and finds a battered, broken girl on the run. A girl—Lin—who looks exactly like Elissa, down to the matching bruises. The twin sister she never knew existed. 
Now, Elissa and Lin are on the run from a government who will stop at nothing to reclaim Lin and protect the dangerous secrets she could expose—secrets that would shake the very foundation of their world. 
Riveting, thought-provoking and utterly compelling, Linked will make you question what it really means to be human.
6. Triangles by Kimberly Ann Miller (6/18/2013) – A cruise ship. A beautiful island. Two sexy guys. What could possibly go wrong? 
In the Bermuda Triangle—a lot.
Hoping to leave behind the reminders of her crappy life–her father's death years ago, her mother's medical problems, and the loser who's practically stalking her–seventeen-year-old Autumn Taylor hops on a ship with her sister for a little distraction. When she wakes up in the Bermuda Triangle, she fears she's gone nuts for more than one reason: that loser's suddenly claiming they're a happy couple… a hot guy is wrapping his arms around her and saying "Happy Anniversary"… and suddenly, she's full of bruises, losing her hair, and getting IV medication. Autumn visits the ship's doctor, hoping for a pill or a shot to make the craziness go away. Instead, she's warned that these "alternate realities" could become permanent.
She just has to ask herself one question—how the hell is she going to get out of this mess?
The Bermuda Triangle? Alternate reality? I'm there.
7. In The After by Demitria Lunetta (6/25/2013) – They hear the most silent of footsteps.
They are faster than anything you've ever seen.
And They won't stop chasing you…until you are dead.
Amy is watching TV when it happens, when the world is attacked by Them. These vile creatures are rapidly devouring mankind. Most of the population is overtaken, but Amy manages to escape—and even rescue "Baby," a toddler left behind in the chaos. Marooned in Amy's house, the girls do everything they can to survive—and avoid Them at all costs.
After years of hiding, they are miraculously rescued and taken to New Hope, a colony of survivors living in a former government research compound. While at first the colony seems like a dream with plenty of food, safety, and shelter, New Hope slowly reveals that it is far from ideal. And Amy soon realizes that unless things change, she'll lose Baby—and much more.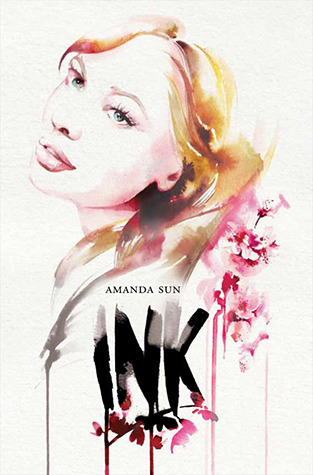 8. Ink (Paper Gods #1) by Amanda Sun (6/25/2013) – On the heels of a family tragedy, the last thing Katie Greene wants to do is move halfway across the world. Stuck with her aunt in Shizuoka, Japan, Katie feels lost. Alone. She doesn't know the language, she can barely hold a pair of chopsticks, and she can't seem to get the hang of taking her shoes off whenever she enters a building.
Then there's gorgeous but aloof Tomohiro, star of the school's kendo team. How did he really get the scar on his arm? Katie isn't prepared for the answer. But when she sees the things he draws start moving, there's no denying the truth: Tomo has a connection to the ancient gods of Japan, and being near Katie is causing his abilities to spiral out of control. If the wrong people notice, they'll both be targets.
Katie never wanted to move to Japan—now she may not make it out of the country alive.
I think I'm most excited for this particular novel. There's just something about Japanese guys.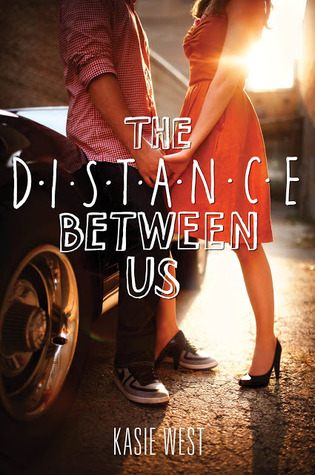 9. The Distance Between Us by Kasie West (7/2/2013) – Seventeen-year-old Caymen Meyers studies the rich like her own personal science experiment, and after years of observation she's pretty sure they're only good for one thing—spending money on useless stuff, like the porcelain dolls in her mother's shop.
So when Xander Spence walks into the store to pick up a doll for his grandmother, it only takes one glance for Caymen to figure out he's oozing rich. Despite his charming ways and that he's one of the first people who actually gets her, she's smart enough to know his interest won't last. Because if there's one thing she's learned from her mother's warnings, it's that the rich have a short attention span. But Xander keeps coming around, despite her best efforts to scare him off. And much to her dismay, she's beginning to enjoy his company.
She knows her mom can't find out—she wouldn't approve. She'd much rather Caymen hang out with the local rocker who hasn't been raised by money. But just when Xander's attention and loyalty are about to convince Caymen that being rich isn't a character flaw, she finds out that money is a much bigger part of their relationship than she'd ever realized. And that Xander's not the only one she should've been worried about.
Kasie's Pivot Point was fan-ta-bu-lous, so I have no doubts that this one won't disappoint.
10. All Our Pretty Songs by Sarah McCarry (7/30/2013) – Set against the lush, magical backdrop of the Pacific Northwest, two inseparable best friends who have grown up like sisters—the charismatic, mercurial, and beautiful Aurora and the devoted, soulful, watchful narrator—find their bond challenged for the first time ever when a mysterious and gifted musician named Jack comes between them. Suddenly, each girl must decide what matters most: friendship, or love. What both girls don't know is that the stakes are even higher than either of them could have imagined. They're not the only ones who have noticed Jack's gift; his music has awakened an ancient evil—and a world both above and below which may not be mythical at all. The real and the mystical; the romantic and the heartbreaking all begin to swirl together, carrying the two on journey that is both enthralling and terrifying.
And it's up to the narrator to protect the people she loves—if she can.
Advertisement