Procrastination has always been a favorite pastime of mine and as such, I've scoured the net in search of any thing that could feed my growing need to procrastinate. That's how I managed to come across the wonderful, time-consuming world of webcomics. Webcomics are pretty much self-explanatory. They're comics that are on the web (duh! Lol). And some of them have been so awesome that I've felt the need to highlight the best of the best webcomics that I've found so far. So, without any more delay, I present to you the webcomics that, if you've got time to kill and a social life you don't mind neglecting, you should definitely check out.
1. Questionable Content by Jeph Jacques
In the mood for a light humorous read? Check another comic because QC so much more than just that. The webcomic follows the life of the sensitive and lovable protagonist, Marten Reed – a indie rock enthusiast to say the least, his roommate and off and on love interest, Faye Whitaker, and Faye's boss, Dora Bianchi, as they endure and overcome real life situations in Northampton, Massachusetts.

2. Something*Positive by R.K. Milholland
Something*Positive is the story of a few friends – namely Davan, Aubrey, PeeJee, and Jason – and their daily lives, struggles, and the occasional mass catgirl cataclysm. The story began in Boston in 2001. Since then, it's expanded to Texas, California, and a few other nightmares along the way.
These are people you know, although you may not admit it. It's just a comic about trying to live you life and bringing a few friends with you so you don't kill anyone. At least, not anyone you might get in trouble for.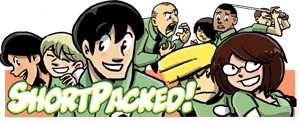 3. Shortpacked! by David Willis
Shortpacked! is webcomic about people who work in a toy store and tell jokes about Batman. The strip been around since 2005 and is a (very) loose sequel to another webcomic.

4. Dumbing of Age by David Willis
Dumbing of Age is a webcomic about college freshmen in a co-ed dorm at Indiana University, starring a Christian home-schooled girl and her atheist best friend.
Yes, I think I can freely admit that I have a "thing" for David Willis' awesome webcomics.

5. Wasted Talent by Angela Melick
Wasted Talent is an autobiographical webcomic by Angela Melick, a mechanical engineer, who has a wicked sense of humor and a real story to tell.
6. Octopus Pie by Meredith Gran
Octopus Pie is an ongoing comic series about two women living in Brooklyn, NY – their jobs, social circles, and some problems.
If you haven't already heard of this comic, you've been living under a rock! Octopus Pie is highly entertaining and bound to keep you engaged.

7. Nimona by Noelle Stevenson
Lord Ballister Blackheart has a point to make, and his point is that the good guys aren't as good as they seem. He makes a comfortable living as a supervillain, but never really seems to accomplish much – until he takes on a new sidekick, Nimona, a shapeshifter with her own ideas of how things should be done. Unfortunately, most of those ideas involve blowing things up. Now Ballister must teach his young protégé some restraint and try to keep her from destroying everything, while simultaneously attempting to expose the dark dealings of those who claim to be the protectors of the kingdom – including his former best friend turned nemesis, Ambrosius Goldenloin.
8. The Adventures of Superhero Girl by Faith Erin Hicks
Superhero Girl is a comic strip for Halifax's free weekly newspaper, The Coast. It's about the trials and tribulations of a girl superhero.
Unfortunately, Hicks hasn't been able to update the comic recently but the comic has reached Amazon and is available at the click of a button for a price, of course.
9. Nothing Can Possibly Go Wrong by Prudence Shen and Faith Erin Hicks
Nothing Can Possibly Go Wrong follows the lives of two young peeps who you would've never thought would be friends. Charlie's the laid-back captain of the basketball team and Nate is the neurotic, scheming president of the robotics club. But they are friends, however unlikely – until Nate declares war on the cheerleaders and the cheerleaders retaliate by making Charlie their figure-head in the ugliest class election campaign the school has ever seen. At stake? Students group funding that will either cover a robotics competition or new cheer leading uniforms – but not both. Bad sportsmanship? Sure. Chainsaws? Why not! Nothing can possibly go wrong.
Even though Faith Hicks doesn't update as much as we'd all like, I still can't stop myself from reading her comics. They're always very well drawn and totally drama packed. This one, however, was based on a story line from Prudence Shen.
10. The Meek by Der-shing Helmer
The Meek is a graphic novel about Angora, an inexperienced young girl who has been sent on a quest to save the world. War looms on the horizon, and at its helm is the Emperor of the North and his hellish adviser. The two countries are overwhelmed with as much terror, crime, disease and revolution as they are with those who wish to create peace. Armed with only her instincts and an unexplainable power, she must experience and judge the world—and decide once and for all if it is truly worth saving.
Advertisement