I know, how dare I suggest the tiniest disgracing of one of the greatest anime series of all time? What kind of monster would actually support Hollywood's desperate cash-grab of beloved Japanese culture and what else could possibly be done to improve a series nearly 20 years old?
I adore Cowboy Bebop, and no, I don't actually think Hollywood attempting a live-action adaption is a great idea. Everything about the 1998 series about a sly crew of bounty hunters trekking the galaxy set to raucous jazz music is near-perfect and both an essential viewing for otaku and an extremely accessible gateway into the rainbow-colored rabbit hole of anime. It kicks in teeth and swings like nobody's business, with the right amount of kinetic , youthful energy and more adult friendly dramatic heft. There's absolutely no point in turning Cowboy Bebop into a live-action Hollywood movie… from a fan's perspective.
But to take the devil's advocate stance from the point of view of American movie business, Tinsel Town is trying to bank on anime and are slipping a lot bit. Recently, Dreamworks saw their live-action remake of the iconic Ghost in the Shell starring Scarlett Johansson bomb at the box office and get roughed up by critics and audiences alike. August 25 will have Netflix's American remake of Death Note starring acclaimed spiritual poet Nat Wolff, and Warner Bros. has been circling a remake of Akira for what feels like over a decade. All three properties have been met with very obvious criticisms: recasting Japanese characters with white actors (aka, "whitewashing"), dumbing down deeper elements of the story, or just the unnecessary endeavor of it all (and usually it's a mix of all three). All of those criticism are warranted and the critics are vocal in their disinterest from fans to actors alike, yet Hollywood remains undeterred in their pursuit of the almighty dollar through nostalgia and branding.
More significant is that Hollywood is constantly on the lookout for a winning formula. They want a well-known property that could legitimately compete with the other big-time franchises (Marvel, DC, Star Wars, Transformers, Disney) without any possible controversy that would attract moviegoers of all ages and races. So if movie studios are looking for that bulletproof property in anime, something that could ease the criticisms of whitewashing, attract fans of blockbuster action and good stories alike, something that could benefit from the wonders of modern VFX filmmaking and has an instantly recognizable name that nerd culture would go mad for….it would be Cowboy Bebop.
Here's the thing about Bebop: plenty of anime series are almost uniquely defined by their Japanese heritage. A reason fans get frustrated when white actors are cast in the roles of anime characters is because those characters have appeared to them growing up as Japanese, almost strictly inspired by that culture and the people that live through it. Bebop, on the other hand, has a wide range of Western influences, especially American influences. There's a lot of rock and roll in Bebop, like the clothes that the characters wear that contain glam, punk, and even Liam Gallagher's jumpers. One of the first thing heard on the show's debut episode, "Asteroid Blues," is a bluesy harmonica that makes the viewer think they're about to walk into B.B. King's club. Even the episode titles are lifted from rock classics: "Sympathy for the Devil," "Toys in the Attic," "Bohemian Rhapsody." In fact, they're not even called episodes, but sessions, like a band going into a studio and jamming out to make some real rambunctious noise. It's as if writer Keiko Nobumoto was deliberately making the "bad boy" against other otaku series at the time.
Taken as a whole, Bebop feels so apart from other popular anime known to social consciousness. It's grittier and more adult than Pokémon or Dragonball Z, but not as cold as Ghost in the Shell or Akira. Looking at the sessions themselves, it's easy to see the outside influences that have helped mold the show. Take the shootout in "Ballad of Fallen Angels," which is a subdued but still breathless ode to John Woo and The Crow. "Toys in the Attic" is a blatant spoof of the claustrophobic horror of Ridley Scott's Alien with an ending that is such a send-up of Alien's drama that it might as well have been written by Bugs Bunny. And then there's the two-part Jupiter Jazz, which combines the sexual tension of Bound, a crooked crime drama, and the "who moves first" tension of a Western. Even pulling away from the series and just looking at the Bebop crew, Spike, Jet, Faye, and Edward are the classic ragtag team of outlaws with the camaraderie of Butch Cassidy and the Sundance Kid or better yet, William Friedkin's Sorcerer.
These influences and callbacks would certainly attract the film geeks and hardcore fans of Bebop, but what about the general moviegoers? Ever since J.J Abrams' 2009 reboot of Star Trek, Hollywood has seen a new boom of intergalactic sci-fi with the likes of Guardians of the Galaxy, Star Wars, and the upcoming Valerian and the City of a Thousand Planets. Not only would Bebop make for great bait for sci-fi fans, but its wild energy and zippy attitude would be a great alternative for the recent slew of space adventures.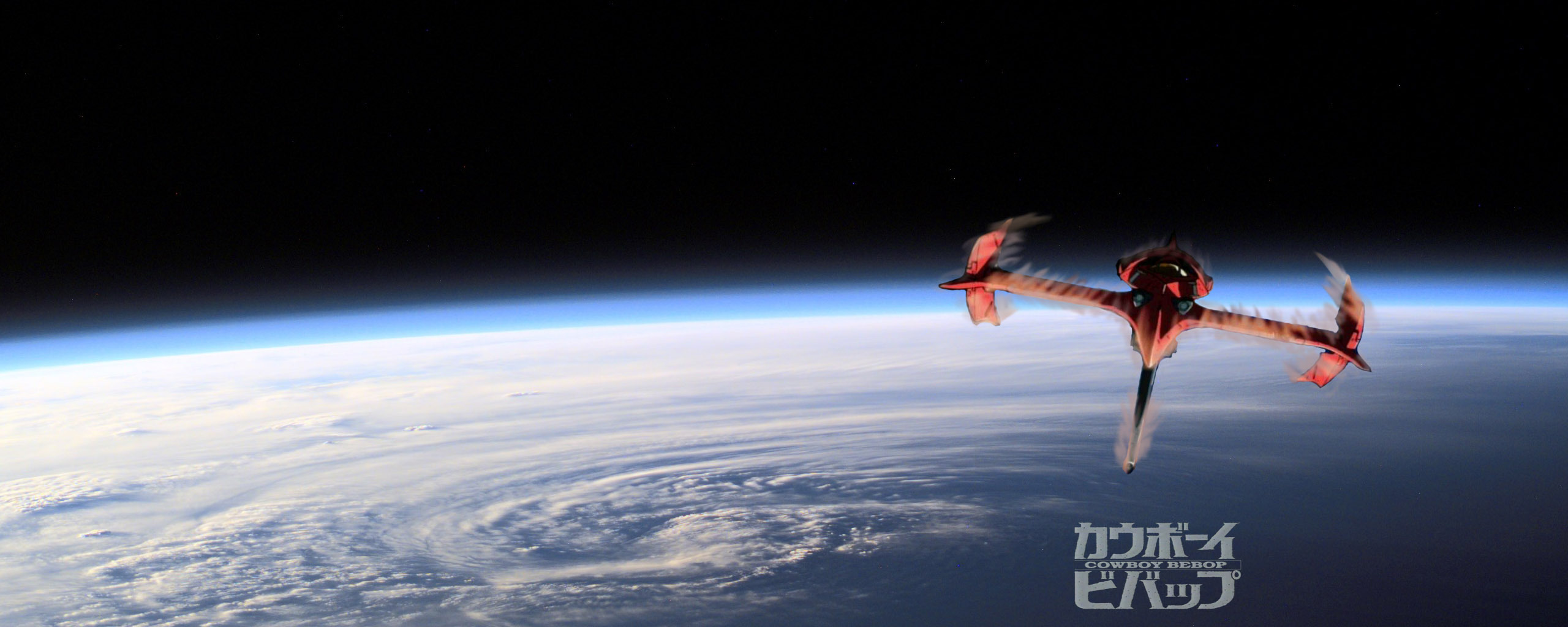 What about the complaints of simply remaking the adventures of Bebop? That's where Hollywood needs to put in real work and make a new adventure for the Bebop crew to embark on in live action. Maybe they can have a callback or two from the original sessions, but Spike and co. have to go on a new adventure (NO ORIGIN STORIES). It doesn't have to be overly complex or convoluted, just a silly space romp with bits of character development-Cowboy Bebops's real draw is its abundance of atmosphere. The audience needs to be able to follow along with the story and like the characters while marveling at the visuals and the action. That's what makes something like Firefly (and its movie adaptation Serenity) soar and what makes something like Jupiter Ascending sink. Get a writer who's good at dialogue and fluent in storytelling (Drew Goddard, Nicole Perlman, Kelly Fremon Craig, Joss Whedon) to work with a director who has imagination with visuals and large set pieces (Edgar Wright, Guillermo del Toro, Kathryn Bigelow, Quentin Tarantino) and let them gel together.
But now there's the elephant in the room: the casting. Here's where we get on shaky ground and have to fully morph into cynical Hollywood producer suits because yes, the Bebop crew is partially modeled after Japanese people (especially Spike, who was modeled after famed Japanese actor Yusaku Matsuda). But since studios made the outright risky (and lets face it, dumb) move to cast Ms. Johansson hoping her tenure as Black Widow would act as a shield, it wouldn't be wrong to assume Hollywood would bring on another well-established name to attract the general public. If they wanted to be extra cautious, studios could pick an immediately recognizable name like Ryan Gosling, Jake Gyllenhaal, Ryan Reynolds, or even elder statesmen like Robert Downey Jr., Keanu Reeves or (and this is a big stretch) Tom Cruise. If studios wanted to take the slightest modicum of risk, they could try out a younger or a lesser-known talent to bring some extra energy, with names like Andrew Garfield, Oscar Isaac, Evan Peters, Riz Ahmed, or Dan Stevens. The same money-backed motives could go with Jet as well, with possible casting choices like Dave Bautista, Terry Crews, Dwayne Johnson, or even Bruce Willis. The likes of Anne Hathaway, Olivia Munn, Olivia Wilde, Zoe Saldana, or Sofia Boutella could also be choices for Faye Valentine.
These suggestion don't excuse ignoring casting Japanese actors in these key roles. The likes of Takuya Kimura or Haruma Miura could be dead ringers for Spike, while Karen Fukuhara would be a dynamite Faye. And who knows, maybe the bomb of Ghost in the Shell at the box office and if Death Note gets low reviews, it could sway Hollywood away from anime-or (unlikely) away from whitewashing. However, despite the obvious cynicism and protection of such a beloved property, there's that nagging nerdy voice in the back of my head that wants to see Cowboy Bebop fully realized in live-action. Whereas something like Ghost in the Shell and Death Note thrives on its dark atmosphere that would only look routine and bland in today's grim cinematic world, the colors and vibrancy of Bebop would be a welcome diversion. If Hollywood really wants to jump into the world in anime in film, maybe it shouldn't try out properties as adult as the issues their casting choices bring up. Maybe it's time to blow this scene and jam?
Advertisement