iZombie premiered its third season with a much bigger problem, preparing for the highest stakes yet. With the zombie secret slowly threatening to reveal itself, the core group has to figure out where they fit in against the ticking time bomb. And a new character is introduced, one that can't exactly be trust yet but seems to be promising big change.
There wasn't a mystery for Liv and Clive to solve this time around, but they have their hands full continuing the big showdown at the Max Rager party. It's only a few minutes after that the premiere picks up, and it was very intense watching how everyone adjusted.
Clive had only recently learned about zombies, but all I ever wanted was for him to join Team Z so I can't exactly complain about that. He's much more aware of what Liv is going through and what the risks are, especially now that the idea of zombies is being floated around. I didn't think that the conspiracy theorists would get such a head start on revealing the possibility that zombies might be living in Seattle. But I do think that might be an interesting backdrop while everyone is trying to figure out if there is anything to prepare for.
Major joining Vivian's solider team was a bit obvious, maybe because he has to keep up that workout and there's really no other way to connect those two plots together. I'm not sure how I feel about it yet, Major for now is the only one who seems to completely trust these people. And this is a big shift from him not wanting to be a zombie to now essentially fully embracing it. It could be very fun to watch not only Liv develop different traits from brains on a daily basis, and I'm already preparing myself for those options.
It did bum me out to see Major still labeled as the Chaos Killer, especially by that coffee cup girl. Listen, if you still think someone is a serial killer, is writing that on their cup the best course of action? Like we all know Major wouldn't do anything except walk off like a sad puppy that we all want to adopt, but I really think that was silly. Especially since all the victims came back alive and explained what happened? Maybe everyone in that town should have watched the interviews a little closer.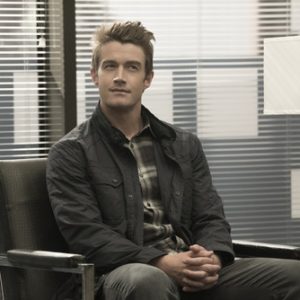 But speaking of actual killers, Blaine seems to be acting shady. I'm not sure if this episode was confirming that he has been lying about his memory or if we are still not meant to be sure, but I'm on the distrust side right now. This week's Blaine was not the meek and confused character that we've grown to appreciate in the past episodes. He definitely has something up his sleeve but I almost want to watch Blaine being evil while pretending he isn't. That takes his acting to a whole new level, and if the cast of iZombie has taught us anything, it's that they can handle multiple points of view at once.
Now another person who isn't exactly aboard the Blaine train is Ravi. I have to say, it was even sadder watching him navigate this little love triangle that he has going on with the newly regular Peyton (she is finally in the intro!). I am always and forever Team Ravi, but I think there seems to be some confusion. Peyton isn't exactly looking to choose either of them right now, not officially. For now she seems to just want friends in her life who are there to help her. She was just kidnapped, let her deal with that and then maybe she will acknowledge a potential relationship.
While it makes sense for Ravi to pout, it also makes sense for Peyton to not be interested in being in the middle. It wasn't her fault that Blaine was the one who saved her from that situation or that Ravi got upset. This is really just me saying that I want to continue to see Peyton in her own role, mostly as the district attorney who is now struggling to stay safe.
And the same goes for Ravi, it would be great to see him venture outside. It sounds like he will have his own detective work that he might be doing, and I hope that takes his mind off Peyton for a little while. Plus if Blaine is lying about his memory, I don't think Ravi has to worry about it being a fair fight between them.
As for Liv, who thinks our girl will actually tan and dye this season? Anyone?
Well she's still struggling with the loss of Drake, it may have been almost a year for us but it's been about a day or two for her. I actually do miss him, something the show delivers on is the way they make her love interests likable to the audience. Now I'm wondering what the new guy in her life could be like, and if Dale will come back because CW keeps my Jessica Harmon love alive and well.
The newest player in the game is Vivian, someone who we are almost led to think we can't trust. It's going me thinking that maybe she will be someone worth listening to but for a while we will be on such high alert that we won't notice. Plus her zombie island doesn't exactly sound that bad. It's even perfect as a spinoff name or a theme park, just make this happen however possible.
Honestly, I have no doubt that I will love this new season of iZombie. It had a strong premiere episode, setting up for the biggest season yet. The characters in the middle of it all continue to have the most memorable interactions, reminding us why we root for them all to begin with. There's no one big bad so far, just many possibilities for drama, and I'm on board to see how this pans out.
iZombie airs Tuesdays at 9/8c on The CW. 
Advertisement