Content warning: This review contains descriptions of physical violence and abuse from the book.
Amy Tintera's latest offering All These Monsters is an energetic, sci-fi novel about a band of monster slaying, globe-trotting teens. Fans of the Legend series by Marie Lu and Divergent by Veronica Roth may enjoy this return to classic YA dystopian stories.
As a long time fan of the YA dystopian genre, I was excited to find this book in my hands.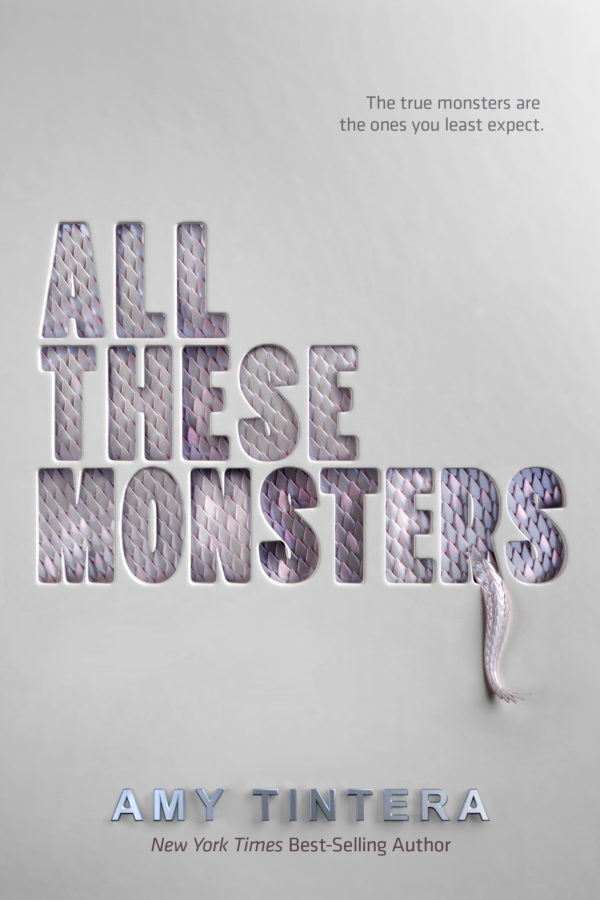 The story centers on seventeen year-old Clara from Dallas, Texas— , a girl who is ready to fight back. She wants to fight back against the monstrous "Scrabs," which are scaly, earth-dwelling monsters that are terrorizing the world. But most importantly, she wants to fight against her abusive father, in which their last encounter ended with her head being punched through their living room wall. So when Clara hears about a young celebrity's plan for a volunteer based international monster fighting squad on her tv, she immediately plans her escape.
However, as Clare trains with her teammates, she realizes that the Scrabs are not the only monsters among them. Sometimes the monster is someone you least expect.
While All These Monsters does not reinvent the wheel with its plot or setting, the story stands on its own two legs with its open discussion about the cycle of abuse.  Tintera does not glorify abuse in any way, but rather shows how psychologically harmful it can be for someone's mental and emotional health. For the sake of spoilers, I'll remain vague, but it was fascinating to see certain characters exhibit the same mental and emotional pattern as certain parents. And it was even more rewarding to see one of the characters be able to break that cycle of abuse.
Also, I appreciated how Clara was not passive about her situation with her father, but took matters into her own hands and was able to escape the harmful environment she was in. She is smart and brave, and I appreciated that. What I also loved about Clara was her self-awareness.  I enjoyed watching  her struggle with her motives to join the monster fighting squad. She had to come to terms with the fact that she made her decision to join the squad not out of a desire to make the world a better place for other countries (like many of the volunteers there), but to simply escape from her father.
With that said, a critique of the story would be that there were too many characters to keep track of. I understand that there were many volunteers for the squads, however I do not think Tintera needed to introduce so many at the same time. It was difficult to remember who was who, as well as become invested in any of them. When anyone in the party got hurt or died, I did not feel any emotional impact, and honestly neither did Clara. She didn't seem to be greatly affected by the deaths of her squad-mates either.
All in all, All These Monsters is a solid addition to the YA dystopian canon. If you like stories about killing monsters, ragtag groups of teenagers, and parental issues, then this story is for you.
If you or someone you know is experiencing domestic violence or questioning unhealthy aspects of their relationship, contact the National Domestic Violence Hotline at 1−800−799−7233 or TTY 1−800−787−3224 for free confidential support, available 24/7. You can also contact them through their live chat service on their website: https://www.thehotline.org/ (Safety Alert: Computer use can be monitored and is impossible to completely clear. If you are afraid your internet usage might be monitored, call the hotline.)
Advertisement