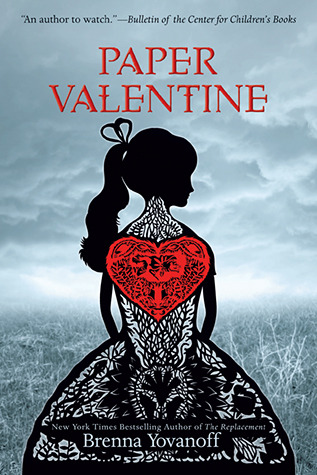 The city of Ludlow is gripped by the hottest July on record. The asphalt is melting, the birds are dying, petty crime is on the rise, and someone in Hannah Wagnor's peaceful suburban community is killing girls.
For Hannah, the summer is a complicated one. Her best friend Lillian died six months ago, and Hannah just wants her life to go back to normal. But how can things be normal when Lillian's ghost is haunting her bedroom, pushing her to investigate the mysterious string of murders? Hannah's just trying to understand why her friend self-destructed, and where she fits now that Lillian isn't there to save her a place among the social elite. And she must stop thinking about Finny Boone, the big, enigmatic delinquent whose main hobbies seem to include petty larceny and surprising acts of kindness.
With the entire city in a panic, Hannah soon finds herself drawn into a world of ghost girls and horrifying secrets. She realizes that only by confronting the Valentine Killer will she be able move on with her life—and it's up to her to put together the pieces before he strikes again.
Paper Valentine is a hauntingly poetic tale of love and death by the New York Times bestselling author of The Replacement and The Space Between
At a first glance, Paper Valentine looks almost like a historical novel set in the Victorian era. That, of course, may only be because I have horrible vision and am most times, careless about my covers. Either way, the cover is arcane and when taking a closer look, the details are stunning.
I'm not normally one to pick up psycho-killer-movie like novels, but for Brenna I made an exception mostly because she's a friend of Maggie Stiefvater and Maggie is just as much genius as she is hilarious, and while it's a stretch from her usual genre, I figured her critique partner can be nothing less.
Sooner than later, though, I found that Paper Valentine isn't just a pretty face and any normal kind of mystery murder YA.
Paper Valentine isn't only a tale of murder and mystery, but one of love, life and death, seemingly fitting into the plot even though most times it would be considered a drift away from the point. Yovanoff manages to create underlying meaning and importance in the middle of a situation that for the most part wouldn't have time for it, and makes the novel a beautiful story as well as a horrifying one.
Plot development is thick and itch-worthy. Every page of Paper Valentine is laced with clues and wild ideas, and I love that no matter how far out an impulse might be, a possibility can never be ruled out because no one can be sure what to expect as an outcome.Curiosity seeps through the pages with details and questions that leave you wondering what might be important and the finale is nothing short of pleasing.  The novel earns its spot among the true murder mystery YA's of our day.
Characters in Paper Valentine are absolutely fabulous and wondrously memorizing. Personas are original and have unique qualities that are startlingly intriguing. My favorite character is, no surprise, Finny Boone, who not only plays our protagonists love interest, but a boy with a criminal record, bleached hair, and uncannily, only four fingers on his left hand. Hannah is an entertaining main character with an outside-the-box kind of mind and her best friend, while a ghost, practically jumps off the pages and is alive in every aspect but one.
Paper Valentine comes to a confident, easing close that leaves readers satisfied while wondering what may lie beyond the last page, and is perfect for this stand alone. Doors are closed but windows are opened and it's up to the reader to imagine what lies ahead, and that's a glorious gift not many writers leave for their readers.
Paper Valentine is the first novel I've read by Brenna, but it surely won't be the last.
It's a story both refreshing and witty, and I loved every minute of it.
Rating: 10/10
Advertisement