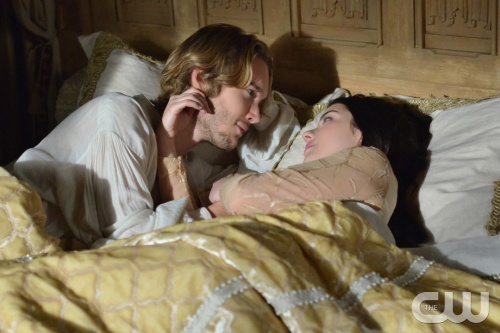 Fast forward two months and this episode commences with Mary and Francis's return to French court from their honeymoon. Mary is dreading their return because as she puts it, a typical day in court consists of politics, murder and backstabbing. If she only knew what awaited her.
As soon as they arrive, Queen Katherine lets Francis know that Bash never made it to his exile in Spain. Francis is outraged at the possibility of having to deal with Bash again.
Bash returns in hiding to the castle and surprises Mary in her room. He lets her know that she should find out the kind of man that Francis really is. He is sure that Francis was the one who ordered him to be killed. Very tactfully, Bash has left an ounce of doubt in Mary's mind.
Mary returned barring her ladies gifts. Lola's strange behavior is already getting noticed. Her pale sickly appearance and lack of appetite aren't helping her case. However, Mary is unaware that Lola is with child. Lola's child is not just anyone, as its father is the future King of France. As Kena points out, one of Mary's other ladies and the only one who knows about Lola's rendezvous with Francis, this child means that Lola would have a secure place in French court for the rest of her life. Not to mention that it also secures Lola a place as Francis's mistress. Just the thought alone of being known as a mistress (not to mention to the husband of one of her best friends) for the rest of her life makes Lola desperate enough to find a woman who will help her eliminate her pregnancy.
At Kena's warning of Lola's plans, Mary finds her and prevents her from making a grave mistake. As usual, Mary's kind heart offers no judgment and unconditional support. That changes when she connects the dots, and Lola confirms that she's carrying Francis' child.
Mary is heartbroken. Yet it appears that she's for the most part upset at the fact that Lola was with Francis only once and already conceived. Meanwhile, Mary has been married for two months and still hasn't been able to fulfill her womanly, wifely, and royal duty – give her husband children.  Even though Lola has guaranteed Mary that this pregnancy may change her life but doesn't have to change Mary's, they both know in their hearts this is going to change things drastically. Even if Mary doesn't tell Francis, it would affect the trust that holds their marriage together. It doesn't seem like there's an easy out of this one.
This week we also meet Bash's new love interest. A lady hunter he meets in the woods, who offer him a place to stay. Their shared interest causes an instant attraction it seems. By the end of the episode, she doesn't want him to leave her side, and Bash all of a sudden is smitten with her as well. That's funny because two seconds ago he was trying to convince Mary that he would always be there for her if she ever changed her mind. The way that this new love interest was into the plot just didn't really make much sense. It seems too rushed and forced. So in this aspect, I will have to say the Reign writers may have slipped. It just didn't feel like her inclusion into the plot was natural. Hopefully, they make her fit in with more of a purpose in the following episodes. Anyways, just as Bash arrives at her and her brother's home they see Olivia appear from the woods looking petrified and with marks all over her arms. Apparently, she's been marked by the Pagans, as the chosen one. Bash takes her to Nostradamus to see if he can help cure her wounds.
Meanwhile, back in the castle we see King Henry and Queen Katherine teaming up to cover up King Henry's horrible deeds. As he was having fun with the Duchess of Bohemia in his bed chambers, he placed her on the ledge of his window and she ended up falling to her death. This death could have caused a war between France and Bohemia, but Queen Katherine agrees to help King Henry with her expertise of covering up her crimes. The scenes between these two actually made me chuckle as their interaction together was quite funny even if they finally were teaming up to roll a body up in a rug pulling it up a flight of stairs.
It showed that they do have things in common and there is an alliance and faithfulness to each other despite the disillusion and hurt their relationship has suffered over the years. Queen Katherine may be a manipulative and vengeful woman, but Henry knows that he can depend on her when push comes to shove. Even in the literal sense, ha!
Yet we see that getting away with murder and how Katherine maneuvered the situation helping him get away with it, has left King Henry with a new way to exercise his power as a royal. I can't help to think that this has awakened a twisted murder instinct within him.
Down in Nostradamus's chambers, we see him trying to help Olivia back into reason. Though I must say Olivia looks like she's too far down the road at this point, completely possessed. She warns Nostradamus that the darkness is coming. The darkness most definitely has something to do with the force that's been lurking in the woods. But as of now it isn't certain if it the darkness will come in a physical form or will it come over everyone in the castle messing with them emotionally and psychologically.
Certainly, chaos is on the way. An episode with important information that needed to be delivered yet they kept distracting from the serious matters with unimportant things such as the visiting royals from Bohemia and Kena's act at being a chaste girl. All these things took away and caused distraction from what should have been the core of the episode.
Next week, we'll have to wait how the news of the pregnancy will unfold with Francis. We'll also have to wait and see what wicked plots King Henry is up to now.
6/10.
Advertisement