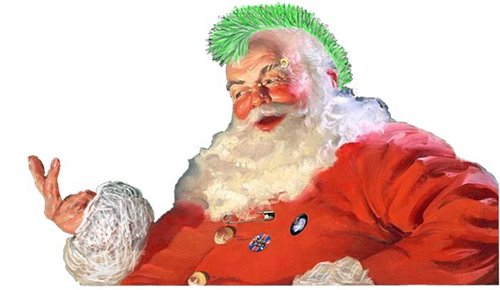 'Tis the season for family, decorations and singing along with timeless Christmas carols. The holidays are a time to bring out the best in everyone, and music plays an important part of tapping into the spirit.
Every year, I am eager to hear the familiar voices of Nat King Cole, Bing Crosby and Mariah Carey. Do you think she would be offended to be grouped together with those two guys? I feel like it is safe to say that "All I Want for Christmas is You" is a staple of holiday music by now, but I digress.
As much as I love to hear those songs, they eventually lose their flavor, so I decide it's time to listen to something else. Given my love of anything alternative, indie or emo, I came across "Punk Goes Christmas."
Your first thought might be, "How could punk and the joy of Christmas coexist?" Odds are you probably haven't met me, because I am equal parts hoodlum and compassionate. It is possible for two seemingly opposite concepts to fuse together nicely, like lamb and tuna fish (Big Daddy).
This album follows a similar recipe, blending aspects of rock and modern music with a Christmas theme. Who doesn't want to give the holidays a little edge after hearing "The First Noel" and "White Christmas" for the tenth time in three weeks? Old people, probably, but this is TheYoungFolks.com.
"Punk Goes Christmas" is not going to blow you away, but it carries out on its promise. My vote for best original song goes to New Found Glory with "Nothing for Christmas," while my favorite cover is Issue's version of "Merry Christmas, Happy Holidays." I give it an overall score of 3.5 out of 5 stars and recommend checking out any of the tracks that scored a four or five.
New Found Glory – "Nothing for Christmas" – 5/5
Catchy and radio friendly. I keep singing the lyrics, "Christmas is coming, so don't buy me anything. I got what I wanted. I got what I wanted." I recommend this song to people of all musical tastes.
All Time Low – "Fool's Holiday" – 3/5
The guitar effects on this track are very festive. Besides that, nothing else about this song stands out.
Real Friends – "I Had a Heart" – 4/5
Great song for anyone who values grandma's opinion. My favorite lyrics are "My grandma keeps going on about the New Year. She says 'you can't miss what you can't forget.'"
Man Overboard – "Father Christmas" – 2/5
I had to look up the soundtrack to Step Brothers because this song sounded like the version that was used in the movie. It is not. The Kinks is used in the film and has a much better sound than Man Overboard.
The Summer Set – "This Christmas" – 3/5
I dig the electronic beats on this track. It gives the classic tune an attractive update.
Crown the Empire – "There Will Be No Christmas" – 3/5
Slower song with a somber tone. There is nothing jolly about it, but reminds us that some folks are not great at the whole "Christmas thing." Way to keep it real, Crown the Empire.
Yellowcard – "Christmas Lights" – 4/5
Coldplay's sound can sometimes be too mellow. Yellowcard does a great job of adding a little kick to their original classic.
Issues – "Merry Christmas, Happy Holidays" – 5/5
I love everything about this song. The drums/guitars/vocals are all on point and it is the only track on the album to feature screams. Issues gives the boy band original a lesson in manhood with this cover.
Jason Lancaster – "All I Can Give You" – 1/5
The track seems a little repetitive. I enjoy Lancaster in Mayday Parade and Go Radio, but I d0 not think his voice matches up well in this song.
The Ready Set – "I Don't Want to Spend Another Christmas Without You" – 3/5
Light, poppy and fun. A great track for the younger audiences that have yet to graduate to heavier music.
Set It Off – "This Christmas Day (I'll Burn It to the Ground)" – 4/5
I imagine the Grinch giving the devil horns when this song plays at full volume in his cave. It is humorous and angsty towards all things Christmas. I wasn't able to listen to the song without laughing.
William Beckett – "Do You Hear What I Hear?" – 5/5
Electronic beats mixed with classical strings provide a great backdrop to William's voice. The tempo of the song also changes nicely. It's a great song to close the album.
Happy holidays everyone!
Advertisement