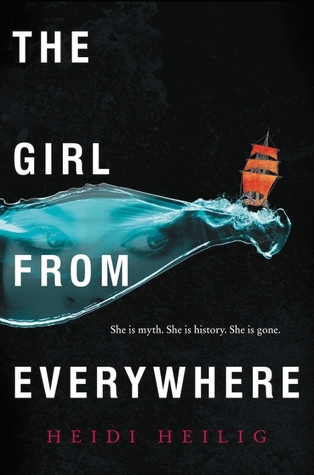 There's something so interesting about time travel. Whether the world is invested in shows like Doctor Who, or space time travel with Interstellar, people across the globe seem to latch onto this phenomenon with a tight grip. If "The Girl From Everywhere" is a blip on the radar like previous apocalypse franchises and dystopian novels, we'll have to see, but there's one thing that Heidi Heilig does so beautifully correct in this novel: she makes it fun.
We meet her main character Nix, a 16-year-old girl who has time traveled through centuries and all across the globe on her father's own time traveling ship, The Temptation. If that alone doesn't have you intrigued, there's plenty more where that came from. There's a boy (or two); a triangle of sorts. And vivid and captivating history sweeps the pages and guides the story in an adventurous and entertaining way. It's almost as though you're saddled up and along for the ride and then you get reminded that it's 2016 and you're not in ancient China or you know, in a romantic entanglement with a Persian thief.
The characters were fleshed out enough that the book read satisfying rather than searching. Nix is one of the most interesting characters I've read in a long time, and her struggles and emotions were palpable and moving.
There's a lot of depth within this book that history buffs will enjoy immensely. Heilig does a fantastic job of writing the scenery and sensory detail in a way that adds to a character rather than take the spotlight off of them. The vividness and connection that Heilig has with her characters is very clear with every new adventurous turn.
Although the idea of the book may seem childish in certain arcs (I was wary myself), and almost Magic School Bus like, there's a signature YA spin on it that triumphs over the hill and comes out bigger and better. It's layered with many normal, mature coming of age issues despite Nix's very magical life, and it's quite the journey for her and every character she comes in contact with.
I will say that the romance isn't overwhelming and Slate, Nix's father, is hands-down a curiosity in and of himself. The plot mostly centers on the quest to save Nix's mother, his wife, after she died in 1868 in Honolulu. It's a race to see what happens to Nix, who continuously grows and ultimately learns to break the mold she's been set into (quite literally). The way that Heilig keeps the reader guessing, gasping and desperate is as captivating as the many layers the book brings. Pirates, time travel, stunning character development and a well developed, intriguing crew of people who steal your heart like gold. Obviously. It's a story, at it's core, about truly belonging.
I enjoyed every bit of entertainment this novel brought to me, and I looked forward to every turn of the page. Fortunately for me, and you (although this may answer the above questions), we do get to see more of Nix and her adventures, as Heilig is continuing this as a series.
Also, that cover. Get me five hardback copies ASAP.
4/5
Advertisement