To read other VIFF coverage, click here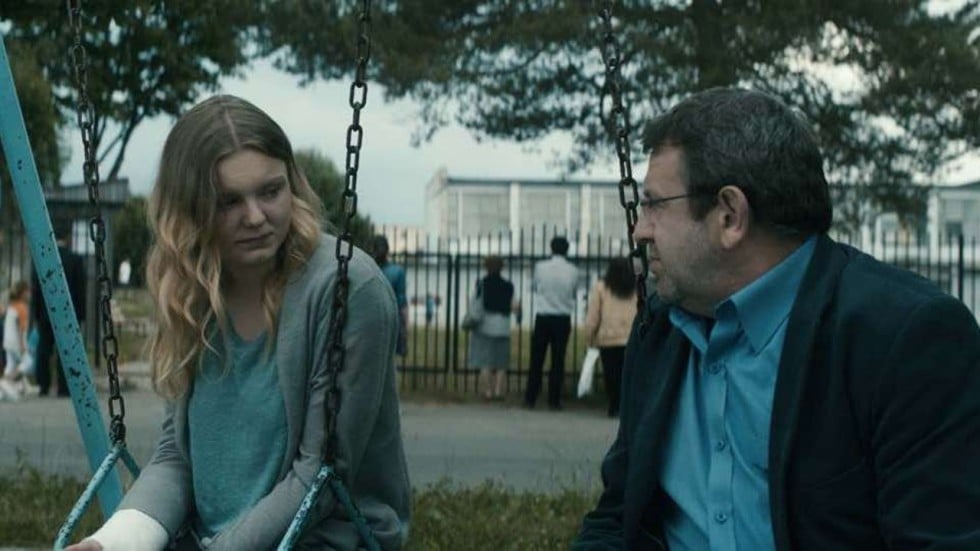 Graduation
Cristian Mungiu's Graduation stands at the front what seems to be a Romanian New Wave resurgence. Graduation, which seems to be the most talked about of the bunch, is also the bleakest, most melancholy and claustrophobic of them. Romeo (Adrien Titieni) is a sullen and disgruntled doctor who, on the eve of his daughter's final exams, learns that she's been assaulted. The physical injuries aren't too substantial, but the psychological scars haven't had the proper time to heal before Romeo demands she take her school exams. This comes from a place of unconditional worship. Romeo loves his daughter and wants desperately for her to leave their squalor so she can attend Cambridge University. To say he's trying to live vicariously through her would be too simple. Romeo seems to despise his surroundings. To him the people living there might as well be rotting corpses—which they pretty much are. A police officer literally counts his days before retirement. His elderly mother lives out her days in the discomfort of her solitude. A patient of his—undergoing preparations for surgery—only seems a breath away from his expiration.
Graduation looks and feels like a work of cold, virile moralizing but proves to be more even-handed in its insights. The father's selfishness seems to be an extension of his desire to see his daughter succeed, a tragic neorealist approach which puts him in the underbelly of Romania's seediest ghettos. Mungiu's film is shot with appropriate psychology, the emphasis of shallow focus seems to evoke Romeo's detached ignorance of his surrounding destitution. While Graduation concerns itself with the realities and burdens of the poor, Mungiu seems more interested in the impoverishment of the soul, a study in the corruption and ignorance of those who don't know the meaning of destitution.
Rating: 8/10
Kedi
Kedi is a non-argumentative documentary about the lives of cats residing in Istanbul, Turkey. It's definitely something for cat lovers, but the momentary appeal quickly wares thin and the adorableness of the cats soon become a more irritating guise (and excuse) for the film's dearth of cultural insight and actual storytelling. The individual accounts of the film's cat owners are sometimes interesting—particularly when you become aware of the poverty they live in—but when the cats themselves become characters they're anthropomorphized into Disneyfied archetypes.
Kedi is a film of technical beauty, the moments between gorgeous panoramic and aerial perspectives of the city make Istanbul look like an awe-inspiringly ancient and environmentally rich ecosystem. Kedi, however, always forgoes exploring visual and social dimensions in favour of its stomach churning attempts at trying to sound profound. Some of the subjects being interviewed are genuinely laid back and funny, but they come with a mixed bag of eccentrics who spew out schmaltzy lyricism ("Just as you notice the cat, the cat will notice you. It feels very reciprocal. Like a mirror.") and hollow spiritualism ("Some people say cats know that God exists."). Condense Kedi into ten minute montage then maybe you'll have an amusing YouTube video. Give it a strong topical through-line then maybe you'll have a 30-minute episode on Vice. Otherwise there just isn't a movie here.
Rating: 4/10

Lifeline
I don't know how to say this without sounding bumptious but Lifeline doesn't really feel Japanese (even though it very much is). My audience had the pleasure of having director Shiota Akihiko humbly introduce his film and conduct a Q&A. While I couldn't stay for the latter as I had to rush to the next screening, the immediate vibe I picked up on in Lifeline was the Hong Kong-stylings of Wong Kar-wai. In the hypnotically flamboyant tradition of Chungking Express (1994), characters in Lifeline seem to talk in dialectic symbols and emotionally resign themselves to their romantic failures. The modest, more tragic Lifeline doesn't generate the same sensuous power of Chungking Express, nor does it move as fluidly, but overall Akihiko's film is slick, festive and even—if somewhat shamelessly—uplifting.
Lifeline is made up of two films, the first being a 15-minute short titled The Promise (also directed by Akihiko), a decidedly cutesy story about a father and his daughter spending their day in the library. It's not all mawkish charm, however, and the conclusion of the short proves to be surprisingly wistful and nostalgic. Running at a meager and economic 69 minutes, Lifeline is a thoroughly enjoyable small-scale yarn of anti-romance. The story centers on a young used car salesman, Ryosuke, and the promiscuous vagabond, Shiori, who disrupts his quiet life. Soon, the two start to talk to each other, but it's in a haze of emotional unclarity and without the star-crossed sexual tension. Still, there's something unmistakable between them. The two string along different paths, Ryosuke moving through life like every step forward is a step too far. For Shiori, it seems to her that every step missed is a step she'll never get back. They move in completely different directions and at different speeds, but always happen to find themselves in a similar place.
Despite character motivations sometimes feeling unclear or stretching the imagination, it's clear the movie isn't meant to be taken completely literally—think of it that way, and Lifeline's ending will hit harder and truer. By the last third of the film, a tired moodiness overtakes the story, but by that point Akihiko has already made me invested in his sad and zany world, where the people feel strange and, at the same time, oddly familiar.
Rating: 7/10
Advertisement