A plain horse and wagon on Mulberry Street grows into a story that no one can beat! In this tale, Young Marco allows his imagination to run riot as he travels home from school one day, to the extent that a horse and cart is soon transformed into a chaotic carnival of colourful creatures in his own mind.
Never in my history of reviewing did I ever predict I'd be approached by one of my lovely publicist friends with the prospect of reviewing a Dr. Seuss classic. Am I living the dream? I just might be.
Revisiting this classic brought back so many memories of happiness from my younger years. I still remember this one profoundly, because it was the first of many Dr. Seuss tales I would come to know and love. When I first discovered And to Think That I Saw It on Mulberry Street, all the vivid colors and giggly rhymes filled me with joy and curiosity, just the way a young girl ought to be. Upon rereading it, I found that all those same emotions were still evoked–all from what some others may consider an ordinary children's book. And that, my friends, is where the magic really lies: that a book made for kids still manages to make an adult feel things. If anything, I can say I think I enjoyed it much more this time around, fully understanding just how innocent and genuine this one-of-a-kind book is.
A few of our TYF writers also have a thing or two to say about it:
Dr. Seuss' power comes not only from his on-point rhymes but also his use of beloved characters to communicate about active issues.
And to Think That I Saw It on Mulberry Street is nostalgic and refreshing. It is a reminder that we should let our creativity flow. There is still a child in each of us, and as we grow older, we should not stray away from the freedom of imagination. The childlike wonder is something yet to be explored, and Dr. Seuss reminds us of that. We can turn simple acts, such as taking walks, into an imaginative adventure. Even though others may not understand our way of thinking, that does not mean we should conform to others' standards. And to Think That I Saw It on Mulberry Street may be looked at primarily as a children's book, but it holds lessons that apply to adults as well; so let's never grow up.
And the best part? The fun isn't over just yet. Dr. Seuss continues to live on in a new picture book we'll soon be able to add to all our already-existing collections! Check out the blurb and cover below: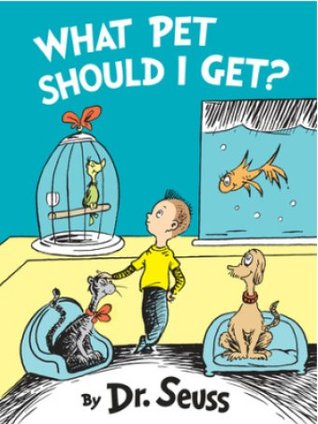 This never-ever-before-seen picture book by Dr. Seuss about making up one's mind is the literary equivalent of buried treasure! What happens when a brother and sister visit a pet store to pick a pet? Naturally, they can't choose just one! The tale captures a classic childhood moment–choosing a pet–and uses it to illuminate a life lesson: that it is hard to make up your mind, but sometimes you just have to do it!
Told in Dr. Seuss's signature rhyming style, this is a must-have for Seuss fans and book collectors, and a perfect choice for the holidays, birthdays, and happy occasions of all kinds.
An Editor's Note at the end discusses Dr. Seuss's creative process, his interest in animals, and Seussian creatures throughout his work.
Make sure to follow along with the rest of our tour gang.
Dr. Seuss 44 Classic Book Celebratory Tour –
1.      And to Think That I Saw It on Mulberry Street, 1937 – The Young Folks.com<http://theyoungfolks.com/>
2.      The 500 Hats of Bartholomew Cubbins, 1938 – Bookish Antics<http://bookishantics.com/>
3.      The Seven Lady Godivas, 1939 – The Eater of Books<http://eaterofbooks.blogspot.com/2015/07/review-reawakened-by-colleen-houck.html>
4.      The King's Stilts, 1939 – On Starships and Dragonwings<http://www.onstarshipsanddragonwings.com/>
5.      Horton Hatches the Egg, 1940 – The Book Cellar<http://www.thebookcellarx.com/>
6.      McElligot's Pool, 1947 – Media Mikes<http://www.mediamikes.com/>
7.      Thidwick the Big-Hearted Moose, 1948 -Mommie of 2<http://frugalmommieof2.blogspot.com/>
8.      Bartholomew and the Oobleck, 1949 – Nonperfect Parenting<http://nonperfectparenting.com/>
9.      If I Ran the Zoo, 1950 – Live to Read<http://livetoread-krystal.blogspot.com/>
10.     Scrambled Eggs Super! 1953 – Word Spelunking<http://wordspelunking.blogspot.com/>
11.     Horton Hears a Who! 1954 – Bookiemoji<http://bookiemoji.com/>
12.     On Beyond Zebra! 1955 – Jessabella Reads<http://www.jessabellareads.org/>
13.     If I Ran the Circus, 1956 – Book Hounds<http://www.bookhoundsya.net/>
14.     The Cat in the Hat, 1957 – The Bookbag<http://www.thebookbag.co.uk/reviews/index.php?title=The_Bookbag>
15.     How the Grinch Stole Christmas! 1957 – Nightly Reading<https://nightlyreading.wordpress.com/>
16.     The Cat in the Hat Comes Back, 1958 – Winter Haven Books<http://winterhavenbooks.blogspot.com/>
17.     Yertle the Turtle and Other Stories, 1958 – Alice Marvels<http://www.alicemarvels.com/>
18.     Happy Birthday to You! 1959 – Chapter by Chapter<http://www.chapter-by-chapter.com/>
19.     Green Eggs and Ham, 1960 – Poland Bananas<https://www.youtube.com/channel/UCOkc2PP2lPDUMLg0p6rGGDQ>
20.     One Fish Two Fish Red Fish Blue Fish, 1960 – Once Upon a Twilight<http://www.onceuponatwilight.com/>
21.     The Sneetches and Other Stories, 1961 – The Mod Podge Bookshelf<http://themodpodgebookshelf.blogspot.com/>
22.     Dr. Seuss's Sleep Book, 1962 – Good Books and Good Wine<http://goodbooksandgoodwine.com/>
23.     Dr. Seuss's ABC, 1963 – The Irish Banana<http://theirishbanana.blogspot.com/>
24.     Hop on Pop, 1963 – Mundie Moms<http://mundiemoms.blogspot.com/>
25.     Fox in Socks, 1965 – Page Turners<http://www.pageturnersblog.com/>
26.     I Had Trouble in Getting to Solla Sollew, 1965 – Book Rock Betty<http://bookrockbetty.com/>
27.     The Cat in the Hat Songbook, 1967 – Giveaway Train<http://giveawaytrain.com/>
28.     The Foot Book, 1968 – I Am A Reader<http://www.iamareader.com/>
29.     I Can Lick 30 Tigers Today! And Other Stories, 1969 – Cuddlebuggery<http://cuddlebuggery.com/>
30.     I Can Draw It Myself, 1970 – The Children's Book Review<http://www.thechildrensbookreview.com/>
31.     Mr. Brown Can Moo! Can You? 1970 – Curling Up with a Good Book<http://curling-up-with-a-good-book.blogspot.com/>
32.     The Lorax, 1971 – Elizziebooks<https://www.youtube.com/user/elizziebooks>
33.     Marvin K. Mooney Will You Please Go Now! 1972 – Reading with ABC<http://readingwithabc.com/>
34.     Did I Ever Tell You How Lucky You Are? 1973 – Me, Myshelf, and I<http://www.memyshelfandi.com/>
35.     The Shape of Me and Other Stuff, 1973 – Paperback Princess<http://fireflyreadit.blogspot.com/>
36.     There's a Wocket in My Pocket! 1974 – Presenting Lenore<http://www.presentinglenore.blogspot.com/>
37.     Oh, the Thinks You Can Think! 1975 – YA Books Central<http://www.yabookscentral.com/>
38.     The Cat's Quizzer, 1976 – Lille Punkin'<http://www.lillepunkin.com/>
39.     I Can Read with My Eyes Shut! 1978 – Confessions Of A Vi3tbabe<http://vi3tbabe.com/>
40.     Oh Say Can You Say? 1979 – Ex Libris<http://exlibriskate.com/>
41.     Hunches in Bunches, 1982 – No BS Book Reviews<http://nobsbookreviews.com/>
42.     The Butter Battle Book, 1984 – Novel Novice<http://novelnovice.com/>
43.     You're Only Old Once! 1986 – Dad of Divas<http://www.dadofdivas.com/>
44.     Oh, the Places You'll Go! 1990  – Jesse the Reader<https://www.youtube.com/channel/UCDPo9-NZFNi2Gwe8LnlvAUQ>