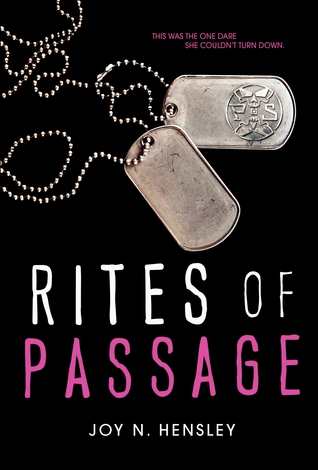 Sam McKenna's never turned down a dare. And she's not going to start with the last one her brother gave her before he died.

So Sam joins the first-ever class of girls at the prestigious Denmark Military Academy. She's expecting push-ups and long runs, rope climbing and mud-crawling. As a military brat, she can handle an obstacle course just as well as the boys. She's even expecting the hostility she gets from some of the cadets who don't think girls belong there. What she's not expecting is her fiery attraction to her drill sergeant. But dating is strictly forbidden and Sam won't risk her future, or the dare, on something so petty… no matter how much she wants him.
As Sam struggles to prove herself, she discovers that some of the boys don't just want her gone—they will stop at nothing to drive her out. When their petty threats turn to brutal hazing, bleeding into every corner of her life, she realizes they are not acting alone. A decades-old secret society is alive and active… and determined to force her out.
At any cost.

Now time's running short. Sam must decide who she can trust… and choosing the wrong person could have deadly consequences.
The world is always in need of a great book about a kickass girl, which isn't to say there's a shortage, because there isn't, but do we ever get sick of reading about seriously tough heroines?
No.
Which brings me to Rites of Passage, because how could anyone ever resist reading about a badass girl in military school with other badass girls and hot badass guys? You can't. I know. All that badass. I, much like you, could not resist.
You know those books you just look at and think, "Yes, this will be splendid. This is just the book I've been looking for and didn't even know about. Sure, I know nothing about it except there's a great blurb and the cover is pretty, but I'm going to love this, there isn't any way that I won't."
Rites of Passage is very much this book.
I have a serious army hangup, as most of my friends know, and yes, if you're wondering, I've looked into it, but bordering on twenty (am I really that old already?), I'd say it's a bit too late to put myself up to that. Anyway, we do not talk about my army hangups. Most of the time. We're looking at you, The Summer I Found You.
Sam's way of testing the DMA community and bringing light to equal rights was provocative and so entertaining. Her drive and sheer willpower to just keep going was so inspirational to me, as a headstrong girl myself. She demonstrated an amazing attitude despite her unique situation and made for a great example for today's youth.
Speaking of unique situations, I don't think I've ever read about such extreme hazing. So many events in this novel had me cringing and shaking my head in fear for the safety of Sam. If you were one of the unlucky victims of college hazing, I recommend this book if only to end your self-pitying.
Can I talk about boys yet, please? Because we have quite a few brave (and gorgeous) men in Rites that deserve medals for backing up Sam. The genuine brother/sisterhood displayed between her and a select few rang so true and reminded me of a few of my favorite real life, joined-at-the-hip army brats. Also, Drill is a beautiful, beautiful boy and I wish this novel lasted forever only because I need more Drill in my life.
Relationships between McKenna and her brothers and sisters, biological and not, alike, took me on a surprisingly emotional journey that I (not surprisingly) absolutely adored with all my heart. I liked getting bits and pieces of McKenna's family life thrown into the midst of things, and I especially loved how she came across one or two people who were close to her recently deceased brother. Hensley did a wondrous job of handling all outside issues, and it was nice that those aspects didn't go untouched as they most often do in select novels.
Rites of Passage takes readers on an astounding journey of one girl and her desire to beat the odds no matter what the cost may be. This book is a roller coaster of emotions I just didn't want to end, and neither will you.
Rating: 10/10
—————————————————————————————————————————————————–
Q & A with Joy
First and foremost, thanks so much for joining us! We loved getting to review Rites of Passage and can't wait to see what else you have in store for us!
Thanks so much, Stephanie! I'm so glad you guys loved RITES!
I've heard that you, just like Sam, went to a military academy on a dare. How was your experience the same/different from Sam's? Was your time at the academy as difficult as hers in terms of getting treated equally by the boys?
You know, looking back on things, I loved my experience, but my mom saved ALL my e-mails and during my time there… I was not happy. I was definitely not as tough as Sam, which is part of the reason I wanted to write the book. I enjoyed putting Sam in military school and have her be strong enough to thrive where I only survived. She has more courage than I ever had!
As far as my experiences, the early mornings, the smoke shows, the motivational marches, the books of knowledge, the trashed rooms—that all happened! I definitely didn't have a secret society after me, though there were rumors of them there. My school (a university) had accepted females since the '70s so they were much more accepted. There were still cadets who didn't want females there at all. I knew a few of them, but I'm certainly not going to call them out!
Was going to a military academy yourself what inspired you to initially write Rites of Passage?
Partly. I knew there was a story to be told there, but the inspiration was really that I was stuck in the middle of another book. I think I'd broken it and just didn't want to write it anymore. I e-mailed my agent and said, "Hey, I'm just going to play around with a crazy idea for a few weeks." She, thankfully, was okay with it. Six weeks later, I had RITES! Fastest book baby ever for me!
In Rites, were there any bands that helped for writing, or a set playlist you listened to throughout working? If so, can you share a few tunes?
Oh my word, yes! Music played a huge role in the book, mostly because music played a huge part at military school. My corporals created a CD that they used to play every time they "smoked" us—did really hard physical training. Some of the songs I remember vividly. I still break out in a sweat just hearing them.
1.Welcome to the Jungle by Guns-N-Roses
2. Blue Monday by Orgy
3. Hell's Bells by AC/DC
4. Sweet Dreams by Marilyn Manson
5. Break Stuff by Limp Bizkit
6. Goodnight Saigon by Billy Joel * 
*this is unlike all the rest, but plays a huge role in a scene later in the book. I listened to this one A LOT while writing.
Are there any actors you pictured for any specific character? *coughs* DRILL *coughs*
This is a great question! You know, for the girls, I really didn't have anyone in particular in mind. They kind of float behind my eyelids and each time I read the book during the editing process, I pictured them a little bit differently. There was only one character I could see completely from beginning to end. *cough* DRILL *cough*
So the actor I had in my mind when writing Drill was Charlie Hunnam. But not the Charlie Hunnam from Sons of Anarchy—he's too old and hairy (but still hot). I pictured Drill as the Charlie Hunnam from Green Street Hooligans—one of my favorite movies ever!
I absolutely adored your book and would love to read more about Sam's future adventures… Is there any chance for a Rites of Passage sequel?
Right now, there's no sequel in the works—believe me: I'd like to know what happens, too! But, if you get everyone to buy it and sing its praises to Harper Teen, they might let me write about it!
Now that Rites is heading to shelves in a few weeks, are you working on anything new, and if so, can you tell us what?
I've got another YA contemporary coming out with Harper Teen next fall. It's about a girl in the world of mixed martial arts who has to risk the life of the boy she loves to save her brother.
Greatest guilty book pleasure?
Um… besides buying them? I think I'd have to say Outlander by Diana Gabaldon. I read that book when I was 16 and have read it once a year since. I LOVE it with all my heart and soul. I want to LIVE in that book.
What is the worst gift you've ever received… and the worst gift you've given?
Oh, come on now, I can't say that—the giver would know who they were immediately and I don't like making enemies. Worst gifts I've given? Ones I've bought from stores on the day of. I like to put thought and energy into the gifts I pick, but I'm a writer—I always forget until the last second. It's the thought that counts, though, right? I mean, I WANT to give amazing gifts…
Thanks so much for chatting with us, Joy!
Thanks for having me! I hope everyone else enjoys RITES as much as you guys did!
Advertisement