With the news this week of Veronica Mars eating up just about every entertainment media outlet as it climbed its way to a big screen debut, it's easy to mourn the other television shows that passed before their time and won't be receiving such a gracious return. From the expected (Bluth family fans, I'm looking at you) to the little BBC shows that never stood a chance, here are my top ten picks of shows that were gone too soon.
10. Sirens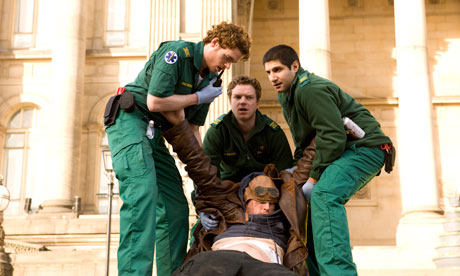 This little gem of a show focused on three young paramedics who must face the mundane, absurd and fearful day to day woes of driving an ambulance around Britain. From alcoholics passed out on the curb to a disastrous car wreck, audiences are privy to each daunting situation. Mix that with genuine laugh out loud humor, actual medical knowledge and wonderfully engaging performances by the trio of actors Rhys Thomas, Kayvan Novak and Richard Madden from Game Of Thrones. It's such a shame such a charming show got axed after only six episodes.
9. Firefly
The premise: Five hundred years into the future, a renegade crew aboard a small spacecraft tries to survive as they travel to unknown parts of the galaxy and evade trouble at every corner. This space western may have only lasted a season but the diehard following presses on ten years later. Before Joss Whedon was in Marvel and Kevin Feige's back pocket, he helmed an offbeat little crew of actors and visuals that promised adventure.
8. Star Trek
Yes, William Shatner never learned the concept of subtlety, Spock's eye shadow was distracting, and when the show was bad, it was VERY bad– "Spock's Brain," "Shore Leave" and half of Season Three, I'm looking at you– and who can forget the fight with Gorn? But it's difficult to refute the intangible spark of curiosity the show manage to procure. It's a show whose worth grew in passing years after it's cancellation and was treated to cult favorite status during the late 60's. Given a harsh budget cut, bumped around studios and shuffled to death slots during season three, it wasn't given the attention the premise deserved.  Gene Roddenberry produced a show that–albeit ridiculous much of the time–also touted a hugely progressive storyline. The message: Accepting the unknown, learning not to fear the new and helping any being in need. The result: Cancellation. Typical.
7. United States of Tara
Powerhouse Toni Collette stars as a woman struggling to find a balance between her dissociative identity disorder and raising a family who's begun to fall into dysfunction. Collette is absolutely mesmerizing, having to not only fall into one character, but five or six alter egos as well and she does so perfectly. Always scripted with ease and managing to find the right balance between comedy and drama, this show was given the axe just as discoveries were beginning to be made, leaving far too many loose ends and disappointed fans. We all just wanted Tara and her alters to all make it out okay.
6. Young Justice
After being unceremoniously shuffled around by an Adventure Time dominated Cartoon Network, it finally received its curtain call with March 16th's series finale. The first season was an amazing revelation for animation and DC lovers, managing to produce a show that subverted its expectations and refused to play into the idea that animation is for kids. Producing characters in the second season such as Dick Grayson, Blue Beetle, Zatanna and an array of speedsters, it was almost tear inducing for DC comic fans that never imagined they'd see such an expansive–and often times obscure–characters all in the same scenes, fighting side by side. Two seasons of carefully crafted and well outlined material, this show's end is bittersweet but still worth the watch to see how it all ends.
5. Party Down
Starring the likes of Adam Scott, Lizzy Caplan and Jane Lynch, this is a show for fans of superbly executed comedy. The show focuses on a group of actors who've all moved to L.A to pursue careers in the entertainment business but end up instead as a rag tag team of caterers instead. Wildly funny, intelligently written and acted by an all-star comedic cast, it's criminal that this show only got two seasons. Often time gracing the Netflix instant queue, take a day (or two if you lack the skill and motivation) and watch this wonderful turn in television.
4. Freaks and Geeks
Shows such as Two and a Half Men, How I Met Your Mother and The Big Bang Theory overstay their welcome, yet a show that chronicled the lives of teens experiencing issues of trust and acceptance, drugs, drinking and bullying are given the shaft. Where stars such as Jason Segal, James Franco and Seth Rogen got their breaks, this show with care made sure to direct attention to the problems that would be easily relatable to the everyday teen that tuned in. Easy spirited and sweet-hearted, this is another Netflix grab that is a must see for television or entertainment enthusiasts.
3. Arrested Development
Not number one! Blasphemy! Okay shut your mouths because this show doesn't even deserve to be on this list considering its upcoming season but hey, fear of fans' wrath can do a lot. Michael Bluth takes over family affairs after his father is imprisoned, inheriting the obnoxious family drama along the way. Inhibiting a comedic style that surpassed its contemporaries and taking a cast that guarantees bragging rights–this is a show that despite being a critical and fan darling was cancelled due to money making schemes. But hey, they're bringing it back this May, so stop whining, due some extreme re-watching and laugh your asses off at one of the best made comedies out there.
2. The Hour
I haven't gotten over this one yet–the sting is still overwhelming. For fans of this hyper-stylized, hugely atmospheric show knows that the last shot of the season–soon to be series–was of Freddie Lyons face, in a deep sort of peril and Bel Rowley, a feminist icon for the ages, raced to him. What was their fate? We'll never know, and it's one of the most painful show axes that this fan's ever experienced. Everything that The Newsroom wishes it could be, this show, set in the 50's, was intelligently written, managing to make the mundane fascinating, beautifully shot in almost a cinematic, yet film era flare, and graced audiences with some amazingly effortless performances by a well stacked cast, led by Ben Whishaw, one of the finest actors of his generation. Watch it, be annoyed by its departure, and fall in love with the characters–and you will love all of them.
1. Pushing Daisies
One of the most innovative and creatively shot and written television series of the last ten years, Brian Fuller created something truly magical with Pushing Daisies. However, the writers' strike hit, and this show was gone, throwing away huge potential, wonderfully written stories, a sense of realized magic not often seen in T.V. When people think of magic, they think of spells and witchcraft, but what this show managed to do was incorporate the childish wonder of magic, yet modernize it with harsh realities, managing to not only treat death as a mystery, but also treat love as something so special that it's able to surpass it. It follows Ned the Pie Maker (played by a stupidly charming Lee Pace), who holds the ability to bring things back to life with a single touch. The catch? Something else will have to die. It's as if you were watching a pop-up book as colorful and fantastical images leap from the screen, spell binding you into the show. Watch it, love it, and hope it somehow someway makes it back to our screens.
Advertisement