I thought we already had "Teenage Angst: The Video Game," but I was very mistaken.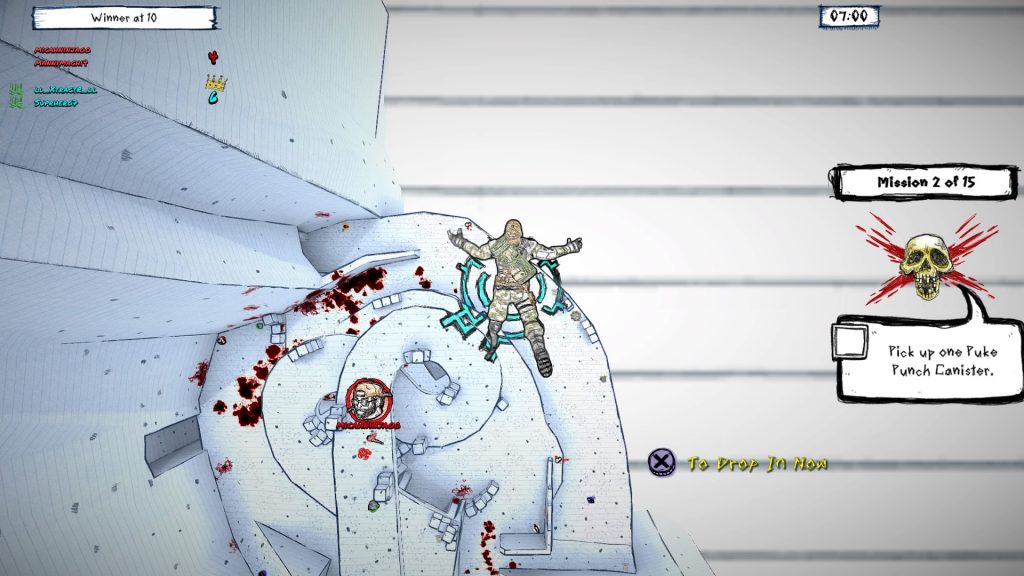 Within four minutes, I knew I wasn't going to like Drawn to Death. Not because the design that seemed novel at first is really gaudy in action or because of the disconnects I experienced, though that certainly didn't help. No, it was the game tips that appear in Drawn to Death's loading screens. Sometimes, the tips are in fact tips, and sometimes they are "jokes." Drawn to Death is hardly the first title to do this, but it is easily the worst at it. I knew I wasn't going to like this experience when the following tip appeared while I was trying to reconnect:
"If you get your current events from web sites that spin every story towards a point of view you already agree with, you are not reading the news. You are reading fan fiction."
Bite me, video game. 
Look, I know it's pretty cool right now to subscribe to the Philip DeFranco brand of "everyone's stupid, if you look at it in a certain way," but immediately implying everything is always the same kind of ridiculous is pretty much the worst kind of hot take. It isn't even nihilism so much as it is smug self-satisfaction with zero reasoning as to why you're self-satisfied. Even things that do have a slant can and do use facts to back those claims up, if you're willing to actually hear such things. That mindset is the kind of pseudo-anarchistic stuff that finds grounding in nothing while making literally no statement at all. Which is an apt description of Drawn to Death itself.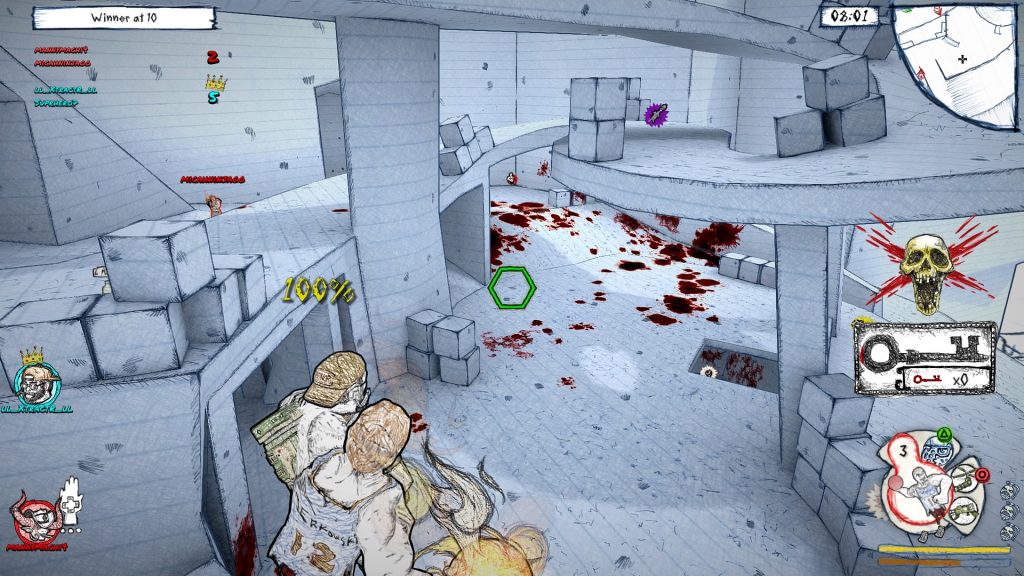 The premise here is that Drawn to Death takes place within the notebook of a teenage boy, filled with sketches and school notes. He's drawn various characters that partake in third person area shooting combat. Everything is meant to invoke a sense of 2D drawings entering a 3D space, but the hook is that it's "edgy." Oh boy, does this thing try to be edgy. With characters like Cyborgula and Johnny Rotten, you kind of immediately get the vibe that this game is going for, and it's not a great one. There isn't an underlying joke here either; no sense that this is being played for laughs. This really does feel like Overwatch, but for assholes-those that have Twitter accounts with anime avatars that yell at women online.
This bleeds into every aspect of the game. Want to play unranked so you can get a feel for the game? (You also have to, because you have to play five rounds to unlock ranked mode.) Well fine, but you'll have the icon of an infant staring back at you while you're in that lobby. You know, because only babies would play unranked, amiright? Even the tutorial gets pretty insufferable. You get the fourth wall breaking narrator-he's a frog-walking you through the mechanics, but being a condescending one while he's at it. You'll be greeted with constant degradation in the form of things like "If I have to tell you how to shoot, I'm just gonna kill myself" and "Can you press X to jump? Oh, what a good boy!" Even when there is an actual good joke about what you'd need to do to reload, it is immediately undercut by the need to do it again. All of this would be terrible even if it wasn't already done the best it was ever going to be done back when Bruce Campbell was the narrator for the Spider-Man movie adaptation games. Oh, and of course my favorite part: where you're taught how to melee by punching a jock that is implied to be the school bully. They repeat that one, too.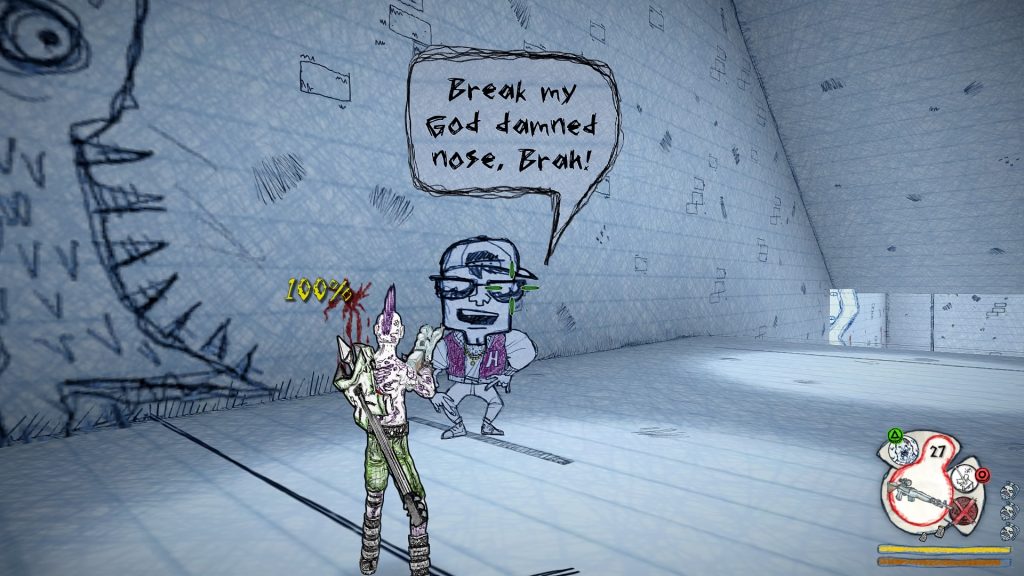 It hasn't been that long since I was a teenager, and I know quite a few actual teenagers. They don't really act like this. I have a hard time believing any teenager, including the one that you remember from your English class who read Camus' The Stranger and took it way too much to heart is quite like this. Drawn to Death is the newest production led by David Jaffe, of Twisted Metal and God of War fame, which might serve as an explanation for some of the choices made in the designs. Thing is, God of War at the very least tried tell a Greek tragedy and Twisted Metal was never really so self-serious. But Drawn to Death feels like a playable version of the Steve Buscemi with a skateboard meme from 30 Rock.
All of this is kind of a shame too, because there actually is a video game underneath all this slop. Drawn to Death has several gameplay modes, though picking what to play is a bit difficult outside of friendly matches, and good luck finding anyone to play with in that lobby. A couple of modes do seem fairly novel, particularly Organ Donor, a normal deathmatch mode with the twist of being able to respawn faster at the cost of some of your health. Other than that, it's pretty straight forward area match stuff, though in a third-person view so you can take in all the hastily sketched assets. Players select from a pool of six characters and then a separate pool of weapons to build the character's loadouts. Also, players can select the types of weapons that populate on the map, which is another of the somewhat novel ideas at play here. The characters have backstories like other hero-based games, but pretty much none of them are noteworthy, except there is a soldier character who actually has a prosthetic in a random attempt at inclusion (though he's a literal soldier archetype otherwise.) Things aren't much better with the weapon pool. The starting weapons are pretty standard fare for these types of games too, nothing stands out too much. It isn't hard to find out which weapons are the most efficient, and that will get you by in matches. More weapons are unlockable by earning "Blood Keys" via accomplishing certain tasks with specific characters, but a lot of it is tedium and tends to clash with the area matches themselves. If they had flipped the script and had weapons unlock through standard level progression and then had skins unlock through those other methods, it would have felt more rewarding.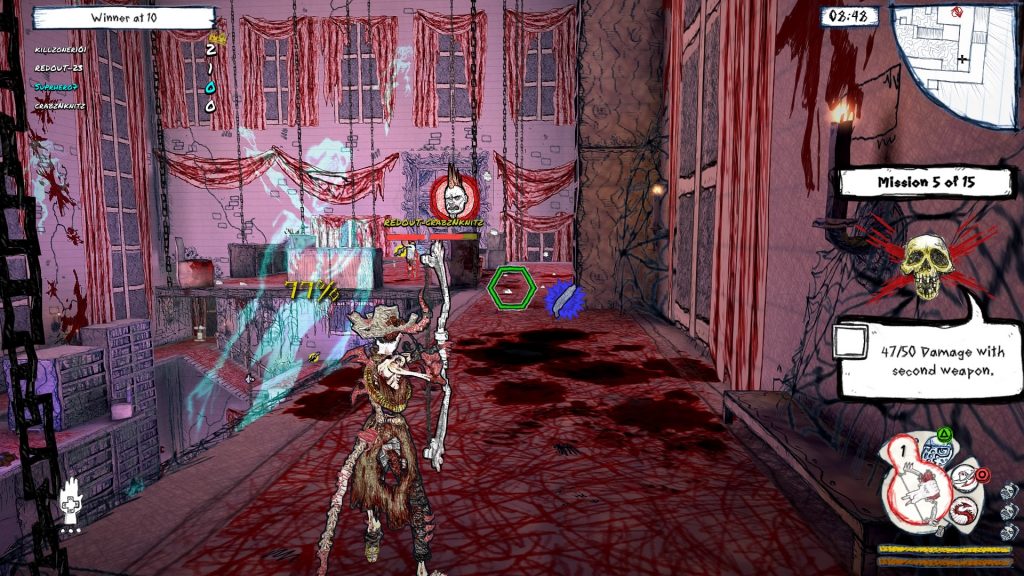 Oh yeah, there are skins in this game, and you probably know where this is going. Naturally, these skins have to be pulled in random boxes that have to be purchased, though one box is gained for every 150 kills in matches. You get one for free, and because this game is so focused on that garbage "edginess," it actually has the audacity to tell you it is giving you a free box solely to get you addicted to buying more of their microtransactions. That's the kind of bull that this game constantly tries to pull, trying to be so self-aware that nothing matters but it still wants all your money. I know I've beaten this dead horse before, but since a lot of people will pick this up as a part of the provided games this month for PlayStation Plus (oh god, I just realized that Sony genuinely thought this was a good idea to give all of its customers) which people always characterize as free. That may sort of be the case, but Drawn to Death has a list price of $20 that will be enforced once April is up. Even so, that forced self-awareness is that much more cringe inducing as a result.
And that's really it when it comes to Drawn to Death. As much as I might want to put more into reviewing this game, there isn't anything else to talk about at length. That is easily the most egregious of faults; Drawn to Death is uninteresting. The artwork isn't anything special, it feels like eldritch horror drawn by a jackass, and the move from 2D into 3D just isn't as unique as it thinks it is. The HUD and UI are in this same style, so it becomes very difficult to read and even keep track of. The gameplay itself is not bad at all, but doesn't really inspire much or even feel entertaining, just serviceable. Only a couple of rounds will pass before the desire to move on to anything else. Connection drops occur often, and if a player drops, you get kicked back to the main menu to start all over. The "humor" isn't funny, and the constant insistence upon its off brand humor is a massive turn off, not a saving grace. I know that once this review is over and done with, I'll be removing Drawn to Death from my PS4 and not giving it another thought.
One final thing, though. Another of the game's tips is a literal fat-shaming joke. That might be a big deal, except this game isn't worth even being angry at.
Developer: The Bartlet Jones Supernatural Detective Agency, SIE San Diego Studio
Publisher: Sony Interactive Entertainment
Platform: PlayStation 4
Released: April 4th, 2107
Copy provided by PlayStation Plus service, of which reviewer is a paying subscriber
Advertisement