With summer right around the corner, it's about that time to grab a towel, a pair of shades, and a fun-in-the-sun kind of read for some good company. Here's our list with some of the best YA's out there to date.
10. Ten Things We Did (and Probably Shouldn't Have) by Sarah Mylnowski (2011) – If given the opportunity, what sixteen-year-old wouldn't jump at the chance to move in with a friend and live parent-free? Although maybe "opportunity" isn't the right word, since April had to tell her dad a tiny little untruth to make it happen (see #1: "Lied to Our Parents"). But she and her housemate Vi are totally responsible and able to take care of themselves. How they ended up "Skipping School" (#3), "Throwing a Crazy Party" (#8), "Buying a Hot Tub" (#4), and, um, "Harboring a Fugitive" (#7) at all is kind of a mystery to them.
Ten Things is great for anyone who's ever wondered what it might be like to have a parentless house all to themselves, accompanied by a list of ten topsy turvy events that unravel following so.  It doesn't take place during summer but there are plenty of wild parties and other illegal shenanigans that are perfect for any sunny beach day.
9. Lament by Maggie Stiefvater (2008) – Sixteen-year-old Deirdre Monaghan is a painfully shy but prodigiously gifted musician. She's about to find out she's also a cloverhand—one who can see faeries. Deirdre finds herself infatuated with a mysterious boy who enters her ordinary suburban life, seemingly out of thin air. Trouble is, the enigmatic and gorgeous Luke turns out to be a gallowglass—a soulless faerie assassin. An equally hunky—and equally dangerous—dark faerie soldier named Aodhan is also stalking Deirdre. Sworn enemies, Luke and Aodhan each have a deadly assignment from the Faerie Queen. Namely, kill Deirdre before her music captures the attention of the Fae and threatens the Queen's sovereignty. Caught in the crossfire with Deirdre is James, her wisecracking but loyal best friend. Deirdre had been wishing her life weren't so dull, but getting trapped in the middle of a centuries-old faerie war isn't exactly what she had in mind . . . 
Both parts dark and inviting, Lament is a fun summer paranormal read featuring Celtic faerie lore and love from the author of the best-selling Shiver trilogy.
8. Stolen by Lucy Christopher (2009) – Sixteen year old Gemma is kidnapped from Bangkok airport and taken to the Australian Outback. This wild and desolate landscape becomes almost a character in the book, so vividly is it described. Ty, her captor, is no stereotype. He is young, fit and completely gorgeous. This new life in the wilderness has been years in the planning. He loves only her, wants only her. Under the hot glare of the Australian sun, cut off from the world outside, can the force of his love make Gemma love him back?
Australia? A brooding young captor? Stockholm syndrome? What more could you want?
7. Cryer's Cross by Lisa McMann (2011) – Kendall loves her life in small town Cryer's Cross, Montana, but she also longs for something more. She knows the chances of going to school in New York are small, but she's not the type to give up easily. Even though it will mean leaving Nico, the world's sweetest boyfriend, behind.
But when Cryer's Cross is rocked by unspeakable tragedy, Kendall shoves her dreams aside and focuses on just one goal: help find her missing friends. Even if it means spending time with the one boy she shouldn't get close to… the one boy who makes her question everything she feels for Nico.
Determined to help and to stay true to the boy she's always loved, Kendall keeps up the search–and stumbles upon some frightening local history. She knows she can't stop digging, but Kendall is about to find out just how far the townspeople will go to keep their secrets buried….

Set in a small town in Montana, Cryer's Cross focuses on the haunting history of a small town with secrets stretching ages long. Packed with mystery and romance, CC is made specially for those rainy summer days.
6. To Catch a Pirate by Jade Parker (2007) – When Annalisa Townsend's ship is set upon by pirates in search of her father's treasure, one of the crew, James Sterling, discovers her in the hold. When he moves to take her necklace, she begs him not to, as it is all she has left of her mother. He accepts a kiss in exchange for the necklace. "A fair trade, m'lady," he tells her afterward, before disappearing.
A year later, with a forged letter of marque, Annalisa is intent on hunting down the wretched James Sterling and reclaiming her father's treasure from him. But now she's in danger of him stealing something far more vulnerable this time: her heart.
I originally read To Catch a Pirate six years ago, but I still make a point of rereading it every June. Fans of Pirates of The Caribbean will love this quick historical sea read.
5. Vixen by Jillian Larkin (2010) –  Jazz . . . Booze . . . Boys . . . It's a dangerous combination.
 Every girl wants what she can't have. Seventeen-year-old Gloria Carmody wants the flapper lifestyle—and the bobbed hair, cigarettes, and music-filled nights that go with it. Now that she's engaged to Sebastian Grey, scion of one of Chicago's most powerful families, Gloria's party days are over before they've even begun . . . or are they?
 Clara Knowles, Gloria's goody-two-shoes cousin, has arrived to make sure the high-society wedding comes off without a hitch—but Clara isn't as lily-white as she appears. Seems she has some dirty little secrets of her own that she'll do anything to keep hidden. . . . 
 Lorraine Dyer, Gloria's social-climbing best friend, is tired of living in Gloria's shadow. When Lorraine's envy spills over into desperate spite, no one is safe. And someone's going to be very sorry. . . .
Vixen is a YA historical fiction like no other. Taking place in one particular summer of the Roaring Twenties, this murder mystery/drama number is sure to please The Great Gatsby lovers.
4. Forgive My Fins by Tera Lynn Childs (2010) – Lily's mermaid identity is a secret that can't get out, since she's not just any mermaid – she's a Thalassinian princess. When Lily found out three years ago that her mother was actually a human, she finally realized why she didn't feel quite at home in Thalassinia, and she's been living on land and going to Seaview high school ever since, hoping to find where she truly belongs. Sure, land has its problems – like her obnoxious, biker boy neighbor Quince Fletcher – but it has that one major perk – Brody. The problem is, mermaids aren't really the casual dating type – when they "bond," it's for life.
When Lily's attempt to win Brody's love leads to a tsunami-sized case of mistaken identity, she is in for a tidal wave of relationship drama, and she finds out, quick as a tailfin flick, that happily-ever-after never sails quite as smoothly as you planned.
Nothing screams summer like mermaids!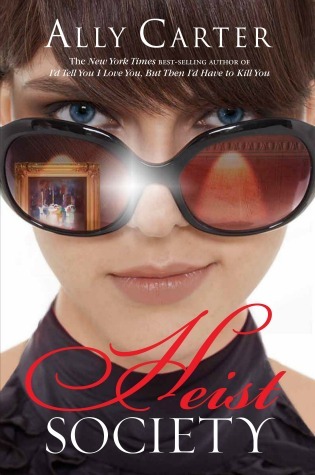 3. Heist Society by Ally Carter (2010) – When Katarina Bishop was three, her parents took her on a trip to the Louvre…to case it. For her seventh birthday, Katarina and her Uncle Eddie traveled to Austria…to steal the crown jewels. When Kat turned fifteen, she planned a con of her own—scamming her way into the best boarding school in the country, determined to leave the family business behind. Unfortunately, leaving "the life" for a normal life proves harder than she'd expected.
A group of teenage con artists have two weeks to steal back a priceless art collection for a fellow mobster in this first installment of the Heist Society series. Similar to the films Ocean's Eleven and The Italian Job, Heist Society is an adventurous read perfect for those long summer days. Our review can be found here.
2. The Summer I Turned Pretty by Jenny Han (2009) – Belly measures her life in summers. Everything good, everything magical happens between the months of June and August. Winters are simply a time to count the weeks until the next summer, a place away from the beach house, away from Susannah, and most importantly, away from Jeremiah and Conrad. They are the boys that Belly has known since her very first summer–they have been her brother figures, her crushes, and everything in between. But one summer, one terrible and wonderful summer, the more everything changes, the more it all ends up just the way it should have been all along.
The first in a trilogy, TSITP highlights summer love and the realism of growing up and is a sweet, short read.
1. The Truth About Forever by Sarah Dessen (2004) – A long, hot summer…
That's what Macy has to look forward to while her boyfriend, Jason, is away at Brain Camp. Days will be spent at a boring job in the library, evenings will be filled with vocabulary drills for the SATs, and spare time will be passed with her mother, the two of them sharing a silent grief at the traumatic loss of Macy's father.
But sometimes unexpected things can happen—things such as the catering job at Wish, with its fun-loving, chaotic crew. Or her sister's project of renovating the neglected beach house, awakening long-buried memories. Things such as meeting Wes, a boy with a past, a taste for Truth-telling, and an amazing artistic talent, the kind of boy who could turn any girl's world upside down. As Macy ventures out of her shell, she begins to wonder, Is it really better to be safe than sorry?
Just about any one of Sarah Dessen's novels could make the cut for this list, but The Truth About Forever happens to be the most popular among fans. Dessen never fails to deliver fresh new tales destined for summer reading. A review of her latest release, The Moon and More, can be found here.
Notable Mentions:
Two Way Street by Lauren Barnholdt
Waiting for You by Susane Colasanti
On the Jellicoe Road by Melina Marchetta
Things I Can't Forget by Miranda Kenneally
This Is So Not Happening by Kieran Scott
Perfect Chemistry by Simone Elkeles
Advertisement