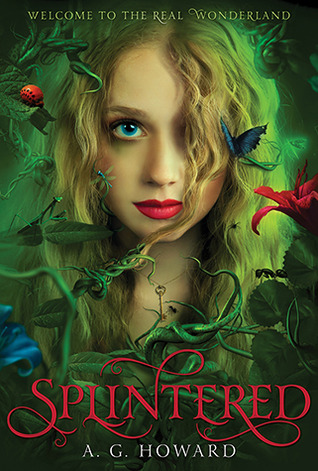 This stunning debut captures the grotesque madness of a mystical under-land, as well as a girl's pangs of first love and independence. Alyssa Gardner hears the whispers of bugs and flowers—precisely the affliction that landed her mother in a mental hospital years before. This family curse stretches back to her ancestor Alice Liddell, the real-life inspiration for Lewis Carroll's Alice's Adventures in Wonderland. Alyssa might be crazy, but she manages to keep it together. For now.
When her mother's mental health takes a turn for the worse, Alyssa learns that what she thought was fiction is based in terrifying reality. The real Wonderland is a place far darker and more twisted than Lewis Carroll ever let on. There, Alyssa must pass a series of tests, including draining an ocean of Alice's tears, waking the slumbering tea party, and subduing a vicious bandersnatch, to fix Alice's mistakes and save her family. She must also decide whom to trust: Jeb, her gorgeous best friend and secret crush, or the sexy but suspicious Morpheus,                her guide through Wonderland, who may have dark motives of his own.
After reading The Fairest Beauty two weeks ago, I figured I'd had enough of fairy tale retellings for one month, but nonetheless, I went ahead and took a shot at Splintered. Much unlike The Fairest Beauty, Splintered proved to be a much looser, though better, retelling.
As mentioned in the blurb, Splintered is a dark modern retelling with a chilling curse and a haunting reality of what we might have previously thought Wonderland to be. This take on the story is what made a mark on me: the idea that the topsy-turvy innocent Wonderland we learned to love back when we were kids might not actually be what we once thought it was. The twist added a  lot of pizzazz and made the story somewhat refreshing next to common generic retellings in YA. I didn't feel like I was going through a recourse of Disney's Alice in Wonderland, but more as if I was experiencing another girl's descent into madness and what's left of Alice's mess, which is actually just what Splintered was. The story, while different, did have little things in common with Lewis Carroll's tale, making it new but reminiscent.
While the premise of Splintered was exceptional, I didn't find myself falling in love with the characters as much as I should have. The pace of the novel was fast, though never rushed, and I still didn't ever get the chance to warm up to most of the character given more than enough time to. Alyssa, Jeb, and Morpheus were all original characters and nothing like any of the basic personalities we see in books today, but I didn't feel genuine emotion coming from the overall group. They felt almost lifeless. Love, friendship, it all came off very dry. I think Howard could have developed the characters way more than she chose to.
The ending was left open  enough for a sequel, and just recently, A.G. made an announcement for the release of such. Unhinged will hit shelves January 2014, and though Splintered wasn't life changing, I'll still give it a second chance. I hope as she continues Alyssa's story she focuses more on developing characters relationships and not solely on the problem at hand like she did in her debut. A.G spent too much time dwelling on mostly unimportant details rather than the importance of the dilemma as a whole. If anything, I could almost say the book was too descriptive. Splintered had the potential to be a fantastic book, but because it wasn't tweaked here and there, it only amounted to a plain fun read.
Between all my mixed feelings on Splintered, overall interesting change-up but a little bit too dull.
Rating: 6.5/10
Advertisement