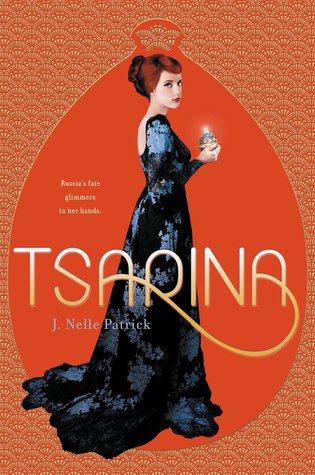 Natalya knows a secret.
A magical Faberge egg glows within the walls of Russia's Winter Palace.
It holds a power rooted in the land and stolen from the mystics.
A power that promises a life of love for her and Alexei Romanov.
Power, that, in the right hands, can save her way of life.
But it's not in the right hands.
Most Romanov stories center Anastasia, the rumored daughter that survived the execution in Yekaterinburg. Alexeii is merely known as the dying boy, Olga and Maria the nurse girls. Though, yes, there were the rumors that Alexeii had escaped with Anastasia, he was never the star of the show. Finally, though, finally, we have a book with substance about the boy that was more than just a walking case of hemophilia.
So, let's get started. We have the good, the bad, and the ugly. And, no, I don't usually characterize things this way, but, well, I feel like this will help me to be a bit less biased. I don't know. Don't question me, I don't usually change my mind once it's made.
Alright, so, what's good about this novel? Lots of things. I promise you. Alexeii's mentions made me so happy. His love with Natalya was so innocent and powerful and it had me hoping so hard for them to prevail even though there's no way around this story. We all know it ends one way. One. Way. And still I spent a better part of the novel wishing that maybe one little itsy bit of history could be changed for the sake of them, because, well, I'll get to that when we get to the ugly part of things. The very ugly side of things. Leo, the cute little Red who's not quite good or bad, was an interesting addition to the tale and I like how he wasn't portrayed as a monster or someone with a one-track mind, but…
His relationship with Natalya is where the ugly comes in, only because there were no signs of it ever being there. Yes, we have a brush of skin somewhere past three-fourths of the novel, but that's it. She's done it. Her love for Alexeii has been forgotten because she's far too preoccupied with the boy whose people are keeping him captive. Yes, she's considered this, who hasn't? Only problem being, she never thought to consider it with help of the readers. There's no signs that her and Leo are going to get romantically involved, no signs that they even think of each other romantically. Some hints would have helped us make sense of things. Natalya's love with Alexeii was supposed to rock the world. What happened to that? The boy who kidnaps her. Which is not to say I didn't like Leo because I was actually picturing a very adorably Russian Kristoff from Frozen but there were some things I couldn't let slide, which brings me right down to the ugly.
The history. Yes, this is a novel, not a textbook. But don't blink yet because that doesn't kill my argument. Patrick leaves readers note at the back of things so that they can better understand she changed history to make her book work. Fine. Okay. Whatever. Does anyone remember that Alexeii Romanov was only thirteen when he died? The kid was thirteen. In Tsarina he's young and in love and it's unsettling. That's not a big deal, I just feel the need to remind people. Patrick also combined two different revolutions. The revolution in February and the other in October where Lenin came to power were mashed together. What. She justifies this too. Fine. Maria Rasputin is suddenly a mystic/witch. What. What. This novel also had too many parallels with the animated movie version of Anastasia for me to pass off, but I refuse to go there. I refuse. Last but not least, well, maybe I shouldn't say that because I'm not really sure I'm quite finished. The Constellation Egg.
Let's discuss. You want a visual? I have one.
Yes, if you're just putting this together, it's a Fabergé.
That's right. The picture looks bad. Go ahead. Do your research.
It was never finished. Never given to Alexandra.
This bothers me. Couldn't they have picked another Fabergé egg to parade around the novel? Am I being silly for being bothered by this? Maybe. But the way Patrick addressed the egg in her reader's note just made it sound like she wasn't too educated on this.
My problem may also have to do with my Fabergé fetish. Did you know Joan Rivers makes some pretty fancy replicas? This is so random. Joan Rivers.
Who would have thought.
Conclusion: Drop the history. Read the story. It's a pretty exciting journey.
Rating: 9/10
Advertisement