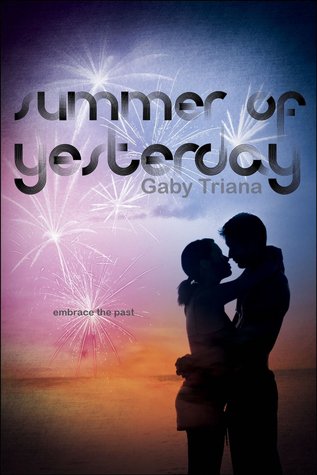 Back to the Future meets Fast Times at Ridgemont High when Haley's summer vacation takes a turn for the retro in this totally rad romantic fantasy.

Summer officially sucks. Thanks to a stupid seizure she had a few months earlier, Haley's stuck going on vacation with her dad and his new family to Disney's Fort Wilderness instead of enjoying the last session of summer camp back home with her friends. Fort Wilderness holds lots of childhood memories for her father, but surely nothing for Haley. But then a new seizure triggers something she's never before experienced—time travel—and she ends up in River Country, the campground's long-abandoned water park, during its heyday.

The year? 1982.

And there—with its amusing fashion, "oldies" music, and primitive technology—she runs into familiar faces: teenage Dad and Mom before they'd even met. Somehow, Haley must find her way back to the twenty-first century before her present-day parents anguish over her disappearance, a difficult feat now that she's met Jason, one of the park's summer residents and employees, who takes the strangely dressed stowaway under his wing.

Seizures aside, Haley's used to controlling her life, and she has no idea how to deal with this dilemma. How can she be falling for a boy whose future she can't share?
I don't know what to say about this book, only because I am feeling way too many emotions right now and I don't think I've cried this hard since I read Say What You Will, and if you knew just how much I cried over SWYW I think you'd understand that this is outright painful. So, sure, fine, if you want a visual, I finished Summer of Yesterday point-two seconds ago and I'm blubbering like some idiotic walrus and it's always very alarming. Oh, ah, look at that, my mother just came in and now she's rallying up my sister and father and it's turning out to be a big family fest.
Some books are so painful.
I never thought a book about Disney, yes, you read right, Disney, would make me cry tears of sadness.
I'm actually going to be living in Disney (yes, this is the right term to use because I'll be working for the Mouse and living under the Mouse's rules from August-December. Is it August yet? Probably. All these posts are pre-fixed so it's probably August. Not that you care. Why am I telling you this?) in the next few months for quite some time and after reading this I'm not sure I'm ever going to look at Disney World the same again only because my heart hurts so damn much.
What you're probably asking: why is she not telling us why she's so damn fixated? Well, I mean, read the backflap. Have you heard of The Time Traveler's Wife? I think at this point we've all been trained to know that time traveling romance stories never have the kind of end you'd like them to have. But, I mean, c'mon, Disney? I can't even breathe I'm sobbing so hard. My mother has brought me a paper bag. Can you imagine? It's outright horrific.
None of this is really important to you, though, because this isn't saying much about the book (or is it?), so I'll try to compose myself for the time being if only to help you out a bit.
Disney. This book takes place at WDW. What else could you want? It's fabulous. My only complaint: none of your favorite parks are visited.
Next.
The romance between Haley, our 2014 time traveler, and Jason, a nineteen-year-old from 1982, is sweet and enjoyable, and even though their love blossoms over the course of an extremely short time, it doesn't feel that way to readers, or, well, them. Characters were memorable (oh, how funny of you, Stephanie) and likable, but I still hate everyone and everything because my heart feels like it's getting stabbed.
I'm such a child.
The writing was really well done, and the 80's slang was pretty radical. Look at that, I'm crying like a little baby and I can still make funnies.
The storyline was overall magical (I'm going overboard only because I'm trying to compensate for my obvious depression), and even though I loved where everyone ended up at the conclusion of Summer of Yesterday… I hated the conclusion.
I don't know. I don't make sense. All I know is that I'm sad and hurt and this ending has destroyed me.
Personal note to Gaby Triana because I loved this book so much I can feel it in my soul: can we please get a sequel where Jason and Haley get a second chance? Please.
If she saw my ugly sobs I thinks she'd say yes, but I'll refrain from posting a picture.
Rating: 9/10
Advertisement