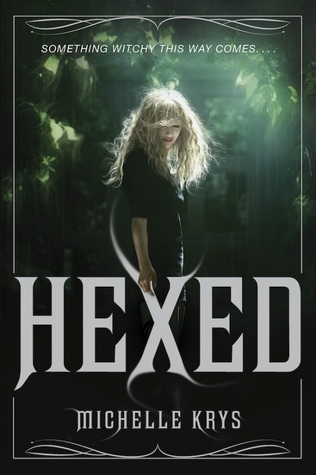 If high school is all about social status, Indigo Blackwood has it made. Sure, her quirky mom owns an occult shop, and a nerd just won't stop trying to be her friend, but Indie is a popular cheerleader with a football-star boyfriend and a social circle powerful enough to ruin everyone at school. Who wouldn't want to be her?

Then a guy dies right before her eyes. And the dusty old family Bible her mom is freakishly possessive of is stolen. But it's when a frustratingly sexy stranger named Bishop enters Indie's world that she learns her destiny involves a lot more than pom-poms and parties. If she doesn't get the Bible back, every witch on the planet will die. And that's seriously bad news for Indie, because according to Bishop, she's a witch too.

Suddenly forced into a centuries-old war between witches and sorcerers, Indie's about to uncover the many dark truths about her life—and a future unlike any she ever imagined on top of the cheer pyramid.
I'm always happy to see another witchy read land on my doorstep, so you can imagine my excitement upon receiving Hexed.
These magical novels always seem to find a way to have original plots and be totally entertaining, but Hexed manages to take it much further than just that. This novel gives off that amazingly eerie Night World feel, combining together classical witch tales and modernized aspects to make up one unforgettable read.
This topic reminds me of just how outdated most of our witch films are. Sure, we had Beautiful Creatures in 2013, but we all know how that ended up and it wasn't exactly in a very good place. I think a properly made teen witch movie could do Hollywood some good, but that's just me.
Going forward, Hexed surprisingly starts off really slow, and I wasn't particularly a fan of it, and being completely honest, the only reason I made it past the first hundred pages was because the characters were so entertaining. Specifically speaking, of course, I'm referring to Bishop and the level of his obnoxiousness. If you are any fan of Daemon from Jennifer Armentrout's Lux series, then you have totally and completely found your match because this guy is pretty much his clone. No joke. Carbon copies. But I loved every minute of it. The constant bicker between him and Indie was adorable and oh so sexy. Indie was hilarious and I loved her normalcy despite, you know, being a witch. Her personality was outright infectious and relatable. While chemistry wasn't always there between these two, the constant teasing made sure that the tension certainly was, and I do not mean that in a bad way. It was all very fun. I promise. There's more than that to it, though. There's also a really nice friendship going on there and I love more than anything that these two are equals/companions and not just sort-of lovers.
Sightseeing also really had me going for Hexed. I really felt the full L.A. experience throughout the novel between the characters' attitudes and the scenic descriptions. Also, the Chinese Theatre? I approve.
The ending to Hexed had me bugging out in all the right ways, and after this hefty cliff-hanger, it looks like I'll be long awaiting the next installment.
Anyone in search of some witch-ish fantasy with plenty of attitude and steamy romance is bound to love Hexed.
Rating: 8/10
Advertisement