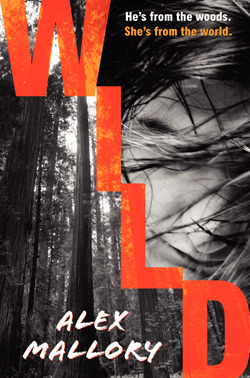 The forest is full of secrets, and no one understands that better than Cade. Foraging, hunting, surviving— that's all he knows. Alone for years, Cade believes he's the sole survivor. At least, until he catches a glimpse of a beautiful stranger…

Dara expected to find natural wonders when she set off for a spring break camping trip. Instead, she discovers a primitive boy— he's stealthy and handsome and he might be following her. Intrigued, Dara seeks him out and sets a catastrophe in motion.

Thrust back into society, Cade struggles with the realization that the life he knew was a lie. But he's not the only one. Trying to explain life in a normal town leaves Dara questioning it.

As the media swarm and the police close in, Dara and Cade risk everything to get closer. But will the truth about Cade's past tear them apart?

A YA Tarzan retelling.
For the past few months, every 2014 YA Coming Soon list I've seen has had Wild on it. The cover itself makes the novel out to be stand-outish. I read small reviews here and there and everywhere I went there was the mention of Tarzan. Even the publisher summary calls it a Tarzan retelling. Do you guys know how much I love Tarzan? Because if you don't, and you were wondering, yes, men with light eyes and long dreads are my weakness.
Right, Aaron?
So, naturally, when Wild landed on my doorstep, I was more than glad to pick it up and pretend for just a while I was the Jane to Cade's Tarzan. Only thing was, I didn't see this novel as much of a Tarzan retelling as it was more of (and do not judge me) a Blue Lagoon: The Awakening meets Into the Wild retelling. Have any of you even seen Brenton Thwaites shirtless yet? The Giver is coming, y'all, so get to it. He also makes out to be a wonderful boy to imagine as Cade (aside from Aaron Johnson, ahem). So there's that.
So, if for whatever reason you have this really unreasonable grudge against Tarzan and his cute little monkey friends, throw it aside and proceed on because you have nothing to worry about.
Wild's story is highly unique and honestly really incomparable to anything else (despite what everyone else is actually saying). It's a story of love, acceptance, and most importantly, respect for nature and the natural world we live in.
Cade isn't just any clueless "primitive boy" and his outlook is so understandable. It was hilarious seeing him try to adapt to the technological world we've come to adopt, and while I thought that at the end of the day he'd decide it's much better to live in a world of air-conditioning and The Bachelor, I was most certainly relieved when he proved everyone wrong and decided the forest was the only place for him. Cade and Dara's relationship is slow-building and pretty damn adorable, though more than just a tad unusual for me, but it is still completely enjoyable and Wild has one of the most unique and exciting romances of YA for the year 2014. I would have liked to see them have some more time to develop their relationship, and I wish there would have been a bit more communication on both ends of the spectrum, but I can honestly say I can live with what we got. Sophia and Josh are both perfect additions to the tale, and their contributions to the story are most interesting.
While the end to Wild wasn't fully clear to me, it was basic enough and I think everyone will get the greater picture at the end of the day. It's one pretty awesome epilogue, folks. While I'd like to think Mallory wrapped up the book the way she wanted the whole story to end, I wouldn't be against a sequel. At all.
At. All.
Rating: 8/10
Advertisement