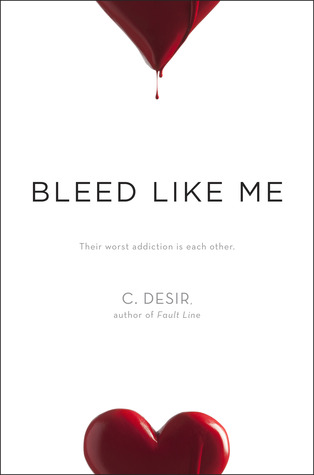 From the author of Fault Line comes an edgy and heartbreaking novel about two self-destructive teens in a Sid and Nancy-like romance full of passion, chaos, and dyed hair.

Seventeen-year-old Amelia Gannon (just "Gannon" to her friends) is invisible to almost everyone in her life. To her parents, to her teachers-even her best friend, who is more interested in bumming cigarettes than bonding. Some days the only way Gannon knows she is real is by carving bloody lines into the flesh of her stomach.

Then she meets Michael Brooks, and for the first time, she feels like she is being seen to the core of her being. Obnoxious, controlling, damaged, and addictive, he inserts himself into her life until all her scars are exposed. Each moment together is a passionate, painful relief.

But as the relationship deepens, Gannon starts to feel as if she's standing at the foot of a dam about to burst. She's given up everything and everyone in her life for him, but somehow nothing is enough for Brooks-until he poses the ultimate test.

Bleed Like Me is a piercing, intimate portrayal of the danger of a love so obsessive it becomes its own biggest threat.
Christa Desir has done the unthinkable and gone off to create two of the most poisonous characters I've ever read about. Forget Romeo and Juliet and Bonnie and Clyde.
Hell, forget about Heathcliff and Catherine.
Gannon and Brooks are both batshit crazy and stupid in love, which might sound like an insult, but being completely honest, I don't think I've ever been so entertained in my life.
Destructive relationships are personally my favorite to read about and it has been far too long since I've gotten my hands on a set of crazy brains like these two, so you can imagine just how great I'm feeling at the moment.
In the past I've read about the kind of monstrous couple that runs away together, or gets high together, maybe take a beating together, but never like this. Bleed Like Me takes the limits and charges through every single one of them to create one of the most peculiar tales of 2014, I would dare to say. Gannon and Brooks are the real deal, rock n' roll bad boy club kind of people who do some serious damage to themselves and each other, and while it's literally the worst form of brutality anyone could inflict on themselves and/or another person, in a book? Well, it makes for some great entertainment, and seeing the world through the perspective of star-crossed lovers like these was more than just your average read. It was so much more; a lesson, an experience. I nearly couldn't wrap my head around the events taking place throughout the course of the novel, and to even imagine that sort of thing going on in real life is both parts heartbreaking and mystical.
I wouldn't stretch so far to say that Gannon and Brooks' love for each other was destructive, rather that their lust or infatuation was. Gannon was an outright bomb waiting to go off and Brooks was right there with her, so I guess in some ways these two would have made their way to one another at some point in time, but a lot about their relationship and Brooks' attitude toward Gannon from the beginning had me questioning her ability to know danger when she sees it. Of course, she was aware Brooks was a bad idea and didn't so much care about his grabby hands and twisted words, which made this book even more crazy good.
The family situation in Bleed Like Me was also odd, and I would have liked a bit of information about the brothers' whereabouts toward the end of the novel only because I would have loved it if the boys finally took a liking to Gannon.
The end wrapped up rather nicely, and I'm not saying that because it came lovely and packaged, but because it turned out the way it should have, or well, was meant to have ended, being reasonable. And while I'm still having a bit of mixed emotions about it, I can't say it wasn't for the best.
Love and drugs make up the most of Bleed Like Me, one of the most outstandingly original reads of 2014.
Rating: 9/10
Advertisement