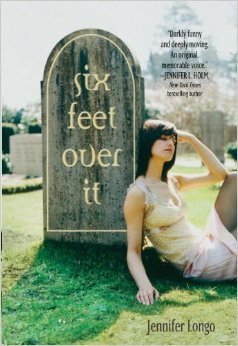 Home is where the bodies are buried.
 
Darkly humorous and heart-wrenchingly beautiful, Jennifer Longo's YA debut about a girl stuck living in a cemetery will change the way you look at life, death, and love.
 
Leigh sells graves for her family-owned cemetery because her father is too lazy to look farther than the dinner table when searching for employees. Working the literal graveyard shift, she meets two kinds of customers:
 
Pre-Need: They know what's up. They bought their graves a long time ago, before they needed them.
 
At Need: They are in shock, mourning a loved one's unexpected death. Leigh avoids sponging their agony by focusing on things like guessing the headstone choice (mostly granite).
 
Sarcastic and smart, Leigh should be able to stand up to her family and quit. But her world's been turned upside down by the sudden loss of her best friend and the appearance of Dario, the slightly-too-old-for-her grave digger. Surrounded by death, can Leigh move on, if moving on means it's time to get a life?
Who knew someone knew so much about graves. And death. And also many other morbid, morbid things. Seriously. The main character in this novel knows anything and everything about morgues and all of that other stuff you could have gone a lifetime without hearing. Or, at least, that's the case for me. This book was a real wake up call because it was just about all over the place. Especially in the first, like, forty pages. I think I am a changed woman with too much knowledge of bodily functions and things that happen once someone drops like a sack. Yuck. So not my thing. Now I remember why I gave up that whole nursing dream. I am much happier now, for what it's worth. I will admit, though, while the whole grave thing happened to be a bit much of too much information a lot of the time, I liked how the character had an original standpoint. I mean, a teenager working at a cemetery? Pretty unique, if you ask me. It was also great that the author happened to know all of these handy specifics. Sure, I felt slightly queasy a majority of the time, but did she sound like she knew what she was talking about? Hell yes. Brownie points for all that graphic research that I can only assume had to be done in the name of writing Six Feet Over It.
Despite all of this deadly material (haha, deadly. I said deadly. Did you laugh? I hope you did. It would help to boost the itsy-bitsy ego that I don't have), Six Feet Over It turned out to be a not-so-bleak read. Leigh happens to be one of the funniest YA characters I've read in a while, and, sure, she wasn't outright hilarious, but what really gives her a good chip is all that snark she loves to sprinkle around. The way she handles situations throughout the novel really sets a good vibe/tone for the story overall and greatly impacts the attitude a reader might have towards the piece. Leigh is also pretty mature for a fourteen-year-old, but not enough that it was unbelievable or disrupting to the reading experience in any way. Dario is even funnier than Leigh, and I loved just how lighthearted he always seemed. His attempts at translations are also adorably ignorant and the best in every way possible.
Anyone looking for an exciting new read about love, life, and maybe even the things after will love Six Feet Over It.
Rating: 7/10
Advertisement