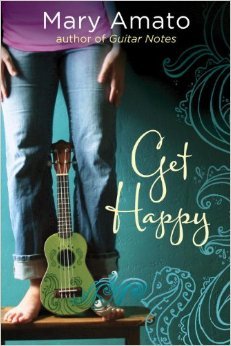 In this poignant, realistic, contemporary YA by a state master list star, perfect for fans of Sarah Dessen and Gayle Forman, a young songwriter builds a substitute family with her friends in place of the broken family she grew up with.

A hip high school girl who loves music, writes songs, and is desperate for a ukelele, learns to her shock that her father did not abandon her years ago and has been trying to keep in touch. She begins to investigate him, only to discover that he has a new life with a new family, including the perfect stepdaughter, a girl who Minerva despises.
Alright, so this book had me irritated just about one hundred percent of the time. I was planning to avoid bullet points when writing this review, but, what the heck? What better way is there to get my point across than by using one of the most old fashioned methods. And so, it begins.
Minerva is one of the most infuriating main characters in the history of YA writing.
Minerva's situation is also one of the most infuriating situations in the history of YA writing.
The romance in this novel was utter bullshit and I refuse to have anyone in this realm convince me otherwise. It was bullshit. Bull. Shit.
Who is Fin and why is he one of the shittiest friends Minerva could possibly have? Why does she keep him around? How is he even helpful? Is he into the same guy Minerva is into or is he straight or what?
Cassie is horrible because her father is Minerva's father and just how much more traumatizing can it possibly get?
What even happens at the end of things? Does Cassie resolve things with her father? Does Cassie disappear off the face of the earth? Who is the true villain here?
So basically these are all the emotions I went through while reading. Post reading, too, I guess. And I used bullet points to get my point across. I mean, who even thought that was possible before I did it?
I don't even think anything I wrote up there made sense if you haven't read the novel but part of me doesn't care. Correction, all of me does not care.
So, I think what I'm trying to say is, excuse my lack of professionalism but this book is absolutely, horrifyingly, traumatically pointless and inconclusive.
As much as I respect this novel and what it was trying to get across, I just couldn't enjoy it but would love to hear from someone else with a different perspective.
All in all, just not my cup of tea.
Rating: 5/10
Advertisement