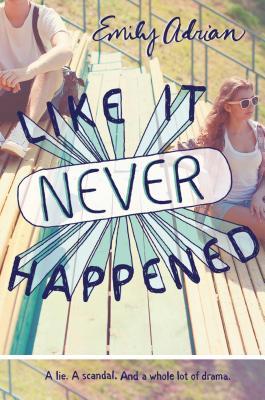 When Rebecca Rivers lands the lead in her school's production of The Crucible, she gets to change roles in real life, too. She casts off her old reputation, grows close with her four rowdy cast-mates, and kisses the extremely handsome Charlie Lamb onstage. Even Mr. McFadden, the play's critical director, can find no fault with Rebecca.
Though "The Essential Five" vow never to date each other, Rebecca can't help her feelings for Charlie, leaving her both conflicted and lovestruck. But the on and off-stage drama of the cast is eclipsed by a life-altering accusation that threatens to destroy everything…even if some of it is just make believe.
Prior to reading Like It Never Happened, I'd assumed this would be a fun-filled game of cat and mouse between two teenage thespians fighting for the top spot. I was pleasantly surprised that this wasn't what it was cracked up to be.
I am all for friendly competition among romantic interests and thought kids competing for theatre-favorite would be no different, but I happened to completely miscalculate the situation at hand.
Like It Never Happened is in no way lighthearted. On the contrary, it tackles all the tough-stuff teens are facing today. There's so much more to this book than what's being publicized here, and I wish I would have known from the get-go what I'd gotten myself into. This is in no way a bad thing, but I like to alternate between reading serious and lighthearted lit, so I was a bit taken aback here.
Regardless, this book stresses how cruel kids really are. I don't think I'm alone when I say I can remember most, if not all, the horrible things people used to make up about each other back in high school. A lot of the things being said and done throughout this novel were so cringe-worthy, both because they were believable and so familiar. The brutality here was nothing new, and I hope that anyone who gets the chance to pick up Like It Never Happened reads it and realizes that all it takes is one strong person to step back and stand up for what it's right. One of my best friends always likes to say it only takes three seconds of extreme courage to change the world, and while that might be absolutely crazy, it's something to think about. Hell, maybe all you need is one. The overall idea that rumors are a horrible thing and there will always be people who advocate them and others who work to diminish them was a great message to deliver, in the sense it can really help people see and understand just how much little white lies can ruin the lives of others.
Aside from this, Like It Never Happened happened to be a miss for me. There were plenty of twists and turns to keep readers going, but unfortunately, the pacing just felt uneven and sort of rushed towards the end.
The message delivered here is one both intriguing and valuable, so I really do encourage those of you who get the chance to pick this one up. While I wasn't a fan of the actually writing, I can see it being very different for someone else.
Rating: 7/10
Advertisement