The miniseries medium is a gift in many ways allows writers to create or adapt a body of work over a couple of episodes instead of it being squashed into the running time of a film or dragged out over the 22-episodes (or sometimes even seasons) of a television series.
Big Little Lies is an embodiment of why this medium works so well, by the end of seven episodes we truly felt as if we peeled back the layers of these interesting women in this interesting town so much that I felt as if I knew them too. I longed to spend more time with them, to find out about more scandals and to hear the aftermath of the 'incident' and tie up some loose ends.
Warning: Spoilers for the entire season of Big Little Lies below.
The narrative of Big Little Lies is centered around a murder, in the wealthy and safe seaside town of Monterey. We are not privy to the information about who the murderer and the victim is until the very end but the story is told so that every episode we are provided with more information from the storyline and from interviews with various other parents about the main women in the cast and the dynamics with each other.
The main character is Madeline Mackenzie (Reese Witherspoon) a ruthless housewife/theatre producer who is always looking for the next fight. The role truly allowed Witherspoon to sink her teeth into it and in a way I saw her shine in a way that I haven't since she portrayed Tracey Glick in Election.
While Witherspoon clearly played the lead, it was Nicole Kidman's character of Celeste certainly got the meatier role, as she portrayed a woman going through abuse and her own conflicting feelings about her love for her husband and her pain at what he is doing to her. And even though Kidman is a renowned actress, one cannot help but be in awe of her talent as she played the role with nuance and grace.
The rest of the main cast from Laura Dern's steely performance as Renata Klein to Shailene Woodley's mysterious Jane Chapman and Zoe Kravitz's ethereal Bonnie Carlson seemed so well cast and well acted in a way that depicts both that the actresses were well-cast in their roles and that they seemed really enjoy the material that they were given. These powerhouses seemed to work in sync with each other, the chemistry between them seems to radiate in the scenes that have together which almost makes you feel privileged to be able to watch them together onscreen. Even the supporting male roles just seem to work in tandem with the main cast, adding spice and developing them into well-rounded characters.
Most of the articles about Big Little Lies focus on the abuse – every woman in Monterey has her own secrets that betray their 'perfect lives' narrative that they attempt to sell to everyone. For Mackenzie has her affair with the married playwright, Renata has the problems in her marriage, Jane has her rape, but none so much as the torturous abuse that Celeste has to go through at the hands of her husband, Perry (Alexander Skarsgård). Through the course of the seven episodes we saw Celeste first only seeing the abuse as an aggressive side to their lovemaking and then as a sort of hunter-predator relationship which they partake in together and then with the help of her therapist she saw the true nature of Perry's abuse.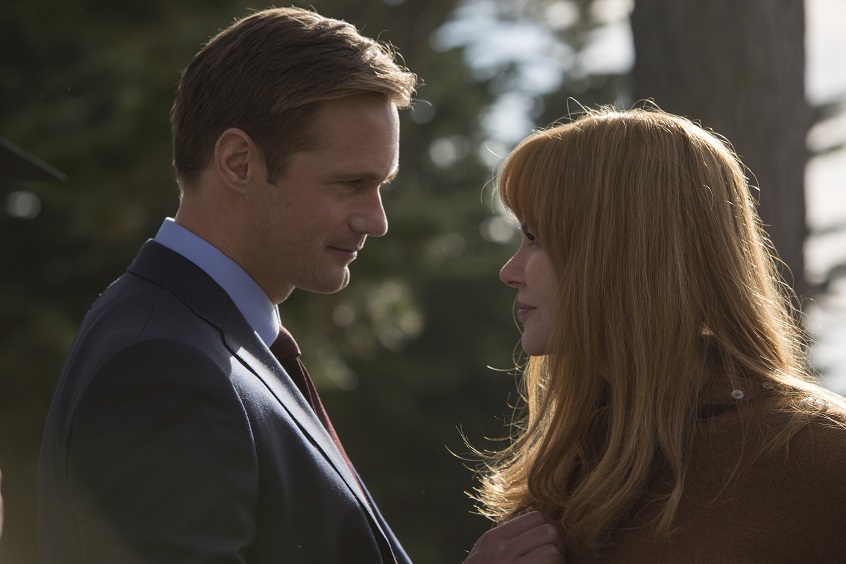 The abuse is never pussyfooted around, with it being triggering how much it is shown, in every episode we get some sort of depiction of Perry's obsessive and controlling behavior, and what is even more jarring is how quickly he can go from abusive husband to adoring father. It shows us that abusers can look just perfect to everyone else but behind closed doors they can turn into a monster. A refreshing take on the abuse trope in Big Little Lies is Celeste's therapist, Dr. Reisman (Robin Weigert). Reisman is practical in her advice to Celeste, telling her to get out of her situation, giving her tips, telling her what records to keep etc. It's not only an eye-opener for those watching who might be in an abusive relationship, it also alerts the audience to how common these relationships are and how it can have a ripple effect on other people's lives.
In the end, everything in Big Little Lies came back to Perry. The big mystery of the show, as to who the victim was, as well as the secondary mystery that caused all of the conflict between the mothers in the first place. On the first day of first grade, Amabella, Renata's daughter accused Jane's son, Ziggy of hurting her, which causes a rift between Renata and Jane, and henceforth with Madeline and Celeste too, who side with Jane. This becomes a mystery because Amabella is consistently being hurt but she is unwilling to say who is hurting her, although her and Ziggy seem to be friends. There is also the matter that Ziggy was conceived from a violent rape and Jane entertains the idea that the violence could be in his genes. However, it is revealed in the final episode, that not only was the class bully, one of Celeste's sons, Max, but in the final moments we also learn that Perry is Jane's rapist as well, meaning that he is the father of Ziggy too.
The final scene could possibly be one of my favorite scenes of any show I have seen thus far. Within a series of shots, we see Perry approaching Celeste while she is with Madeline, Jane and Renata, and Bonnie is watching from overhead. This is the first time that Jane has seen Perry, and she immediately turns white and squeezes Madeline's arm, this is intercut between flashbacks of Jane's attack, and Madeline immediately makes the connection by looking at Jane and then looking at Perry, she then looks at Celeste and Celeste makes that same connection. No words were uttered but by the performance of these three actors, us as the audience were immediately able to recognize what was happening in the scene.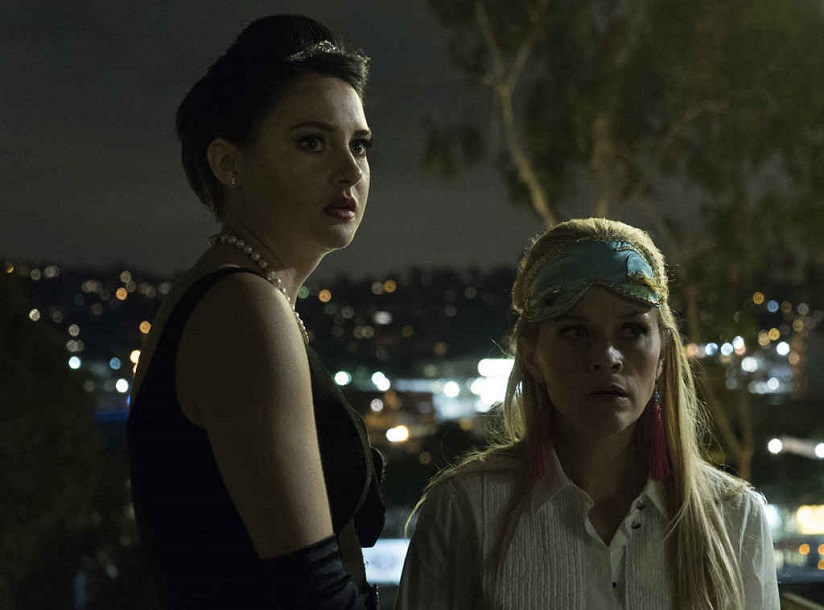 Perry attacks the women and they all fight back, but it is the moment when he is kicking Celeste that is his death sentence as a witnessing Bonnie runs from her hiding place and pushes him off the ledge. The epilogue shows the women who were all involved on the beach together with their children, the experience having bonded them. There is too much unfinished business for it to be a happy ending but it suffices nonetheless because it feels final, anything else feels like we are peering in on someone's private moment. We almost feel as if the residents of Monterey welcomed us into their small town only for the duration of the investigation.
Do I wish that Big Little Lies answered some unanswered questions? Sure! I want to know what happened in Ed and Madeline's marriage after he found out about her affair? What is Bonnie's story? Will Amabella and Ziggy end up married? Do Jane and Tom make it? But do I think there should be a second season? Definitely not. Big Little Lies was almost perfect in it's simplicity, it told the story with just the correct amount of episodes for it to truly develop into its own, a second season will just distort the story and character and take it further away from the original source material. And if you want to know more, rather pick up a copy of Liane Moriarty's book.
Advertisement