Romance on television has far and wide been one of the most enduring aspects of any story. Some couples take center stage, while others stay contentedly on the sidelines. Regardless of how prominent they may be on their respective shows, romances are often responsible for adding to the story and, in many instances, even grounding it.
We at The Young Folks voted on the best couples currently on television. There were several to choose from, but the below list are the top fifteen couples as ranked by our staff, with the only criteria being that they had to have been a couple during the 2016-2017 TV season. Many of these couples are beloved and the reasons why they made the list are laid out in the words of our writers.
From This is Us' Jack and Rebecca to Riverdale's Betty and Jughead, find out where each of your favorite couples ranked.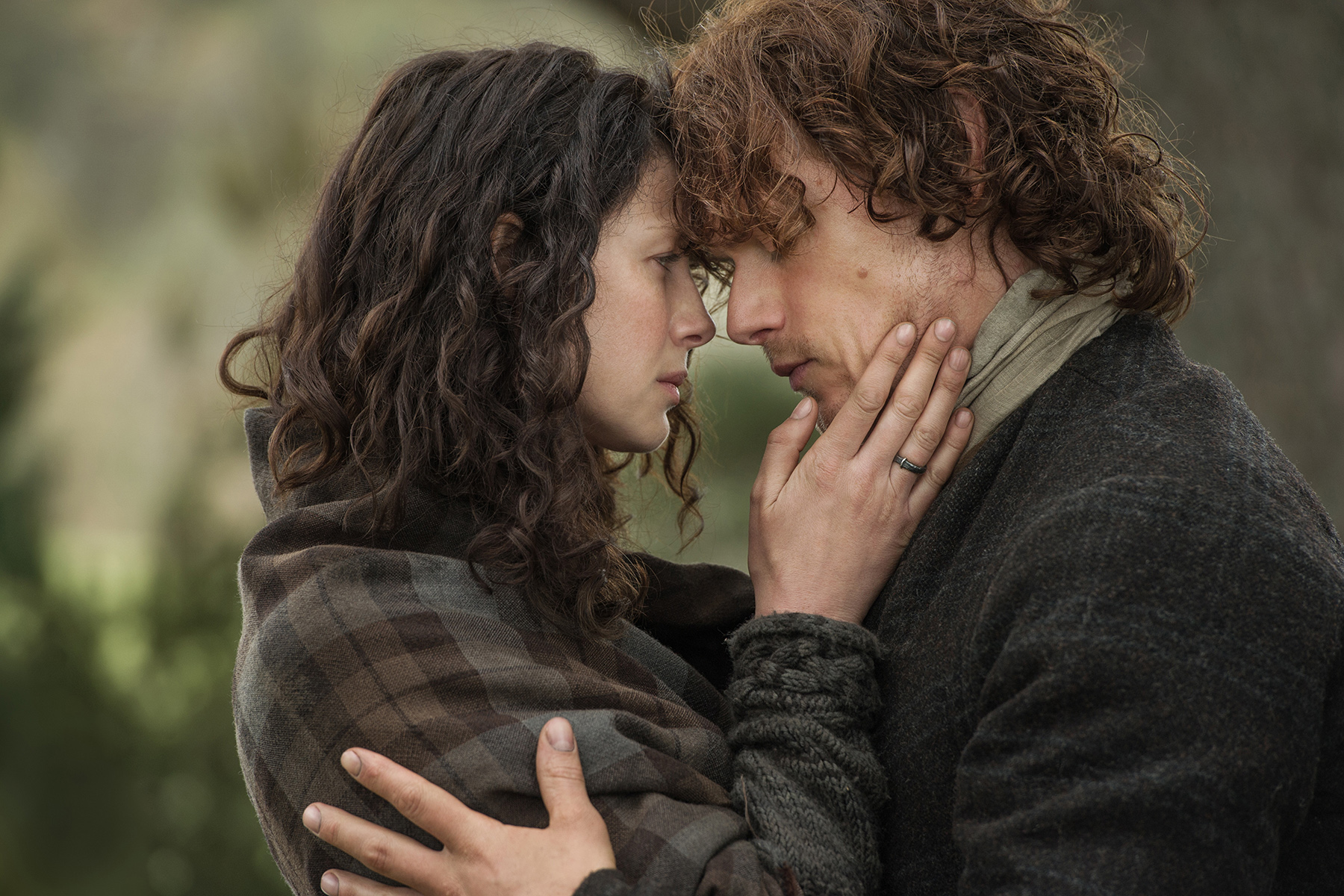 15. Claire and Jamie, Outlander
One thing that always bugged me was the insistence from the Outlander series author, Diana Gabaldon, that this story isn't a romance. While it does entail good doses of action, mystery, science fiction and more, romance is undoubtedly the heart of this series, and nothing displays that to be truer than the Starz's TV series.
Stars Caitriona Balfe and Sam Heughan, who play the star-crossed Jamie and Claire, are equipped with well-plotted scripts and emotionally charged writing, thanks to Ronald D. Moore and his writing team. The connection between Jamie and Claire has been so richly developed, and their relationship earns each and every emotion that it imparts. It started as a slow burn, letting Jamie and Claire learn to trust each other and become confidants before diving into heady romance.  There is also a feminist leaning to the way the sex scenes are filmed, the "female gaze" is refreshingly used, and balancing sensuality and tenderness into Jamie and Claire's trysts, be they romantic or lustful.
Balfe and Heughan turn in such fine work, especially in the latest season where circumstance has teared them centuries apart. They are quieter; there's a haunting quality to their performances which drives home how much their love transcends the laws of the universe. —Gabrielle Bondi
14. David and Syd, Legion 
If you're an awkward introvert, it's very hard to talk to someone you have a crush on. It might be a bit more tricky if you're a mentally unstable mutant that has incredible telepathic powers untapped by a monstrous inner demon. And that's even before you find out your crush literally cannot touch you without swapping bodies with each other. Such is the dilemma of David and Syd, the star-crossed lovers of FX's freaky X-Men spinoff, Legion. The most charming thing about David and Syd is that despite being played by established adults Dan Stevens and Rachel Keller, David and Syd have a teenage first-crush chemistry to them. They're so nervous about being intimate with each other and yet they dream of a bedroom where they don't have sex, but simply hold each other like it's the most important thing in the world. Stevens and Keller bounce off of each other very well despite a ten-year age difference between them. It's a love story between two misfit toys that really gives Legion the levity and charm that keeps it from being a David Lynch-esque misfire. —Jon Winkler
13. Magnus and Alec, Shadowhunters
Alec Lightwood and Magnus Bane are two characters who, on paper, would never be found working together, let alone dating. One is a proud Shadowhunter known for following the rules and the other is one of the most powerful Downworlders to exist. They should be sworn enemies, but they brought something out of each other that had been hiding. Alec had been in love with his best friend and parabatai, but it seemed like he was never going to tell Jace how he really felt, let alone come out to everyone. Magnus, on the other hand, had been falling in and out of love for centuries and by the time we met him he wasn't looking for love.
All that changed the moment they met. The pair gazed into each other's eyes and Alec was at a loss for words. It was basically love at first sight. In time, they would fall for one another and Alec would even break off his wedding in order to follow his heart and be with Magnus. And they lived happily ever after… sike. What makes them a great couple is the struggle they go through in season two. There were a lot of dark moments that reveal how relationships have as much downs as they do ups, especially for two people caught on opposing sides. They manage to work things out, but seeing them struggle is what makes their fantastical relationship feel grounded. Hopefully they'll stay together this time around. —Leaf Miranda
12. Stiles and Lydia, Teen Wolf
While Teen Wolf is ostensibly centered around teenage werewolf Scott McCall (Tyler Posey), his human best friend, Stiles Stilinski (Dylan O'Brien), stole the show from the beginning–as did his ever-evolving relationship with Lydia Martin (Holland Roden), Allison Argent's (Crystal Reed) best friend. What began as a classic case of the geek trying to get the girl plotline grew into a close friendship that slow-burned its way into the show's most important romantic relationship. The two were originally bonded by their very human vulnerability, intelligence, sarcastic tendencies, and penchant for solving supernatural mysteries while their respective best friends were physically fighting off monsters.
After several seasons of saving one another from every level of danger, from Lydia's ability to calm Stiles down during a panic attack to Stiles' retrieval of Lydia from the twisted Eichen House, their bond was truly tested when Stiles was taken by the Wild Hunt and erased from his family's and friends' memories. Lydia's faint memory of Stiles and his love for her created enough of a connection between them so that Lydia could remember him and ultimately pull him out of the Phantom Train Station and back into their world. The only drawback to shipping Stiles and Lydia is that they waited six whole seasons before bringing them together, giving them almost no screen time as a couple; after Lydia expressed her feelings for him, Dylan O'Brien shifted from series regular to a special guest, meaning Stiles only made another two appearances before the show's end. —Bri Lockhart
11. Beth and Randall, This is Us
Beth and Randall remind me of the lowkey chill version of Jada and Will, AKA the couple you just can't get enough of! I don't know what it is about them, but Beth and Randall are the type of relationship you label as goals. Onscreen they just scream, "You guys are best friends. You are meant to be." They are able to talk out every single problem in a reasonable way. Not everything is dramatic between them nor are they always at each other's throats. It's the type of relationship you want to copy to prove to people that communication is key to any successful marriage. Beth and Randall, even though you aren't REAL… you guys are goals. —Ashley Bulayo
10. Jake and Amy, Brooklyn Nine-Nine
Amy and Jake could've easily gone the way of other will they/won't they couples where Jake is the man child and Amy the no-fun rule maker. Instead, while Jake can be a lovable goofball and Amy hasn't ever met a rule she didn't cozy up to, the show makes them just weird enough in their own ways; they are so endeared by one another's quirks that it defies television tropes. It helps that their romantic trajectory was well paced, never dragged out, and hasn't slowed down the pace of the series.  Rather, the two being in a long-term committed relationship has only given the series more gravitas without ever having to write in threats to their coupling. —Allyson Johnson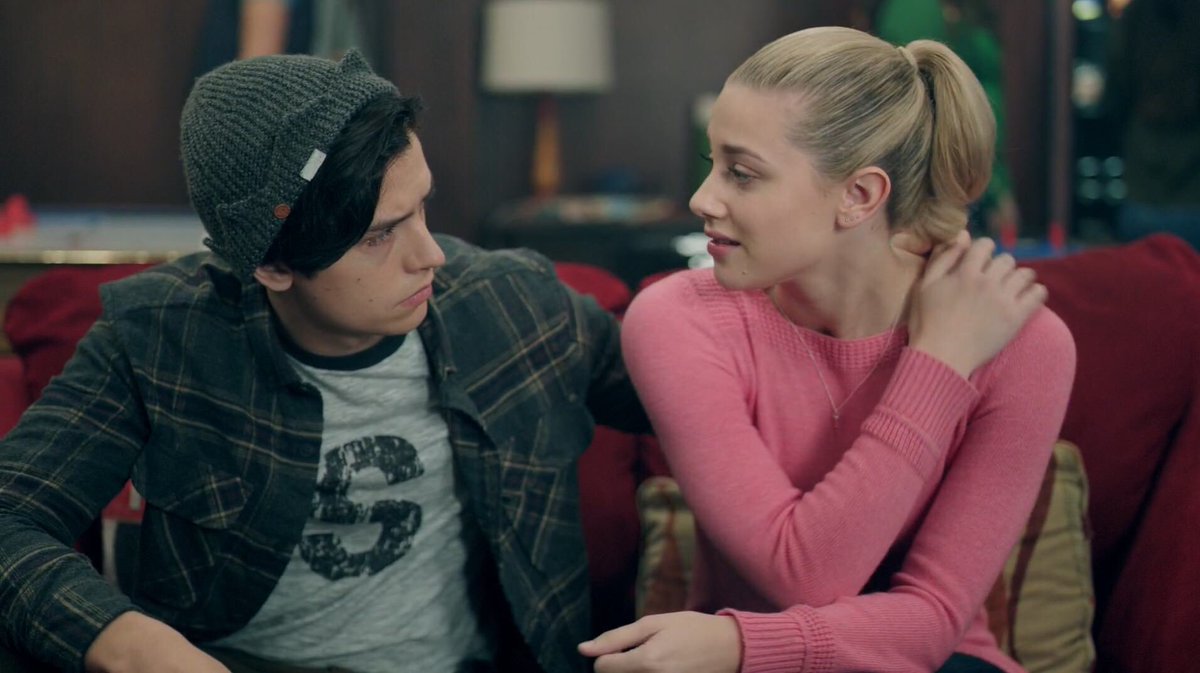 9. Betty and Jughead, Riverdale
Ah, Bughead. In a show with many ships, Betty and Jughead's relationship tops the list. They're your typical Romeo and Juliet, or even Bad Boy and Girl Next Door duo. Betty grew up on the "good side" of Riverdale, while Jughead grew up with a father who is now the leader of Riverdale's gang, the Southside Serpents. On the outside, the two of them look like they would never speak to each other but when you watch them interact, all their differences fade away.
Saying opposites attract when it comes to Bughead couldn't be more spot on. When Jughead is feeling down about himself, Betty is always there to pick him back up. Betty, on the other hand, is always at Jughead's side ready to defend him and remind him that he is loved, not just by her, but their friends too. Jughead also reminds Betty that it is okay to not be "perfect" all the time like her mother wants her to be. Her parents want Betty to act a certain way, but Jughead lets her be herself. Now that Jughead is living on the south side of Riverdale, their love will be put to the test in season two, but I have faith that Bughead will persevere and prove to all the naysayers that they're the Riverdale ship everyone should be rooting for. —Savannah Brock
8. Connor and Oliver, How to Get Away with Murder
Through all the blood and murders, Connor and Oliver are still the strongest couple to survive the madness of How to Get Away with Murder. More like, Oliver is able to continue to put up with Oliver's constant lies and sneakiness. That right there is true love. Someone who is able to take you in even after you've done shady stuff and someone who is willing to break a few laws to help clear your name. That, my dear readers, is true love. Now if this love gets ruined, then I don't know what's real. —Ashley Bulayo
7. Jack and Rebecca, This is Us
Jack and Rebecca are seen as America's parents. When they laugh, America laughs and when they cry, well, you get the picture. Through the first season of This is Us we have watched their relationship grow from flirting at a bar to raising the loving, and sometimes chaotic, Pearson clan we all want to be a part of. It takes two special people to not only attempt to recover from losing a child but to welcome a new one in its place within hours. Yet Jack and Rebecca make it look so easy. Yes, there have been hard times, but that's what happens in a relationship. Even when he doesn't approve, Jack is always there to support Rebecca with her singing career just as Rebecca is there to drive Jack home when he goes on a binge. After every fight, you can always count on them making up.
Flashbacks show how in love Jack and Rebecca are, which makes it hard to watch the Pearsons living in a future without Jack. We don't know how he dies, but when fans see a glimpse into the future, he is still very present in the family's lives. I guess there has to be something about your one true love. Even when they're gone, they'll always be a part of you. —Savannah Brock
6. Alex and Maggie, Supergirl
One of the highlights of Supergirl's season two was Alex Danvers (Chyler Leigh) and Maggie Sawyer's (Floriana Lima) relationship. Many were concerned that the showrunners would royally screw up when it came to Alex's coming out storyline, but ironically, it ended up being one of the best written storylines of the season. Taking care to spotlight Alex, her emotions, and some of her turmoil at first (much praise for Chyler Leigh's performance), Alex and Maggie's relationship was developed carefully, especially during the first half of season two. At times, their interactions were touching and Alex and Maggie proved they balance each other out in many ways. Maggie, with more experience and a bit of a hardened persona because of her past balances Alex's vulnerability and innocence coming into the relationship. In general, they're both very understanding and supportive of one another (once, admittedly, to the point of unrealistic behavior regarding the situation with Maggie's ex-girlfriend) and there's an intense sweetness to their romance. Alex helps Maggie break away from some of her past hurt while Maggie helps Alex navigate this new relationship and her complicated feelings. The couple's relationship is an example that the Supergirl writers are capable of actually writing a generally healthy relationship on the show. —Mae Abdulbaki
5. Emma Swan and Captain Hook, Once Upon a Time
Emma and Hook weren't even meant to be. When we were introduced to Baelfire we all thought, "Alright! This is Emma's happy ending! This is the guy she's meant to be with." SCRATCH THAT! Since Bael's no longer on the show, all eyes swooned over Emma and Hook, AKA Captain Swan. It was unexpected, but it works so well. They balance each other. You have one stubborn person who is willing to jump in head first without really thinking of the repercussions (Swan) and then you have the one who has been through tons of battles to be able to give some keen advice on things (Hook). They are the ying and yang to one another. Heck, they literally went to hell and back for each other. They're even the definition of good and evil (with the exception of Hook no longer being evil). If you believe opposites attract, Emma and Hook are the clear example of that.       —Ashley Bulayo
4. Jane and Michael, Jane the Virgin
Some of the best love stories come from falling in love with your first love and best friend, and that is the story between Jane and Michael. Their story is a classic romance set in a modern time where boy and girl meet, become friends and then fall in love. But don't get it twisted, their story is not traditional because you can count on the novella-inspired plot of Jane the Virgin to provide you with twists and turns that leaves your heart aching.
Despite the ups and downs, their love was innocent. Michael was a devoted lover, a loyal best friend and was always there for Jane when she needed him. Michael supported her dreams and Jane supported his. Jane and Michael were far from perfect individuals but together, they were perfectly imperfect. There was just something so comforting about their love story.
Their story is one that many aspire to, but only a few come to truly live it. Michael was Jane's many firsts and your first love (as even I come to realize) is something you can never replace. Your first love becomes a part of you and Jane and Michael's love story is something you can never replace.
And for the record, I am 100%, now and forever, team Michael – sorry Rafael. —Camille Espiritu
3. Luke and Lorelai, Gilmore Girls miniseries
You can't have Gilmore Girls without the OG couple, Luke and Lorelai. For decades the two have bickered about everything from Lorelai's coffee addiction to Luke's fashion choices to their relationship. Talk about two people who are meant to be together, but fight it every step of the way. They're the type of relationship many strive for, starting off as friends and later developing deeper feelings for one another. From the beginning of Gilmore Girls, fans have watched their friendship grow into something more. When the original series ended, Luke and Lorelai weren't any closer to marriage.
Fast forward to the Netflix miniseries Gilmore Girls: A Year in the Life where their relationship remained exactly where fans left them all those years before. Since Luke and Lorelai are an unconventional couple, it's not surprising they never ended up getting married until the revival. Lorelai was always a little flighty and that shows in A Year in the Life. She feels like she has to find herself and Luke, being the loving and compassionate man he is, lets her go off and do Wild. It's true love when you let your long-term girlfriend/fiancee leave you to find herself. In the end, they got the happy ending they deserved with a beautiful wedding in the middle of town. The perfect event for Stars Hallow 'It' couple. —Savannah Brock
2. Cece and Schmidt, New Girl
Cece and Schmidt are the couple whose one-night stand turned into something magical. For months they fought their attraction to each other and hid it from their friends but, by doing that, their love for each other only grew stronger. She is a gorgeous former model, while Schmidt is a savvy businessman. One of the best things about them is the fact that Schmidt knows Cece is too good for him. While she doesn't always feel that way, he does what he can to prove to her that she is the best person in the world.
From getting together to breaking up many times, their relationship was never steady. Cece even goes as far as to almost marrying another man. Of course, it takes them awhile to finally fall back in love, but once they do, they officially tie the knot in season five. It's beautiful and funny just like the two of them. Fans have been able to watch their relationship grow over the years, making their relationship the ultimate New Girl couple to ship. I mean, even in season six, when Schmidt learned that Cece is pregnant, he does the cutest thing for her by filling their new home with flowers and telling her the news right as she walks through the door. It is something so pure and so very Schmidt. —Savannah Brock
1. Barry and Iris, The Flash
Some may argue that there's no real place for romance in superhero stories. I beg to differ. In certain instances, like on The Flash, it is a driving force within the narrative. After all, Barry Allen (Grant Gustin) wouldn't be the character we know and love without his other half, one Iris West (Candice Patton) (as was very much made clear in season three's "The Once and Future Flash"). Throughout the show, their relationship has been central to various plots and even to Barry's powers; beyond that, it's become the very heart of the show. Iris, level-headed, emotionally mature and a natural leader, allows herself to be vulnerable with Barry in a way she isn't with anyone else. Meanwhile, Barry, whose emotions can get the better of him at times, lets himself be grounded by Iris' words; she's also the one woman who brings out his exceptionally romantic side (see: singing "Runnin' Home to You" to propose). At the core of their relationship is friendship and a deep, meaningful connection. They've both been shown to fight for each other time and again. While their journey has hit the occasional bump in the road (as every journey is wont to do), Barry and Iris are each other's home and are able to find each other no matter the timeline or universe. And after finally becoming a couple in season three, they continue to prove that they are stronger together. —Mae Abdulbaki
Advertisement