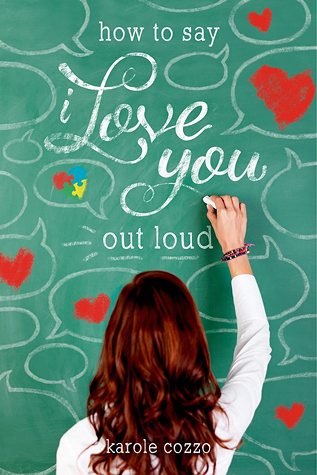 Words are strong. Love is stronger.
When Jordyn Michaelson's autistic brother joins her at her elite school, she's determined not to let anyone know they're related. Even if that means closing herself off to all her closest friends, including charming football stud Alex Colby. But despite her best intentions, she just can't shake the memory of kissing Alex last summer, and the desire to do it again.
Can Jordyn find the courage to tell Alex how she really feels—and the truth about her family—before he slips away forever?
Walking into this book, I had no idea what it was about. However, I was instantly drawn in by Cozzo's brilliant writing. The book is incredibly unique and heartwarming. It's a light read that will manage to stick with you long after you reach the last page.
I was a peer tutor to autistic children in high school, so this book hit extremely close to home with me. I belive that Cozzo wrote about autism and how it manages to affect the entire family in a very realistic way. Although this is her debut novel, Karole has experience as a school psychologist and it's obvious that she did her research on the subject matter.
Jordyn is a teenage girl who just wants to fit in at her school. She keeps her friends and family separate from each other because she's not sure what her friends would do if they knew about her autistic brother Phillip. I personally wanted to hit Jordyn due to some of her actions throughout the book. In spite of that, she still is a realistic teenager. Oftentimes, teenagers are angsty and annoying, and Jordyn certainly has that down to a science. Our protagonist shows tremendous growth throughout the novel, and I love getting to see her gradually evolve. The slow process of it makes it all the more realistic.
The book was published by Swoon Reads, a fairly new publishing company that publishes books with charming love stories. This is the first book I've read from them, and it didn't let me down. The love story between Jordyn and Alex wasn't overly mushy, but it was still something to swoon over. Alex is pretty much the perfect guy: kind, smart, helpful–and his project for school is so sweet. I like how the relationship between them is never rushed; it starts slow. I wasn't a huge fan of the popular girlfriend Alex had for a large portion of the book, but I think it was necessary to wake up Jordyn and make her come to terms with her feelings for him.
This is a charming book that's unlike any book I've ever read. I've certainly never read a novel that focuses on the sibling of a child with autism, and that's a very important perspective to include. I loved this book and read it in just one sitting. It's one that is definitely worth the read! It's coming out early August, and I recommend it as one of the last books you should read before school starts again at the end of summer.
RATING: 9/10
Advertisement