Warner Brothers has been on a slow roll of hype building as it's competitor Disney has launched two massive trailers for Marvel Studios this week, breaking records all around the internet.
With Tokyo Comic Con came official revelation of the Monster's designs with statues and toy lines last weekend, and in the time since, a viral marketing campaign revealing sound design bites of the respective lead creatures, Rodan, Mothra, King Ghidorah, and the big man himself, Godzilla.
On Monday, after Brazil Comic Con showed the trailer this weekend, Warner Bros. Entertainment and Legendary release the trailer to the world with the first full reveal of the film's kaiju taking flight, going for a swim, and ensuing in combat.
Most impressive with every bit of information that comes out for this film is just how big the villain, King Ghidorah is. He's bigger than he's ever been, and possibly bigger than any on screen movie monster we've ever seen. A true force of nature and goofy looking dragon limbs.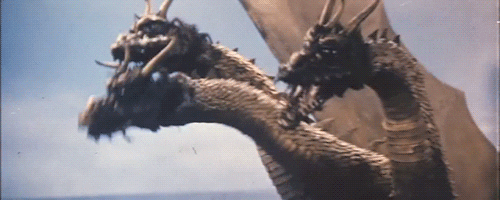 GODZILLA: KING OF THE MONSTERS will be in 3D and 2D in select theaters and IMAX on May 31
The film is directed by Michael Dougherty (Krampus), written by returning screenwriter Michael Dougherty and with Zach Shields, and stars Vera Farmiga, Ken Watanabe, Sally Hawkins, Kyle Chandler, Millie Bobby Brown, Bradley Whitford, Thomas Middleditch, Charles Dance, O'Shea Jackson Jr., Aisha Hinds, and Zhang Ziyi.
The new story follows the heroic efforts of the crypto-zoological agency Monarch as its members face off against a battery of god-sized monsters, including the mighty Godzilla, who collides with Mothra, Rodan, and his ultimate nemesis, the three-headed King Ghidorah.  When these ancient super-species—thought to be mere myths—rise again, they all vie for supremacy, leaving humanity's very existence hanging in the balance.
This film has been rated PG-13 for sequences of monster action violence and destruction, and for some language.
Advertisement