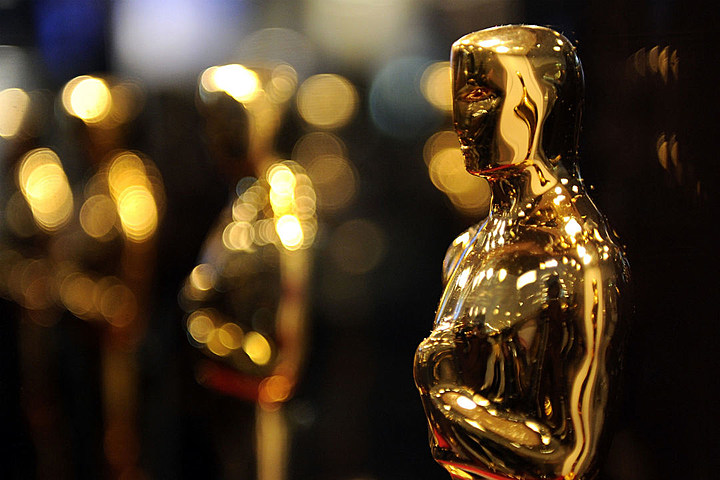 A few days ago the Academy released their shortlist for Best Original Song, and per usual, the list is very long with some artists appearing more than once. One noticeable surprise came from the amount of hip-hop and R&B this list contains.
Amongst the two genres on the shortlist are Eminem for "Phenomenal" from the film Southpaw. He previously won as an underdog for "Lose Yourself," and "Phenomenal" carries weight in its energy, flow, and instrumental that coincides with the intensity of the movie, but unfortunately–due to the Academy's rules–the better song off the Southpaw soundtrack, "Kings Never Die," isn't eligible.
Creed, the most recent installment in the Rocky franchise, got songs on this shortlist as well. But that's where the nervousness begins to shroud this writer's spine. Meek Mill is on this list for "Fighting Stronger," which mind you is only like two minutes long. And while Drake got nominated for "Back to Back" at the Grammies, Meek possibly getting a nomination could really extend this humiliation fest even further. I've spent most of my life this year feeling Meek Mill's humiliation, like you feel for comedians who are nervous and freaking out on stage. I would really prefer this to be left out of the list, but I can't change what is written.
Fifty Shades of Grey has three songs here too with Ellie Goulding's "Love Me Like You Do," along with The Weeknd and Sia for "Earned It" and "Salted Wound," respectively. My preference lies with Ellie though.
Home and Salt Bridge lead the shortlist with four and seven respectively.
A few lines for the future, also, may come out of this year's possible nominees; one of them being for the future when you look back and say, "Damn, Wiz Khalifa was nominated for an Oscar." Though it may not sound as ridiculous as saying Three6Mafia won the Oscar for a song about how it's hard to be a pimp.
If Chi-Raq carries a big campaign for Original Song, we could also see Nick Cannon make his way to the Oscar stage with the powerful, "Pray 4 My City," though not a local Chicago native, his message is powerful for what we have heard and seen from Chicago's South Side for years.
As for R&B and Soul, Leon Bridges, among others like Rihanna, is on here after releasing a well-put together traditional gospel-soul album. Here he's listed for "So Long" from Concussion, a nice light acoustic soul track where Leon shines with his somber range.
The biggest snub on this list though is "One Kind of Love" from Love & Mercy. It's also an example of the travesty of the Academy's rules for this category. All because Brian Wilson released it on a solo album prior to the film's release, it's ineligible. It's a shame because he would have definitely won the award if nominated.
Check out the list below and let us know what you thought.
Erin Sax, "Happy" (from Altered Minds)
The Chipmunks & The Chipettes, "Home" (from Alvin and the Chipmunks: The Road Chip)
Carter Burwell, "None Of Them Are You" (from Anomalisa)
Sons of the Sea, "Stem To The Rose" (from Becoming Bulletproof)
Josh Groban, "The Mystery Of Your Gift" (from Boychoir)
Jennifer Hudson, "I Run" (from Chi-Raq)
Nick Cannon, "Pray 4 My City" (from Chi-Raq)
Mali Music, "Sit Down For This" (from Chi-Raq)
Sonna Rele, "Strong" (from Cinderella)
Leon Bridges, "So Long" (from Concussion)
Meek Mill, Jhene Aiko, and Ludwig Goransson, "Fighting Stronger" (fromCreed)
Tessa Thompson, "Grip" (from Creed)
Donald Glover, Jhené Aiko, Vince Staples, and Ludwig Göransson, "Waiting For My Moment" (from Creed)
Al Pacino, "Don't Look Down" (from Danny Collins)
Al Pacino, "Hey Baby Doll" (from Danny Collins)
Nate Heller feat. Amber Coffman,"Dreamsong" (from The Diary of a Teenage Girl)
Awreeoh, "It's My Turn Now" (from Dope)
Rahat Fateh Ali Khan, "Ya Rahem, Maula Maula" (from Dukhtar)
The Weeknd, "Earned It" (from Fifty Shades of Grey)
Ellie Goulding, "Love Me Like You Do" (from Fifty Shades of Grey)
Sia, "Salted Wound" (from Fifty Shades of Grey)
Miley Cyrus, "Hands Of Love" (from Freeheld)
Wiz Khalifa feat. Charlie Puth, "See You Again" (from Furious 7)
RØSE and Jake Goldman, "Brother" (from Godspeed: The Story of Page Jones)
Rihanna, "As Real As You And Me" (from Home)
Rihanna, "Dancing In The Dark" (from Home)
Jennifer Lopez, "Feel The Light" (from Home)
Charli XCX, "Red Balloon" (from Home)
Miranda Lambert, "Two Of A Crime" (from Hot Pursuit)
Lady Gaga, "Til It Happens To You" (from The Hunting Ground)
Keegan DeWitt, "I'll See You In My Dreams" (from I'll See You in My Dreams)
Eva Dahlgrens, "The Movie About Us" (from Ingrid Bergman – In Her Own Words)
Ouseppachan, "Bhoomiyilenghanumundo" (from Jalam)
Shaktisree, "Koodu Vaykkan" (from Jalam)
Ouseppachan, "Pakalppaathi Chaari" (from Jalam)
Shakthisree Gopalan, "Yaathra Manoradhamerum" (from Jalam)
Kristina Train, "Lost In Love" (from Jenny's Wedding)
Kristina Train, "True Love Avenue" (from Jenny's Wedding)
Damien Rice, "Hypnosis" (from Kahlil Gibran's The Prophet)
Juanes, "Juntos (Together)" (from McFarland, USA)
Andra Day, "The Light That Never Fails" (from Meru)
Paloma Faith, "The Crazy Ones" (from Miss You Already)
Tyson Ritter, "There's A Place" (from Miss You Already)
Miles Kane, "Johanna" (from Mortdecai)
Lily Allen, "Little Soldier" (from Pan)
Lily Allen, "Something's Not Right" (from Pan)
Javier del Santo, "Paranoid Girl" (from Paranoid Girls)
Meghan Trainor, "Better When I'm Dancin'" (from The Peanuts Movie)
Anthony Fedorov, "Pink & Blue" from (Pink & Blue: Colors of Hereditary Cancer)
Jessie J, "Flashlight" (from Pitch Perfect 2)
Mark Orton, "Birds Of A Feather" (from Poached)
Dig the Kid, "Still Breathing" (from Point Break)
J. Ralph and Antony, "Manta Ray" (from Racing Extinction)
Meryl Streep, "Cold One" (from Ricki and the Flash)
Isa Machine & LP, "Torch" (from Rock the Kasbah)
Mates of State, "Someone Like You" (from The Rumperbutts)
Various Artists*, "Aankhon Me Samaye Dil" (from Salt Bridge)
Various Artists*, "Bachpana Thaa" (from Salt Bridge)
Various Artists*, "Kanpne Lage Tum" (from Salt Bridge)
Various Artists*, "Kyaa Bataaun Tujhe" (from Salt Bridge)
Various Artists*, "Le Jaaye Jo Door Tumse" (from Salt Bridge)
Various Artists*, "Na Jaane Kitni Door" (from Salt Bridge)
Various Artists,* "Sookha Hi Rang Daalo" (from Salt Bridge)
Tim Wheeler, "Feels Like Summer" (from Shaun the Sheep Movie)
Eminem, "Phenomenal" (from Southpaw)
Sam Smith, "Writing's On The Wall" (from Spectre)
N.E.R.D., "Squeeze Me" (from The SpongeBob Movie: Sponge out of Water)
Tom Kenny and Doug Lawrence, "Teamwork" (from The SpongeBob Movie: Sponge out of Water)
Ivy Levan, "Who Can You Trust" (from Spy)
Get Fr3e, "Came To Win" (from Sweet Micky for President)
Amanda Seyfried, "Mean Ol' Moon" (from Ted 2)
Kris Fogelmark, "Love Was My Alibi" (from The Water Diviner)
Priscilla Ahn, "Fine On The Outside" (from When Marnie Was There)
David Lang, "Simple Song #3″ (from Youth)
Advertisement