The monster in the woods is probably just as bad as the monster inside the castle, King Henry. This episode demonstrated that it is clear, the King is mad.
The Queen of the Bean event is taking place in the castle. On this day, whichever servant girl finds the bean in their slice of cake gets to be Queen until dawn. She gets to wear the crown and dress in royal garments. The Queen of the Bean, if they're pretty, gets to have a one on one session with the King as well. A servant girl named Penelope is the winner and she certainly is pretty in the King's eyes.
Queen Katherine plans to use her as a distraction to be able to plant a sedative in the King's drink so that Nostradamus can examine the cause of his madness. It's too bad that Katherine didn't foresee Penelope to be conniving and with a mind of her own. Penelope isn't a foolish, naïve servant girl.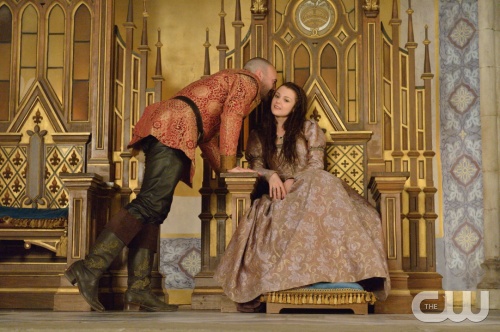 At the Queen of the Bean coronation, we also got to meet Lord Julian, Greer's arranged fiancé. He turns out to be quite a handsome and gentle man. A perfect match for Greer, everything she could have ever wanted. Except – he's not Leith. Leith goes into Greer's headquarters to kiss goodbye (once again) when Lord Julian walks in on them. Lord Julian though a respectable isn't able to push past this and calls off his engagement to Greer. Greer doesn't get as much screen time as she should. Yet, I enjoyed her performance when she tells Lord Julian how ruined she will be if he doesn't marry her. It was an honest portrayal of how much pressure ladies endured in those times to secure their family's well-being. Reign writers please give us more of Greer! She's great and one of the most over-looked characters on the show.
Meanwhile, Bash returns to the castle seeking help to find The Darkness. King Henry immediately sends him to be imprisoned. Bash assures Francis and Mary that he has returned solely with the purpose of defeating The Darkness. Bash points out that Olivia is a surviving victim of The Darkness and that she's staying in the castle in order for Francis to believe him. Looking at Olivia is enough to get anyone to believe that there is an evil lurking in the woods. The brothers put their differences aside and team up to destroy this force. Nostradamus points out that in fact it is human as he found a sharpened human fang in one of Olivia's wounds. The boys finally put their jealousy aside for a greater good.
As they leave the castle, we see Greer in shambles as she feels her future has fallen apart. She's the only one who realizes that what they do reflects on Mary and how lucky all her ladies are that Mary is compassionate and kind. Lola and Mary then tell Kenna and Greer about Lola's secret and how she has failed Mary as well. Lola can't fit into her dresses for the party, time is running out. Greer is kind enough to pass on Lord Julian to Lola as she needs a suitor like yesterday. Mary is so careful with Lola's emotions while Lola only says she "will do her very best to marry him quickly." This situation gets more complicated as time passes, and though Lord Julian and Lola have begun to talk, it seems like too easy of a way out.
As matters are trying to be resolved in the castle, Bash and Francis's hunt for The Darkness isn't going well. The Darkness has laid out footsteps and Rowan's dead hand as bait for them. As Francis follows the footsteps in the snow, the ice under him is far too thin and it swallows him under. Bash runs to his rescue as he uses his sword to break through the ice that's enclosing Francis while in the freezing water. He's able to penetrate through the ice and it proves to be true that blood is thicker than water. Bash didn't think twice of trying to save Francis's life; at the end of the day, they are brothers.
Their bond has a strong foundation that goes both ways. When King Henry in his blind fury tries to kill Bash once again, Francis steps in and stops him.
At the party, Lord Peppercorn still won't desist in having Greer as his wife. He even called in the favor of having Leith go to the army instead of being killed; Again, all for Greer. His kindness is admirable for he knows that Greer will never really love him. Being that she's in a tight bind, she agrees to marry him; it's apparently the only way that she can put away all the gossip that's surrounding her. As Leith is leaving the castle for training, it proves to be one of the most beautiful scenes of the episode. Greer is hoping he will look back before exiting, and as he does, the look on Greer's face was perfectly heartbreaking.
At the same time, we also see Olivia has reinstated herself into society. Thankfully, her hair is back to normal as well. We see that she's very thankful to Nostradamus but we also see that feelings are brewing that go beyond gratefulness. Nostradamus declines her offer to dance. He explains to Olivia that the last time he danced was with his wife. This was a big shocker as no one knew that Nostradamus had a wife and much less kids! It was nice to have some introspective on his character. Now, we can understand his need to heal others and why he is also so reserved. All of his family died during the plague, he was the only one immune to it. It haunts him that he couldn't save them. Yet it appears that Olivia may be getting Nostradamus's heart to open once again. She boldly goes in for a kiss, and he doesn't fight it. I think he's been fighting any emotions for Olivia during all of the time they've spent together. Their brokenness has made them connect on a deeper level. I can't lie. I am loving Olivia and Nostradamus together! Totally hoping they keep this going.
The madness that this episode ends in no one could have ever seen coming.
Servant girl turned Queen, Penelope, turns on Katherine. She tells King Henry about Katherine's intentions to give him the potion and adds in the lie that Katherine threatened her life if she didn't do it. Not only that but they instead give the sedative to Katherine placing her into a deep sleep. Thankfully Mary finds her and is able to help her. The King is in love! He intends to make Penelope an actual Queen! The King just stepped into a whole other dimension of losing his mind. Penelope meanwhile is having the time of her life as she takes advantage of his madness.
In all of the King's madness there is one thing he is right about. King Henry points out that even when he forced Bash to watch the consummation of his brother's marriage he saw in his eyes that he would always covet what his brother had.
In order to fix the problem with Bash and Francis, King Henry comes up with the "perfect plan." Yes, he forces Bash to marry Kenna, right in front of Mary and Francis. If they didn't do it, Henry was going to chop off Kenna and Bash's heads right in that instant. Kenna is distraught; she was promised by Henry a suitor with a title.
So, Henry in an ironic and manic way titles Bash Master of Hunt and Horse; whatever that means. They're wed into a miserable union. It's terrible as he now is married to a woman he doesn't remotely like and having to be near the woman he loves who belongs to his brother.
Yes unsurprisingly so, Bash admits to Mary that he's lied about his feelings having disappeared for her. This will make for interesting future episodes. As much as Mary truly does love Francis, Mary and Bash had something real. Mary can cover it up by calling it mere concern but her mini outburst about Bash's speedy recovery with Rowan indicated there is more.
Comment your thoughts below!
Do you think there's something more to the King's madness?
GIF Credits:
Reign Daily http://reigndaily.tumblr.com/page/2
OliviaDamencourt http://oliviadamencourt.tumblr.com/page/2