In the latest episodes of Under the Dome, suspense overflows in waves as the residents of small town Chester's Mill go through the ups and downs of living inside a dome.
In episode five, Julia takes command after Big Jim and Rebecca's mission to reduce the town's population fails. Amazingly, the townsfolk have lost faith in Big Jim after this incident and demand that something be done about the duo. Julia, who is adamant on keeping a democratic society, decides that Big Jim and Rebecca should have a fair trial. Julia also asks that all of the citizens bring in their food supply so that they can all share and sustain one another. Neither of these decisions sits well with the townspeople but they still go along with them.
Then there's this ridiculous melee that appears out of nowhere when Julia starts the trial. While the chaos ensues, a fat guy who thought he had a chance at killing Big Jim tries to go after him but is shot by Phil (I guess he's utilizing his sheriff privilege). Everybody is taken aback by this killing and Rebecca kneels down beside the fat guy's body and announces that he's dead, as if witnessing the gaping bullet wound from the guy's chest weren't enough evidence.
Julia is absolutely livid about the shooting and takes away the duty of sheriff from Phil. In a heartbeat she offers it up to Barbie who is still upset about Julia accusing him of being a part of Jim's "population reduction" plan.
Meanwhile, Junior is a man on a mission. He teams up with his suspicious Uncle Sam and goes searching for Lyle whom he believes killed Angie. Sam plays along with Junior's detective game while knowing more than he lets on. When they pay a visit to Lyle's barber shop, Sam pretends to find the missing pages to Junior's mom's journal. They're paintings of what the "Four Hands" (they've started using that term to describe the Pink Stars Group) symbolize. Apparently, the Four Hands are the designated protectors of the dome and without them the dome will cease to exist. After hearing about Lyle's possible intentions for the Four Hands, Junior rushes off to ensure the safety of the others. Unfortunately, Junior tells Sam all the information that he knows.
Back in the jail cell Big Jim and Rebecca have a heart to heart as Rebecca tells Big Jim that she didn't release the virus because she was reminded about her parents. She realized that her father was right when he said that sometimes there are no answers to some situations. Then Phil comes in with a bottle of rum and tells Big Jim that he will exact revenge on Julia for taking away his privilege and because he's a giant asswipe.
While the adults are trying to figure out shit, the Four Hands try to tap into Melanie's possible powers (she was one of the first Four Hands) to no avail. When Melanie touches the dome for the first time, nothing happens. Melanie becomes frustrated and depressed but Norrie feels as if she's putting on a damsel in distress act to get the attention of Joe. Becoming completely enraged by this, Norrie verbally abuses Melanie t0 the point where Melanie runs off into the woods. Joe decides that enough is enough. He won't take any more of Norrie's cynical behavior. He curses her and chases after Melanie. Somehow, between trying to cheer Melanie up, the two engage in a kiss. When Norrie sees them she's even more enraged than before and a fight ensues between her and Melanie. If Joe didn't part the fight, I bet Melanie would've so won.
Back in town, Julia's food drive seems to be going well. However, Barbie notices that most of the boxes are empty and as he starts to wonder what happened to the food that was packed inside, the whole place explodes! Yep. It explodes. Somehow, everyone seems to have survived the explosion.
Like a true wolf among sheep, Phil emerges and downplays Julia's leadership. He tries to convince everyone that Big Jim did a better job at ruling the town than Julia could ever do. Julia loses her cool and goes off to writhe in self-pity. Lucky for her, Barbie is right there to cheer her up.
Later in the show, Phil is unlocking a room full of goods and it just so happens that Carolyn (Norrie's other mom) passes by and sees. After a couple questions about the goods' whereabouts, Carolyn realizes that Phil is the one who set off the explosion. Apparently, he has some undying loyalty towards Big Jim and would go to any length to protect him. As much as Carolyn was able to fight off Phil, she couldn't fight off his other pals. Fortunately for her, Barbie comes in the nick of time and takes down the two men without a sweat. Phil still has hold of Carolyn and has a knife by her throat. Without a second thought, Carolyn moves out of the way and allows Barbie to get a clear shot at Phil.
Meanwhile, Junior is doing shots with his uncle but Sam is more interested in smothering Junior with a pillow when Junior becomes drunk. However, he can't bring himself to do it after Junior declares that he loves Sam.
Julia also notices that a certain old woman keeps handing out all kinds of food to people and confronts the woman. When Julia goes over to her house to investigate, she finds a whole house filled with apocalyptic food supply.
At the end of the show Rebecca examines Joe's blood against Melanie's to see whether or not Melanie is normal and she discovers that she's not alone in the school. Junior and Sam are trying to pry open the locker that Angie was killed next to in search of Lyle and find an eerie-looking cave.
Episode six picks up where episode five left off. Junior and Sam descend into the locker cave and follow a set of footprints that lead to tunnels. On top of all this, the dome sends another plague for the residents of Chester's Mill; a sandstorm. The storm is so bad that Rebecca believes that if they don't act now, the sand will block up all the air space in the dome and no one will be able to breathe.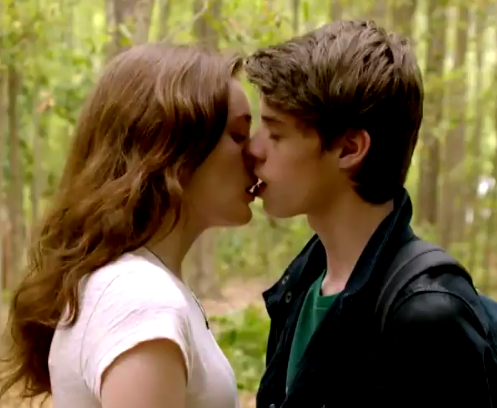 Barbie goes off in search of Sam and ends up meeting Sam and Junior in the underground cave. They team up and go in search of Lyle. However, when Junior sees his mother's journal, he rushes to pick it up without noticing that he'd tripped over a switch that set off a bomb. In the aftermath, Barbie and Sam get trapped on one side of the cave and Junior on the next. Since they don't really have anywhere else to go but forward, Barbie and Sam push on. Barbie uses this alone time with Sam to question him about Angie's death and Melanie. Eventually, Sam's intentions to get rid of the Four Hands are revealed.
What was really upsetting is that the show goes over the secrets behind the dome when they were already revealed; when Sam tells the story about Melanie's death and the dome's appearance, it seems as if the story is being told for the first time, when Melanie had already spoken about it when she revisited the spot in the woods where the mini dome used to be and sees the past.
Anyway, Julia and Rebecca team up to break Sam and Barbie out of the cave instead of helping to stop the sand storm. Big Jim takes advantage of this opportunity and steals Rebecca's idea to create a windmill that will settle the sand. However, he no longer has the trust of the townsfolk and it takes a little coercing before everyone is on board.
Meanwhile, the Four Hands go out to the lake in hopes of finding the mini dome egg that Julia stashed in the bottom of the lake. They find that when they place their hands together, the dome egg resurfaced. They head home with the egg and Melanie can't take her eyes off it. Norrie tries to be understanding towards Joe and they make up. When Junior returns, they put their hands over the egg and pink holographic stars come pouring out into the room. The stars reveal a tower structure that both Melanie and Junior swear they've seen in their dreams before.
Back in the cave, Barbie learns about the scratches on Sam's shoulder and realizes that he's Angie's murderer. I was really hoping that Sam wasn't the killer and that the town was just being mean to the new guy. Outside the cave, Julia and Rebecca place a makeshift bomb by the cave in hopes of busting Barbie and Sam out. When they do succeed, Sam tells Barbie that Barbie will only hinder the mission Sam's on and that Barbie should continue the mission for him. He gives Barbie Pauline's (Junior's Mom) journal and says that only pain is coming if they don't get rid of the Four Hands. Then he goes ahead and jumps down an abyss. Yep, you definitely can't get crazier than that.
Where will the next episode lead the residents of Chester's Mill?
Rating: 7.5/10
Advertisement