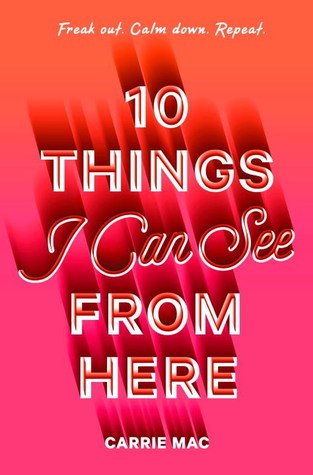 For today's stop on the 10 Things I can See From Here blog tour, I review Carrie Mac's latest novel, which takes a distinct turn from the usual sort of main character most YA fiction is built on. With the heightening of books centering mental illness, (Made You Up by Francesca Zappia, Every Last Word by Tamara Stone) it's enlightening to find that characters are becoming more and more tangible by the tale.
As someone who suffers from anxiety myself, it was different to see how mental illness can be viewed in the eyes of others and more importantly, through the eyes of others. While to some Maeve's mental illness may seem extreme, to others this is every day life and I hope this further helps the accepting society that continues to grow today.
Even though 10 Things I can See From Here touches on mental illness and growing curiosity with age in an earnest manner, Mac manages to play situations out in a slightly comedic fashion that sets a lighthearted tone. While I, like many, understand how serious these disorders are, I feel that it's important to be able to laugh at ourselves now and then and not paint a picture that focuses on only the negative aspects of life. We all have ups and downs, and it's admiring to see author Carrie Mac show Maeve in a way that's both relatable and, well, believable.
Overall, the depiction of this specific mental illness is fascinatingly accurate and was so engulfing to read. Reading about a character who has the ability to live a normal life while suffering from anxiety on a day-to-day basis made for a unique reading experience that hit close to home, not only exposing me to the severity of situations certain individuals must face, but as a symbol of hope for those who struggle to achieve simple tasks without worrying how anxiety might set them back that day.
Anyone who wants to better understand those with this illness or they themselves want to understand that they aren't alone will find that this novel is a wonderful piece of work to relate to. All parts quirky, humorous, emotional, and exciting, 10 Things I Can See From Here is perfect for the potential young adult reader looking for a novel on love, life, and ways of simply coping with being your whimsically unique self.
10 Things I Can See From Here by Carrie Mac is now available wherever books are sold. 
Advertisement