I can't believe we just witnessed this. Is anyone else shocked?! (I'm not being facetious, I'm devastated about this.) After 34 seasons of Survivor, the castaways continue to surprise with levels of new desperation to stick around for a chance at a million dollars. We've seen lying, bargaining, last minute flips, arguments and plenty of other means to convince players to change their votes. You would think we'd seen it all by now. But the latest episode of Survivor: Game Changers did the unthinkable: Jeff Varner outed someone's transgender status as a means of proving someone's level of deception. I mean…that's just low.
Firstly, I'm not justifying his move or decision. He said what he said and he will have to live with it for the rest of his life. Regardless of whatever reason or past drama may have led him to this move, he made the sole decision to reveal this and continue for over five minutes to argue his case with it. Even with the arguments about desperation and the intense nature of the game, he played this move. All he can do now is grow as a person and hope for Zeke's forgiveness, if he ever gets it. For the fans of the show, enjoy your time with Jeff at the reunion, this moment killed his Survivor career.
Let's talk about strategy for a moment. Jeff's best chance at staying was by targeting Ozzy or Tai. He tried to do this to an extent and his arguments were starting to work. Ozzy is a competition beast who could easily walk to the finals if he's left on a roll. Tai, on the other hand, is better at finding hidden immunity idols and creating relationships. Both are strong threats. If Jeff had focused on only targeting one of these two, he may have been able to convince Zeke or Sarah to join his side. Though, let's face it, Jeff was the easier target. The tribe was strong together and with Sandra gone, the others were already dead set on getting rid of him.
After three seasons of watching Ozzy compete, the players need to get him out sooner rather than later. He's a threat, plain and simple. He's dominating most of the challenge and given the chance, he could snatch up the individual immunity idols too. Similar to how Sandra is described as a dangerous threat, he's one player that all castaways should be careful to have around. My prediction, however, is that he'll make it to the merge but he won't make it to the end. The others would be foolish to keep him around. His days could be numbered. Brad (another competition threat), on the other hand, is one who I feel could make his way to the finals.
The two challenges followed the same formula of Survivor favorites. There was an obstacle course, some water, a puzzle to solve and something to throw. My favorite of the night was the reward challenge. If I was playing the game, I would have loved to be the person jumping on the trigger to shoot the balls at the targets. It takes a lot of precision and strength to aim the targets. Kudos to Hali for figuring out the puzzle at the end of the immunity challenge. That win may have scored her some good favor within her tribe, and it will keep her around for another episode.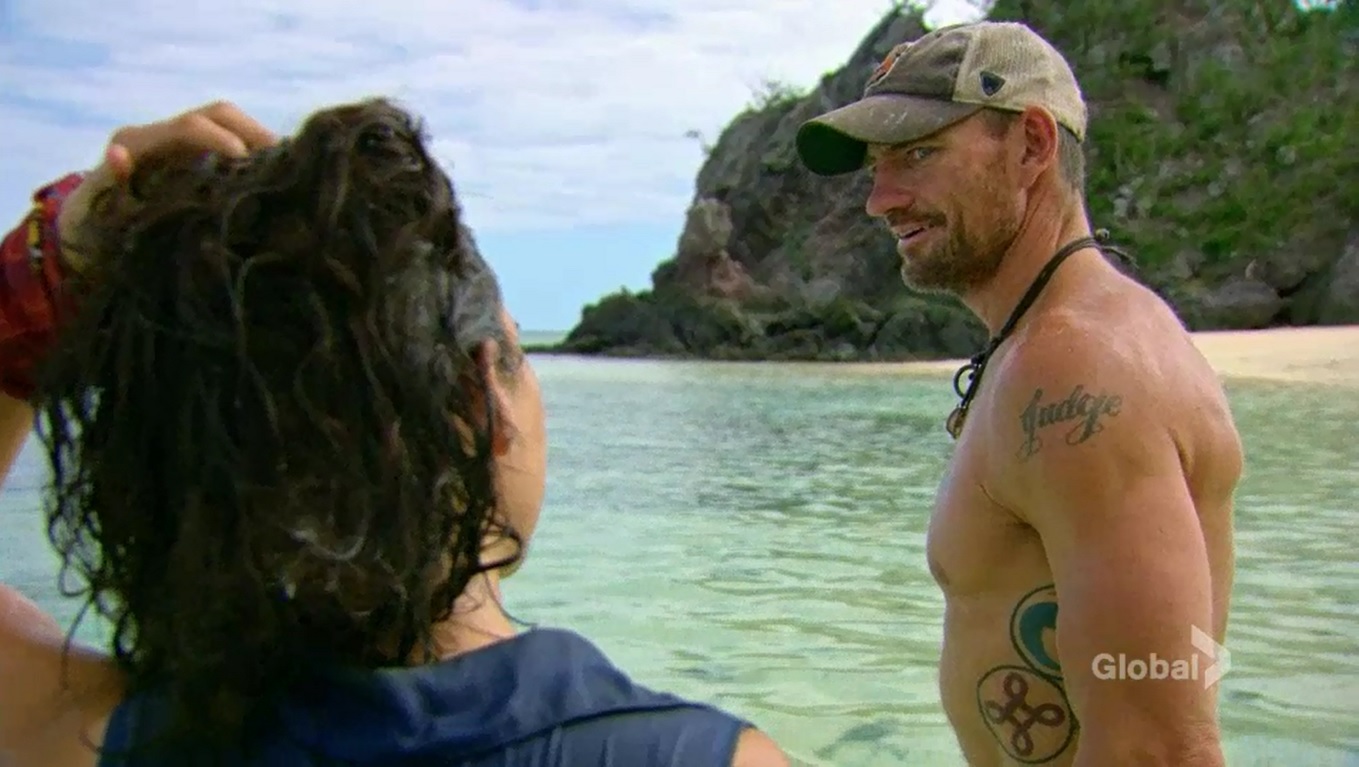 My favorite moment of the episode – maybe the season thus far – is the fireside chat between the players of Mana. All strategy and thoughts of the current game were pushed away to talk about the stigma post-game. They were real and honest with each other about their thoughts. Sometimes we forget that these castaways – these characters – are real people who voluntarily leave their lives to starve, fight and struggle on an island somewhere for a million dollars.
Don't get me wrong, I would sign up for Survivor in a second and compete in this game I love. I've been watching Survivor since the first season when I was 10 years old; I know the risk and what the game entails. However, we never pay attention to the post-game realities and what it does your mind and health. The Survivor editors did a great job by showcasing this scene. It brought a sense of grounded reality back to the show and bonding that we don't get to see that often. Usually it's all about the blindsides and battles. We need to connect with the players too.
Advertisement