With Netflix's 13 Reasons Why gaining unfathomable resonance among the YA community, the release of Antisocial couldn't be timed any better.
Unlike the show that's garnered the attention of online viewers everywhere, Jillian Blake's debut novel plays out in an environment much more realistic to the world we live in today. At Alexandria Prep, students are divided into cliques a la Mean Girls fashion, separating social media stars from online hacking whizzes. Online persona is everything, and when the school's web data is leaked, students from both sides of the field are targeted for social destruction. As secrets come pouring out, it's evident that no student is safe within the school walls.
What stood out about Antisocial was the idea that being "popular" can't necessarily save someone from the harsh reality of high school. Jocks and hackers alike were both made out to be villains, depicting real-life in a way that was both authentic and slightly cliche. While the representation of different personalities in the school setting was there, characters sometimes felt exaggerated and campy. In it's defense, though, there are so many personalities one comes across in real-life and the author's purpose felt more so to highlight the idea that bullying can come from any end of the bat.
The insistent pressure of the students to feel accepted in the eyes of peers and parents was saddening, but extremely opening. The amount of students who feel the need to have exceptional grades and social lives is astoundingly high and the expectations they hold for themselves are sometimes unattainable, as touched upon in the novel, and lead them to take to dangerous methods.
The genuine portrayal of the sort of measures young adults will take to fit in was reminiscent of the emotions almost anyone could once relate to.
Antisocial stands somewhere between a warning and a wake-up call, reminding readers that unlikely victims and villains are everywhere, but more importantly, that it is never too late to lend a helping hand. The hope given at the end of the tale despite tragedies is what makes Antisocial such a great read.
Anyone who remembers the heartbreak of lost first love and popularity will find bits and pieces of themselves in Antisocial.
---
Learn more about Antisocial: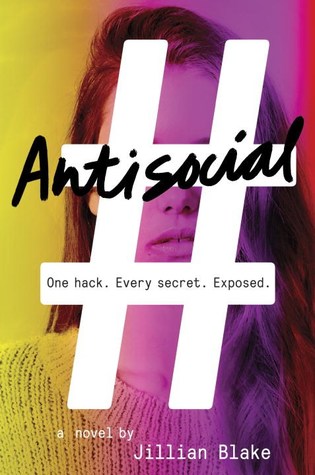 Alexandria Prep is hacked in this whodunit set in the age of social media and the cloud.
Senior spring at Alexandria Prep was supposed to be for sleeping through class and partying with friends. But for Anna Soler, it's going to be a lonely road. She's just been dumped by her gorgeous basketball star boyfriend—with no explanation. Anna's closest friends, the real ones she abandoned while dating him, are ignoring her. The endearing boy she's always had a complicated friendship with is almost too sympathetic.
But suddenly Anna isn't the only one whose life has been upended. Someone is determined to knock the kings and queens of the school off their thrones: one by one, their phones get hacked and their personal messages and photos are leaked. At first it's funny—people love watching the dirty private lives of those they envy become all too public.
Then the hacks escalate. Dark secrets are exposed, and lives are shattered. Chaos erupts at school. As Anna tries to save those she cares about most and to protect her own secrets, she begins to understand the reality of our always-connected lives:
Sometimes we share too much.
You can find Antisocial on sale May 16th 2017 by Delacorte Press.
Add it to your Goodreads account here.
Jillian Blake grew up in New England, where she kept her deepest, darkest secrets password-protected. Antisocial is her first novel. 
Advertisement