Sleepwalk with Me has several very funny lines sure to make you laugh, and a number of playful episodes sure to make you smile. It is not 'hilarious,' like you might expect a film based on a stand-up comedy routine to be, but that's not a knock on it. What's more important here is the general feel of the film – the quirks, the characters, the careful mixture of soul-searching and light comedy. When watching stand-up, it's more important to feel that a performer knows how to tell a joke than to feel that he's telling a funny one. First-time director Mike Birbiglia knows how to tell a wonderfully sweet joke, and he's crafted a movie to match.
Like Woody Allen, Birbiglia plays a version of himself (named Matt Pandamiglio, simply to make it impossible for critics like me to type). Sleepwalk with Me is fondly reminiscent of Allen's masterpiece, Annie Hall, in that it opens with Birbiglia musing to the audience about his stand-up career and relationship with the beautiful and quirky Abby (Lauren Ambrose). It's difficult choosing which of the two ventures is more troublesome. On one hand, Matt's cloying mother and exasperated father are pressuring him to propose (after all, Matt and Abby have been going out for eight years!). On the other hand, he's clearly one of the worst stand-up comedians, or comedians of any kind, really, to have ever hit the stage.
In the grand tradition of rom-com doofuses, Matt refuses to commit, even though Abby's the perfect girlfriend – and therefore out of Matt's league. She's quickly growing frustrated by his marital lethargy, and seems quietly aggravated by his continuous social pratfalls and poor decisions. To complicate matters further, Matt has begun to sleepwalk and act out his dreams, which move from the comical (he makes the egregious error of confusing a hamper and a jackal) to the more alarming (dreams of infidelity and danger.) When Matt meets a frumpy old agent (Sondra James, who's a revelation in this small but insightful role), he begins to travel the country and looks to his failing relationship for comedic material. As his career progresses, his connection to Abby disintegrates.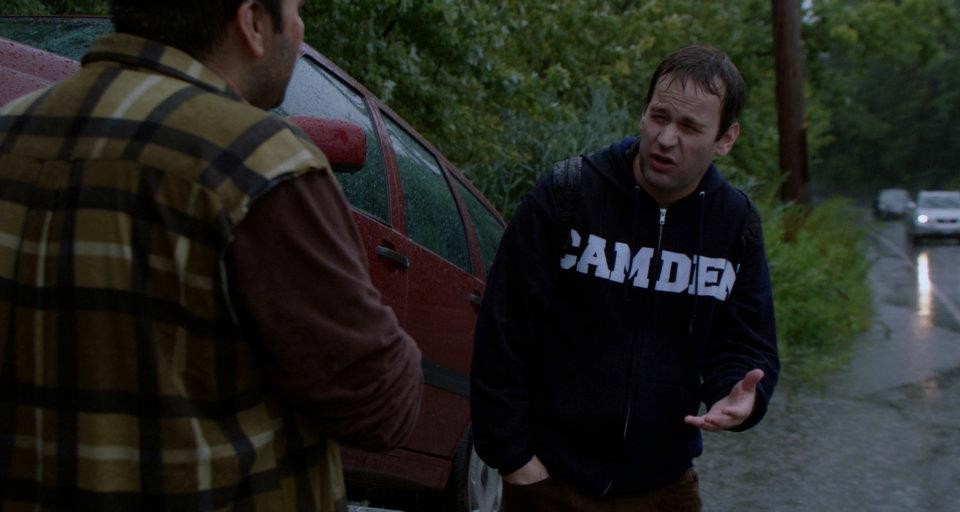 The cast is well-suited to the occasion, which calls for simple storytelling and complex characters. It's true that some of Birbiglia's line readings sound like they've meandered over from his stand-up routine, but he invests Matt with a remarkable amount of empathy and naivety. As Abby, the talented Lauren Ambrose has far too little to do, but with Sleepwalk with Me, she establishes herself as an entity somewhere between Ellie Kemper and Jessica Chastain. Birbiglia has enticed a formidable supporting cast to contribute to the melting pot, including very funny cameos courtesy of stand-up comedian Marc Maron and 30 Rock co-stars Kristen Schaal and John Lutz. Veteran performer James Rebhorn is strong-willed and direct as Matt's father, and the inimitable Carol Kane just about steals the movie as Matt's ditzy mother.
The story is quirky in typical indie fashion, and its innovations are primarily in performance and dialogue, not storytelling or themes. There are a few clunky and redundant passages – perhaps one bad stand-up routine too many –  and there are a few scenes that are (rather secretively) beautiful in their simplicity and emotion – Birbiglia's closing dialogue, and the short scene in which Matt walks down a street and reminisces about his times with Abby.
Sleepwalk with Me is not a masterpiece, but it's short, sweet, honest, and charming. Mike Birbiglia is a promising young director who infuses this film with a mixture of gravitas and comedy that's refreshingly unique. The best comic directors and performers – Chaplin, Wilder, Allen – are notable for their distinctive perspective on life and comedy. In a few years, I wouldn't be the least bit surprised to be listing Birbiglia as a member of the comedic pantheon.
What is the message of Sleepwalk with Me? Perhaps that comedy so rarely embodies the unflinching honesty we idealize it to, or that perhaps it's best it doesn't. Perhaps that relationships aren't made by cookie cutters, and that all the effort in the world can't fix them all. Or perhaps it's that it's okay for us to flail around for a while. In a sleeping bag, while wearing mittens, I mean.
FINAL RATING: ★★★★★★★ (7/10 stars)
Sleepwalk with Me is available on Blu-ray and DVD on December 18.
Advertisement