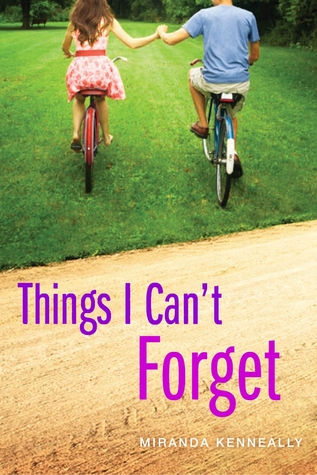 Kate has always been the good girl. Too good, according to some people at school—although they have no idea the guilty secret she carries. But this summer, everything is different…
This summer she's a counselor at Cumberland Creek summer camp, and she wants to put the past behind her. This summer Matt is back as a counselor too. He's the first guy she ever kissed, and he's gone from a geeky songwriter who loved The Hardy Boys to a buff lifeguard who loves to flirt…with her.
Kate used to think the world was black and white, right and wrong. Turns out, life isn't that easy…
I think the best way to start off my review of Things I Can't Forget is by saying that it is a total and complete Young Adult novel. No, I am not trashing the book. I mean this in the most upright respect—a teenage novel in the best way possible.
Since this one's not out yet, I'm going to have to keep things spoiler-free, but I can say that Things I Can't Forget is a beautiful novel of forgiveness, self-discovery, and acceptance. Kenneally covers tough grounds in her third novel, centering on a girl who is just starting to see what life is like outside of her sheltered church's world.
This might not be a situation exactly anyone can relate to, but questioning one's own mortality is something everyone's been guilty of, religious or not. Miranda sheds light on the shockingly realistic situations teens face across the globe, with friends, with family, and yes, even with lovers. She shows us through Kate, the highs and lows of ascending into adulthood and proves it to be something both horrifying and wondrous all at the very same time.
I'm personally a huge fan of Kenneally's work already, and in my opinion, Things I Can't Forget isn't a let down from any of her previous works. Not at all.
Her characters' voices come off distinct, and as always, lyrical and true. For everyone who is particularly concerned, there may or may not be a few cameos from past fan favorites, and this may or may not have been the icing on the cake for me.
My favorite character has to be Kate, seeing as I found her the easiest to relate to. Her uncertainty with so many things and the inner-battle she faces trying to draw the line between good and bad really struck an emotional chord in me. Second in line to our female lead, though, was the kind and understanding Matt. Playing the opposite of our lead as her first ever kiss and love interest, he goes to show that not every boy is the same, and that the smallest amount of affection can change a person forever. I'd like to give a notable mention to Kate's father, as well. He came off as the voice of reason to me in the book, and the support of his daughter's choices and beliefs really made him admirable to me. I won't go on beyond this because I loved all of TICF's characters for different reasons, but I couldn't have been happier with Miranda's decision to bring back two past main characters and make them Kate's friends and allies at Cumberland.
Between Miranda's seamless writing, startlingly mundane plot lines and lovable characters across the board, she's earned herself a spot at the top of my favorite contemporary writers alongside Sarah Dessen and Simone Elkeles.
Lovers of Melissa Walker's Small Town Sinners will definitely enjoy this one, and fans of Judy Blume's Forever… will find it somewhat comparative and just as great, if not better.
Things I Can't Forget hits shelves on March 1, 2013, with her next release, Racing Savannah, scheduled for December 2013. Make sure to check them out!
Rating:9/10
Advertisement