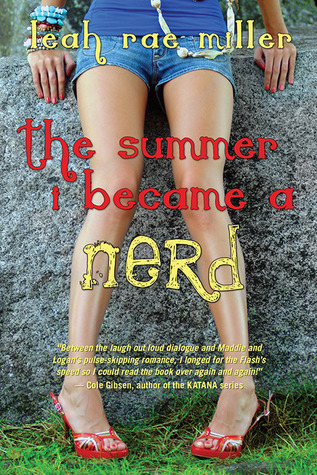 On the outside, seventeen-year-old Madelyne Summers looks like your typical blond cheerleader—perky, popular, and dating the star quarterback. But inside, Maddie spends more time agonizing over what will happen in the next issue of her favorite comic book than planning pep rallies with her squad. That she's a nerd hiding in a popular girl's body isn't just unknown, it's anti-known. And she needs to keep it that way.
Summer is the only time Maddie lets her real self out to play, but when she slips up and the adorkable guy behind the local comic shop's counter uncovers her secret, she's busted. Before she can shake a pom-pom, Maddie's whisked into Logan's world of comic conventions, live-action role-playing, and first-person-shooter video games. And she loves it. But the more she denies who she really is, the deeper her lies become…and the more she risks losing Logan forever.
I seriously dig the whole muddled look this cover has. I can't exactly pinpoint what it is but I really, really love this. The font, the shoes, the bracelets; it's all gorgeous.
Getting past the odd cover love I have for this book, the geek lingo The Summer I Became a Nerd has going on is absolutely fabulous. There were times where I found myself nodding my head and laughing at the real life comic/video game/movie references and as a mini geek myself, it was fun seeing a normal girl being able to balance the two, even if she was secretive about it.  After reading this book I found myself guilty of spending some extra time in the graphic novel section at my local bookstore.
Miller's characters were distinctive and, of course, Logan Scott was my favorite. His sense of self-respect and I-Don't-Care-How-Geeky-You-Think-I-Am persona was contagious. I love how he balanced out Maddie and made her want to be a better person. The element of using him as a good influence on her personality was something I really admired and made their connection stronger. They make the ultimate super-nerd couple and I loved every second they spent together.
The stress of self and social acceptance was comparable to the situations faced in day-to-day life and was, while light, eyeopening and served its purpose.
The romance in The Summer I Became a Nerd was yes, nerdy, but in no way typical and could easily be enjoyed by fans who aren't crazy about any necessary form of geekery. For fans who are intrested in said geekery but not so much romance, I think it's safe to say there's a fair equilibrium between the two.
There's no way to describe the pacing in TSIBaN except by saying it was utterly spectacular. Tension between characters and small mysteries keep readers hooked(and pulling their hair out), but all the while there are small plot line gifts, as I'd like to call them, that leave readers satisfied while they wait for the inevitable ultimatum between  Maddie and Logan and Maddie and her" popular" friends.
My only problem with the novel was that the relationship with Logan and Maddie felt too instant. Even though nothing much happened between the two for quite a while and they'd both had eyes on each other for a few years counting, their apparent affection towards each other happened too soon for me to enjoy and followed the love-at-first-sight stereotype that some people actually do love so much, just not me. If it hadn't been for the nail biting anxiety the two had given me as I, chapter after agonizing chapter in my deranged state, continued to squeal "JUST KISS ALREADY FOR GODS SAKE!" I might not have been able to brush off the feeling that things were moving too quickly. Because, really, as it turned out(and you may have picked up on already) while the interest was there, the action, was not.
The Summer I Became a Nerd is a light and quick summer read that's great for a few laughs and a lot of geeky indulgence. If you've been looking for a right kind of vacation beach read, The Summer I Became a Nerd is at the top of my recommendation list.
Rating: 9/10
Advertisement