This was the episode so many Reign fans had been waiting for: the royal wedding! The question always remained: who would Mary pick?
As we saw that Mary's heart had opened and decided on a future with Bash, the bastard who is to be legitimized, we see Francis return to French court. It is impossible to not see the tension yet love that Mary and Francis hold for each other, even in the midst of hurt, betrayal and fear. Of course, Mary doesn't know that Francis and Lola (one of Mary's ladies and trusted friends) did more than just ride back together to French court.
Francis wasn't the only arrival at French court in this episode. This week we finally got to meet Mary's mother, Marie de Guise, Queen of Scotland.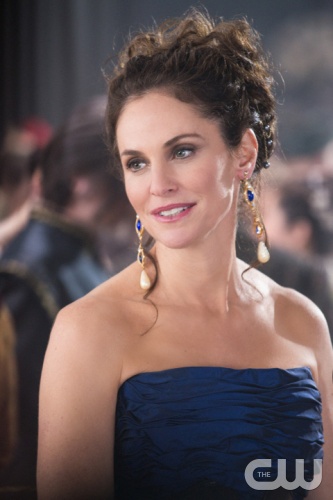 Throughout the episode we see the complex mother-daughter relationship between Marie and Mary. We also see where Mary gets her great looks from! Marie has never been in Mary's life as she had to leave her in the convent to protect her life. We see Marie's lack of affection and sensibility towards her daughter because more than a mother, she knows much better how to be a Queen looking out for her best interests and those of her country, which we see towards the end of the episode.
But, this episode as great it was, left me so frustrated. Mostly the frustration stems from Nostradamus' varying visions that have caused so much chaos in French court. Really Nostradamus, can you get it together? Yes, we know it's a gift that can't be controlled but his inability to see full visions really has my emotions on a roller coaster ride. It's also what makes for great twists in Reign's plot lines.
At the news of Nostradamus' new visions showing that Mary and Francis will have a beautiful future together, Mary now has a choice of who she wants to marry, no longer based on obligation but purely on love.
When Francis tells her to choose between him and Bash, you can see the terror in her eyes when she realizes she truly loves them both.
She doesn't have much time to ponder on the decision since a messenger delivers the news that the Queen of England has died. It is urgent that Mary claims the throne to England at this moment before it is taken from her and in order to secure her alliance to France.
We see a whole new side of Queen Katherine. She ends up being the one who helps Mary realize that she will always love Francis more.
When Mary breaks the news to Bash that she's made her decision, the look in his eyes is heartbreaking.
But, as much as Francis may have made mistakes involving himself with other women, Francis and Mary are the real deal. Their love is not based on an arranged engagement since childhood; their love truly has blossomed for each other.
That very night, the wedding occurs. Mary's dress is stunning! She looks flawlessly gorgeous as both Queen Marie and Queen Katherine look very much pleased at their children's union. Reign always succeeds in its costume and set designs. Always!
Now, what happens next is just awful. As tradition goes, after a couple has been married, they must consummate their love.  They must do so while all of the French court gathers around their bed and watches. The awful part is when King Henry ties up Sebastian's hands and makes his guards take him into the consummation room so that he may watch the woman he loves and his brother consummate their love. King Henry does this to Bash in order to teach him a lesson on what no longer belongs to him, Mary. Talk about harsh and cruel punishment. I felt hard for Bash at that moment. But I assume he wasn't the only one having his feelings crushed. Lola was present during the consummation as well, now that is just terribly awkward.
Unfortunately, the episode does not end in wedding bliss. Nostradamus saw the rest of the vision of Mary and Francis. The rest of the vision shows that after a year of marriage Francis is deathly ill, with blood trickling from his ear, he will die lying next to Mary.
Nostradamus doesn't tell this to Queen Katherine for he knows this certainly means he will die at her hands. He also doesn't mention that Klarissa is actually alive, and this is why he's begun having visions once again. Klarissa is Queen Katherine's deformed first born who has been shunned from society and is now seeking revenge.
Nostradamus however isn't the only one who knows more information than they lead on. At the end of the episode, Marie de Guise reveals to her daughter Mary that in reality the Queen of England has not died as she fabricated that story and paid off the messenger just to manipulate Mary into marriage. This is the last straw, and Mary is done with trying to have a good relationship with her mother.
This episode was not disappointing in terms of the amount of drama. But it was crushing to know that Mary and Francis will still not be able to have an easy future. However, with a show like Reign, things can suddenly change drastically as we learned in this episode.
The end of this episode leaves many things untied. As Bash is escorted by two guards leaving the castle, we see that they fail at their intent to kill him. This raises anger inside of Bash knowing that Francis is most likely responsible for this.
Expect a brotherly quarrel of epic proportions in the following episodes to come. With so many secrets under wraps, I'm sure that chaos is only brewing. Not to mention that now that we know for sure that Klarissa is alive, we can bet that Mary's and Queen Katherine's lives are most definitely on the line.
This was a good episode; mostly because it sets up the audience for the following episodes before the winter finale.
8/10
Advertisement