After surviving a disastrous battle at prom, Alyssa has embraced her madness and gained perspective. She's determined to rescue her two worlds and the people and netherlings she loves. Even if it means challenging Queen Red to a final battle of wills and wiles…and even if the only way to Wonderland, now that the rabbit hole is closed, is through the looking-glass world–a parallel dimension filled with mutated and violent netherling outcasts. In the final installment of the wildly popular Splintered trilogy, Alyssa and her dad journey into the heart of magic and mayhem in search of her mom and to set right all that's gone wrong. Together with Jeb and Morpheus, they must salvage Wonderland from the decay and destruction that has ensnared it. But if they succeed and come out alive, can everyone truly have their happily ever after?
Three years ago, I never would have thought that Ensnared, or the Splintered series in general, would have taken all the twists and turns it has since the initial release of Splintered. This bundle of books, I've come to find, is the very rare kind that betters as it ages. I can honestly say that the transition from book one all the way to book three progressed in storytelling time and time again. Unhinged left readers with so much needing to be addressed: does Al's dad have more play in all this than being let on? What's the Red Queen's damage? Is Morpheus in need of a new moth-clad hat? All questions are eventually answered, I assure you (maybe not that last one, though), but there is so much magic in the hype Howard builds up for the concluding novel in this series, and that's only half of the fancy brought up to plate.
Without getting too much into detail, readers pick up where Al and her ever-ascending-into-madness brain have landed themselves as repercussions for previous events, and the tale following is filled with chaos, action, love, betrayal, and, most importantly, curiosity.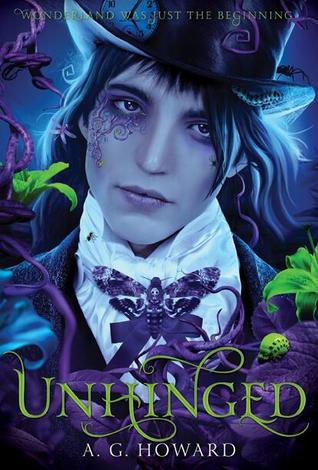 There's so much to admire about this book, really, but among many aspects, there were a few specifics that stood out to me, the first being the time taken to learn and understand Red Queen and the degree of her villainy. Originally, I thought I could have gone without the 3D close-up, but once having experienced it, I knew it was necessarily, and found that it was one of the most enjoyable passages in the book; I feel like once readers get a look of it, too, they'll most certainly agree. You've seen Maleficent–we all love a bad girl with a good story. Quote me on this, Red Queen's story will be one that you'll remember once you've turned the last page.
More importantly than just the evolution of a villain was the self-discovery of Alyssa. Readers have seen this character grow in many ways, unlike others in YA today, from embracing the full degree of herself to understanding her emotions for Morpheus and Jeb, but in Ensnared, we don't just see a simple self-discovery, we get Ayssa learning to understand and accept herself at a full depth and, beyond that, the evolution of the human and netherling sides of herself as they search for a way to coexist and thrive.  Despite being fantasy fiction, the Splintered series is still YA, and, more importantly, focusing on a teen just like any other, still groping for a way to understand themselves and what it is they want/need in life. Red Queen's passage may have stolen a chapter or two, but Al's journey through Wonderland and full understanding of the world around her stole the series, and served as a great ground to relate to in an otherworldly place of madness.
All in all, Ensnared wrapped plot lines big and small up nicely, though surprisingly, to a certain extent. It was evident that Howard scattered bits and pieces of her heart into the book to make it that much more emotional and true to Alyssa's feelings, and I'm so, so pleased with the result.
Ensnared will surely please any initial fan of the series and will leave readers in awe of all that Alyssa has yet to face in a world she's destined to rule.
Rating: 9/10
Advertisement