Faith is a basis on this week's episode of Empire.
No, it is not a plot device secured from the inner most evil recesses of Lucious Lyon's brain, but surprisingly it comes from Andre Lyon, the eldest son of the Lyon den.
The episode starts with a news outlet reassuring the people of Lucious Lyon's safe return into the outside world with all charges against him having been dropped. Obviously this is an ample opportunity for Lucious to stir some drama, and drops a video of himself spouting another one of his unapologetically annoying speeches.
Of course, this causes drama, and in comes "enemy fire."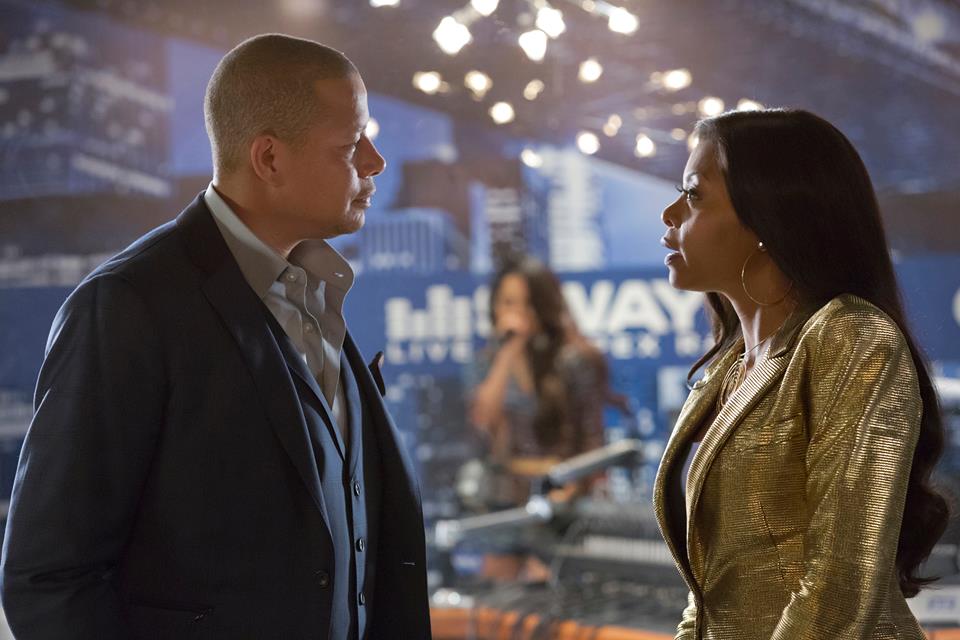 At the Lyon Dynasty location we've got Tiana, Hakeem, Cookie, and 1/3 of the girl band Hakeem has been trying to rise from the ashes. This episode didn't seem to work in his favor, at least in the beginning. Laura Calleros (Jamila Valezquez), whom he recruited to make up 1/3 of his girl band walks out after Hakeem gets too feisty while dancing.
I guess the writers at Empire thought this would be a great idea to bring out, "I'm not that type of girl," scenario and make me bang my head against the wall.
Anyway.
Eventually they make up, and I still have the feeling that there's going to be more than friendship that brews between Laura and Hakeem. At this point it's a given, and while I think this is potentially a great thing for Hakeem, I'm wary on where the writers will take it. Obviously those behind Empire are very keen to not allow much happiness between all the drama.
Hakeem isn't the only one that's getting a love interest as Cookie meets Laz Delgado (Adam Rodriguez). Rodriguez plays an ex-NYPD cop who's up for the job of concert promoter for the Lyon Dynasty. It's clear from the moment the scene cuts to Delgado and Cookie and their first meeting that there's an obvious and mutual attraction. After last season's unfortunate ending for Cookie's love interest, I have small hopes this one will stick.
I can only hope. Seeing Rodriguez on my screen every week wouldn't be something I'd protest.
After a nasty altercation between Tiana and two other anonymous women, featuring a blade and a purse getting stolen, the Lyon Dynasty is under siege from a local gang.
After a bad-ass scene with Cookie and some potential robbery to steal the tracks off Cookie in her studio, it's a clear shot that the Lyon Dynasty is on enemy territory not just with one, but two.
Then there was Jamal. It took longer for Lucious to make a homophobic comment than I thought, but with guest star Ne-Yo in Jamal's corner, I thought for sure the decision to take Michael on the road would be positive.
Nope.
We were introduced to that weird painter dude last week, and he makes his reappearance talking about marriage equality and it's "heteronormative" hypocrisy. I tried tuning him out after he started his tangent, but when Michael whispered to Jamal, "Heteronormative?" I rolled my eyes so hard they fell back into my head.
A very obvious ploy to teach the audience something, when they can do it themselves and maybe learn more about the subject than the generic answer Jamal gives.
Like I said, weird painter guy. He ruins everything, offers Jamal a "favor" and Jamal doesn't accept said favor, and storms out with Michael.
During a studio session, Jamal has the debate again, and Ne-Yo steps in like an angel with a fedora and lays some heavy advice on Jamal.
Jamal of course takes it. It's Ne-Yo after all.
It all blows up in his face at his own party . . . literally and metaphorically. It's probably safe to say Michael won't be going on the road with Jamal. Or the show for that matter.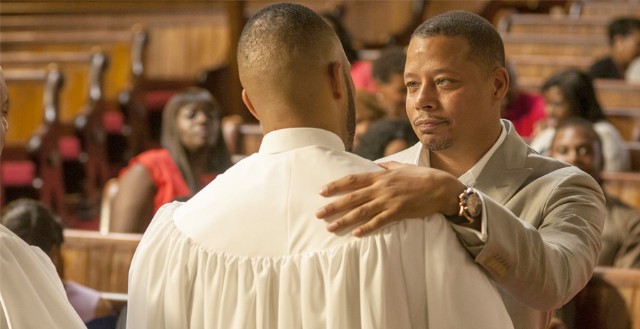 Jamal isn't the only one suffering from heartbreak this episode, but despite this, Andre uses his faith as a means to alleviate the ache. Andre's wish is to be baptized, and to do so the reverend has asked him to confess his sins to those he cares about. Specifically, his family.
I don't think the reverend realized just who his family was.
Andre confesses his sins to his brothers, and his dad. In a chilling and beautifully written scene, Andre takes us back to that brutal scene with the gun to his head in his father's office.
When will Trai Byers get the recognition he deserves? Honestly.
The Lyon's show up to the baptizing ceremony, and then the flashbacks start.
As the water gives way to Andre's weight each time, Lucious' eyes go blank and we're in a place I don't think anyone would believe they'd get the chance to see.
We're in Lucious' most haunting memories with his mother.
Each push and pull of the water and a young Lucious is under the water in a bathtub while his mother sings a haunting melody. Pressing, pressing, pressing.
And then he leaves. Obviously.
Jamal and Cookie seem to reunite with a quick close up on them holding hands while the choir sings. I will never understand the thought process that went in to keeping a divide between Jamal and Cookie, considering she. is. his. rock. Only time will tell. I have my theories, but they happen to be long, drawn out, and biased.
And then the actual ending that had me gasping and yelling.
I won't spoil it, but I will say that this is the first time Empire has had me wishing for the next episode to air immediately.
10/10
Advertisement