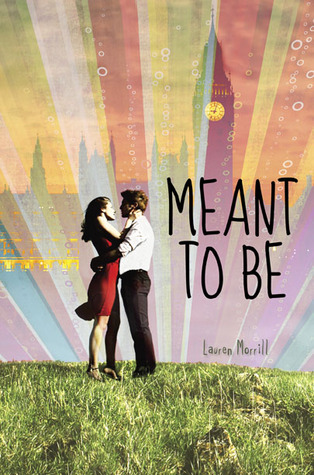 Meant to be or not meant to be . . . that is the question. 
It's one thing to fall head over heels into a puddle of hazelnut coffee, and quite another to fall for the—gasp—wrong guy. Straight-A junior Julia may be accident prone, but she's queen of following rules and being prepared. That's why she keeps a pencil sharpener in her purse and a pocket Shakespeare in her, well, pocket. And that's also why she's chosen Mark Bixford, her childhood crush, as her MTB ("meant to be").
But this spring break, Julia's rules are about to get defenestrated (SAT word: to be thrown from a window) when she's partnered with her personal nemesis, class-clown Jason, on a school trip to London. After one wild party, Julia starts receiving romantic texts . . . from an unknown number! Jason promises to help discover the identity of her mysterious new suitor if she agrees to break a few rules along the way. And thus begins a wild goose chase through London, leading Julia closer and closer to the biggest surprise of all: true love.
Because sometimes the things you least expect are the most meant to be.
Let me just start off by saying that I am a lover of all books that involve scandalous trips to foreign countries or anything close to the sort. The Statistical Probability of Love at First Sight, Anna and the French Kiss, Just One Day. I could ramble on for hours about all of them and others that I failed to mention.  I can't get enough of them, I really can't, and when I first caught sight of Meant To Be, I was expecting a fun-filled adventure with sprinklings of romance, sightseeing, and a few good laughs.
Meant To Be starts off on a plane ride to London, where we meet Jason, a five year-old boy stuck in a teenager's body, and Julia, a swimmer who has no idea what it's like to take a break from the books. These two get paired up for their educational tour and find that despite being yin and yang, it's still possible to tolerate each other, maybe even like each other. Through a series of misguided text messages and coincidental meet-ups, we find our characters coming closer to the truth and each other.
The idea of Meant To Be is great; funny guy, uptight gal, total opposites, natural attraction, mysterious text messages and Europe? Why not. The pace was quick enough for boredom to be minimal, but slow enough for readers to catch onto the subtle hints of who might be the mystery guy who keeps texting Julia the morning after Jason and her attend a college party their first night in London. There were just a few things that happened to be missing.
While Jason and Julia are like day and night and are expected to hit it off, I didn't feel like Morrill went about their relationship the right way. Jason and Julia spent most of the novel arguing or finding ways to irritate each other, and not in the good way. I can only remember two or three times where the couple had a genuine moment and it wasn't even that big a deal when it happened. While nothing was necessarily rushed, Jason and Julia's relationship never actually developed. It was almost as if the two were too different for each other.
There was plenty of fun sightseeing going on, and it was plain to see that the author knew her way around London, or at least did some thorough research before taking a go at writing the novel. The occasional European history added a bit of spice to the story and I found myself warming up to the frequent Shakespearean references.
Meant To Be did happen to leave off on a rather surprising note and the twist was a little too complex for me to actually grasp, but it didn't do too much to harm the book. Some of the humor in the novel was too off for me to fully enjoy but the ending plot twist fit the theme of the book enough to slide.
Meant To Be could have been much better had Jason and Julia's relationship been better played out and some of the humor rewritten. For a quick read that's light and comical, Meant To Be could be just what you're looking for, but I wouldn't recommend it to many people.
Rating: 6/10
Advertisement