Welcome back to my weekly recap, review, and ramblings of FOX's hit TV show, Empire. You can read my past reviews of the season here.
This week's episode was a little slower paced than usual, but there were the usual twists and turns that can shock the nation. There was the always constant familial vibe of an Empire episode, despite the betrayal that lurks in every corner. Taking the episodes name to heart, the audience got an eyeful of the love lives that surround the Lyon family, old and new. This includes Laz (Adam Rodriguez) and Cookie, Hakeem and Laura, and then there's Lucious . .. and Mimi Whiteman (Marisa Tomei). And another person. There is a threesome.
Despite this, the episode remained the least entertaining of the seven so far.
Last week's episode was a doozy, so I applaud the Empire writers for giving the audience a bit of a break with the dramatics.
From the preview of next week's episode, it looks like the peace doesn't last long.
Until then, here are the things you need to know from tonight's more subdued episode:
1. Cookie and Jamal are on the slow trek back to healing the most important and pivotal relationship of the entire show.
After the continuously annoying backdrop of a Cookie and Jamal feud, we finally have gotten to see the mother and son piece back together a strained relationship since the beginning of season two. For this episode, Cookie does what she's famous for, and helps Jamal behind the scenes in the studio.
With Lyon Dynasty.
2. We finally see Hakeem grow into the leader we've desperately wanted him to be.
A new love interest has become the turning point in maturity for Hakeem Lyon. After putting together the trio girl band, Ménage a Trois, Hakeem quickly fell for leading lady, Laura. As for this episode, Hakeem steps up to the plate after Laura (Jamila Velazquez) gets shunned out of the front spot by the two other girls. He enrolls Tiana (Serayah) to help bring the star quality out of her and into the open, and by the episodes end, Laura finds her titled spot in the center. After a moving scene where Hakeem sticks by Laura with a pubic kiss and song, the character development in Hakeem is delightful to watch. The dedication in this relationship puts Hakeem in a completely different light—the kind that puts the audience behind him as a real person, rather than seeing him as a persona.
3. Lucious and Freda and Mimi and Random Person And His Mother
This episode saw a sensual side to none other than Lucious Lyon. Yes, the patriarchal mogul saw a 'steamy' threesome with none other than Mimi Whiteman and a random. This scene made me uncomfortable on many levels, given Mimi slept with Anika and is just super shady in general. There's also the fact that Lucious is an evil bastard who doesn't have a caring bone in his body. If he did, it's been broken several times over and it's never going to be repaired correctly. So for two shady people with no good intentions, and a thirst for power over the entire music industry, it's going to give everyone the shivers. Not the good kind. Add all this up to that other sneaky phone call Mimi makes, this hook up has me hitting the 'I quit' sign. It's all downhill from here, folks.
There's also that iconic song that Lucious and Freda put down. This leads up to next week's more than likely intense rap battle that cooks up between Freda and Hakeem. There's already mountainous tension between Empire and Lyon Dynasty, so the two contracting artists already have bad blood on their hands. By the end of the battle, I feel as though it's not just bad blood that will end up on their hands.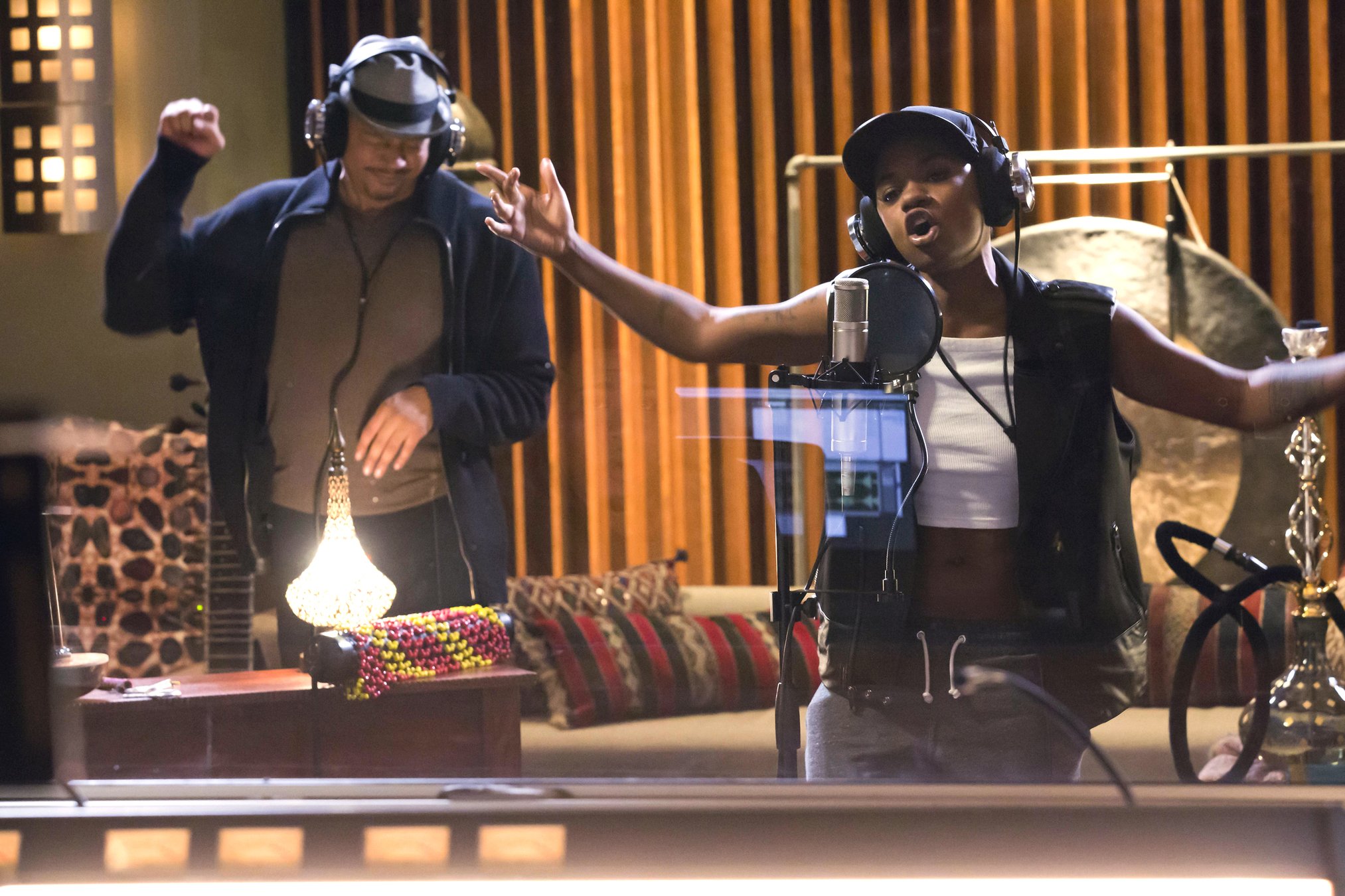 Kelly Rowland also made another one of her fluttering appearances scattered through the season. The overall plot line has started to unfold as Rowland plays Lucious' mentally ill mother. The flashbacks prove their worth as the writers build up the heartrendingly real childhood of Lucious Lyon.
4. Andre just needs a hug.
Really. Andre is hands down my favorite character besides Jamal, and at this point, I am ready for the writers to give this poor guy a break. During this episode, Andre works to prove his holiness by not divulging in infidelity, but then his reverend is not only testing Andre's faith, but also my patience. He tells him it's fine. No big deal. God gives you permission.
It's clear that in every episode it's either Andre never impressing Lucious or it's his faith being tested. Poor Rhonda is sitting over there 'pregnant' and Andre is still fighting for his father's love. If Andre becomes a father this season, I dearly hope the writers give him peace within his relationship with Lucious. Or lack thereof.
It obviously won't happen, but I can still hope.
No matter what, Andre continues to get thrown around and left for the vultures. I am banking on Andre coming in and taking the Empire by storm. Although, I would like to see the corrupted label sink to the pits of hell where it belongs. With Lucious in the front seat.
7/10
Advertisement