Well, the top ten mildly unconventional.
I'm not what you'd call a romantic, typically bordering the lines of cynical rather than warm-hearted.  I wasn't swept off my feet by Jack Dawson in Titanic, and I didn't cry at the end of The Notebook. I was only very recently impressed with Channing Tatum in his comedic turns and didn't buy Ryan Gosling and Emma Stone's chemistry in Crazy Stupid Love.
Essentially, I'm not an easy sell. That doesn't mean I can't be convinced, and there have been many films (When Harry Met Sally, How to Lose a Guy in 10 Days, and any rom-com with Tom Hanks and Meg Ryan) that have wormed their way into my heart, and when a romantic film of any sort works, whether it be comedy or drama, they typically end up being the most effective in bringing forth true emotion.
With that said, here are ten films about love in preparation for Valentine's Day that you won't find on every single other list out there right now.
Warning: Some may be downers for dates because even though my heart thaws occasionally, it doesn't mean I've discarded my love for the gut-wrenching all together.
 10. Pride and Prejudice (2005) Directed by: Joe Wright
Okay, okay, so I broke my rule like a second in and am already recommending an often recommended film. Here's the thing though, there's no denying the absolute tension and chemistry between the two leads, Keira Knightley and Matthew Macfadyen. It's electric, and with the longing stares and the brief touches all before the climactic moment, it's pure desire and audiences are sitting on the edge of their seat hoping that Mr. Darcy properly breaks of his icy exterior and becomes the man Elizabeth Bennett so strongly deserves.
 9. Dan in Real Life (2007) Directed By: Peter Hedges
Sometimes it's nice to see an average man succeeding and finding love, and that's exactly what this Steven Carell film does. It's sweet and touching, it's filmed beautifully and truly encapsulating that feeling of early fall when everything's about to change, and most importantly, it's believable. I believe that Carell could be with Juliette Binoche, I believed their conversations could lead to something more, and I believe Carell's character's hesitation in firmly embracing what it is he wants in life. This isn't a glamorized tale of epic love but rather, a film that shows an audience member something they could obtain.
 8. Harold and Maude (1971) Directed By: Hal Ashby
We're all a little odd, we're all a little sad, and sometimes we're all looking for that kindred spirit who will make us smile and laugh, and understand the hopeless absurdity of our lives. Harold and Maude's relationship isn't conventional, but their love manages to defy their respective ages, and because of Maude, Harold learns to appreciate his quirks, accept the unpredictability of life and simply take a deep breath and relax. Sometimes love isn't what one previously anticipated it to be but isn't the best love the kind that betters a person and makes them even a little bit happier?
 7. Y tu Mama Tambien (2001) Directed By: Alfonso Cuaron
Love can be misconstrued as nothing but animalistic sexuality and lust as well as the other way around; that isn't a bad thing. Sometimes, friendships toe the line of what's platonic and what's sensual and pulsing with something more, something stronger. This is a film about sex, love, the bonds of childhood friendships and what can possibly rock those foundations. It isn't your typical love story, but a story about love all the same and the ones who you find in your life that you hold the closest, nearest and dearest to your heart. All three leads are impressive, but it's Gael Garcia Bernal and Diego Luna who sell the connection, particularly in one third act scene that will undoubtedly be the one you remember for the longest period of time.
 6. Weekend (2011) Directed By: Andrew Haigh
It's a subdued love story of first impressions, deeply felt conversations and the fluidity of strangers and how so quickly the strange turns into the familiar. Chris New and Tom Cullen give star-turning performances of two young men, who on a chance meet, spend minimal time together and ultimately, change because of it. One of the best films in the last decade, you'll be hard pressed to take your eyes off of them and by the end of the film will only be wishing it had lasted an hour longer. It's tender, and Haigh's direction makes you feel as if you're with them the entire time, learning about them at the same rate that they begin to know each other. I don't have enough words to describe just how touching and monumentally moving this film is, just if you want a film that is so earnestly about love to watch this one.
 5. Love & Basketball (2000) Directed By: Gina-Prince Bythewood
All individuals browsing this page can send me a proverbial smack across the internet for only seeing this film for the first time of my twenty one years, yesterday. Yes, I saw this for the very first time yesterday. How embarrassing. Oh my goodness, what a gorgeously intertwined relationship we were given with this film! What amazing sexual chemistry and what great ways to ground it in reality by showing the pull and tug of the budding friendship and reliance on one another. The movie treats sports as a real plot point that's there to serve the characters, rather than treating it like a spectacle to manipulate the audience's emotions with. Gina Prince Bythewood wrote and directed a film that exuded warmth, realistic competition, and a cliché romantic drama that audiences could watch and then believe that it could happen to them as well. Love perseveres and all that jazz.
 4. Amelie
It's a poetic love note, written on old fashioned parchment, in cursive and ink and sealed with a wax insignia. This French cinematic favorite is all about the senses: the shock of vibrant colors and the melodic ways that the actors speak their lines. Audrey Tautou is instantly charismatic, and her pursuit of making others happy with their loves, as well as finding her own, is so earnest and upbeat that it's difficult to nitpick such an optimistic film. Her dalliances in love are surprisingly sweet and naïve, all the while frank with their assertions. She's in love, and she will pursue the interest in her typical, grandiose fashion. The most feel-good film on this list; this is one to watch on Valentine's Day, but be wary, you and your significant other may have fallen head over heels in love yourself with Tautou's Amelie by the end of the film.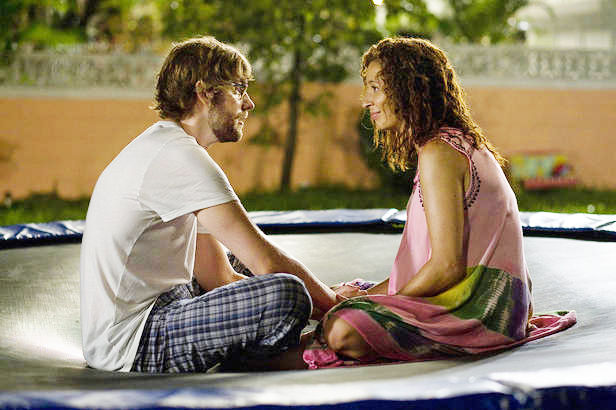 3. Away We Go (2009) Directed By: Sam Mendes
It's the simplistic that end up getting to us. It's dedicated love, honest love and familial love that can put one's emotions over the edge. Scored by Alexi Murdoch's soulfully fueled songs, this film is about a couple, about to be a family with a baby on the way, and how they find a new place to call their home. It's a road trip across country, filled with friends and family trying to force their own beliefs onto them, but in the end, it's what the two feel that dictates the location and more than anything, being with one another makes it home. Perfect for Valentine's Day because of its heartfelt emotion and performances, especially Maya Rudolph, who's beautiful in her portrayal of a nervous and expectant mother. Here is a couple who so full-heartedly loves each other, and it will make viewers want the same.
 2. City Lights (1931) Directed By: Charlie Chaplin
When you think of love, you think of the grandiose and the life altering acts and the ones you've gained and the ones you've lost, so why does this wonderfully expressive Chaplin film so often miss the cut? It's about the Tramp doing everything he can to convince the blind flower girl that's he's an affluent individual who will help make her dreams come true and bring her sight back to her. He goes through emotional and physical turmoil to bring this dream to a reality and does so with little reward or congratulations. Isn't love about sacrifice? What one is willing to compromise or give up in order to find that certain someone? And in the last scene, when the two finally look each other in the eye, in full recognition, it's the pure joy on his face of how he's helped her that convey so much with no words spoken.
 1. Before Sunrise (1995) and Before Sunset (2004) Directed By: Richard Linklater
If you've yet to see these films, shame on you and now run, don't walk, to your television or computer and double feature these films now. The best of their genre and drawing a path in which any other film should follow this film is about the human connection and chance encounters. Celine and Jesse meet one day in Vienna and decide to spend the rest of the night together as strangers, but there is a link there marking them, at least to the audience's eyes, as soul mates. The conversations are philosophical without being convoluted or preachy, the chemistry is real and tangible without being overtly sexualized, and you end both films with the feeling that says "here are two people who are meant to be together." With the third film of the series, Before Midnight, coming out later this year, it's well worth it to get on these films now, and I promise you, you will not regret it and will have instead found two new characters to cherish. Watch with a date, a friend, a family member, anyone! Anyone who knows what love is, or who's been searching for it.
Advertisement